Dissection: Like living body, the nature and all material things in our world can also be imagined in the same way, then what it looks like.
The physical presence of blood and flesh is felt in nature as well as material substances also. If the skin cover is eliminated from all living beings, what we see? Blood and flesh is visible in the innermost part of every living body. Same way one can treat the nature and all earthy material. Just remove the outer surface and the color can be seen. It is true that all establishments is constructed by the hard work of human being. All these buildings are the product of the indefatigable perseverance of the people.   
Here I choose mountain surface, the tree trunk, some earthy materials of our daily life and large old establishments in which once human love is involved in constructing these. There is a presence of human element in every frame which I place it in a subjective way just to create mystic effects.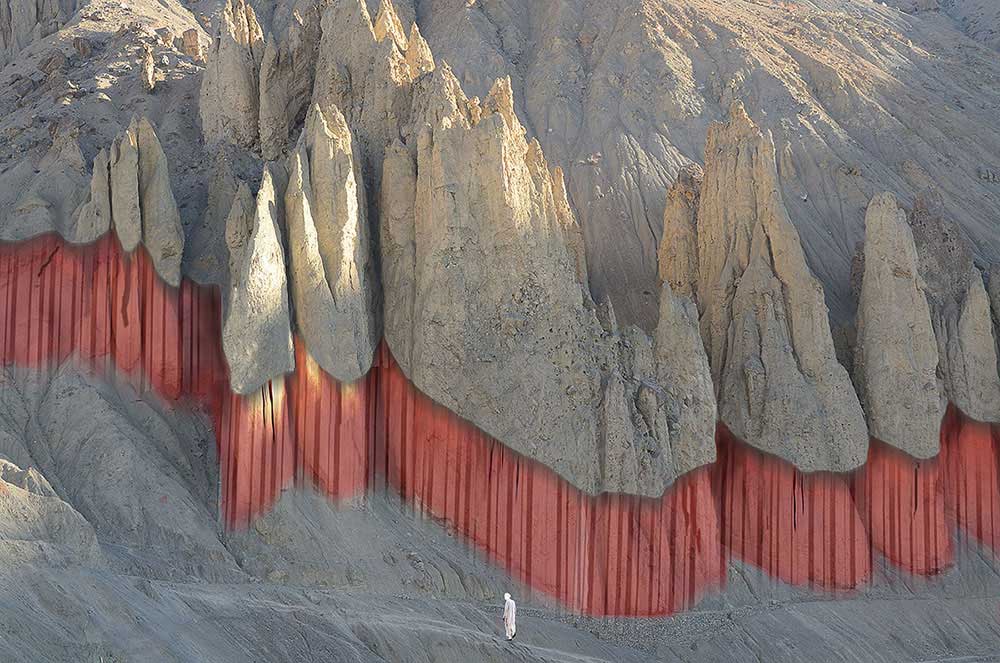 About Kaushik Dolui
Born in Howrah, West Bengal, India but currently Kaushik Dolui is working  and living in Kolkata, He was  graduated and completed  Master Degree in Economics from Calcutta University .  In his childhood days ,he did the drawing and painting,  later in his mid-twenties he developed an interest in photography and completed some photography courses .
Sh Dolui participated  in different photographic salons under FIAP and PSA patronages and won many awards/acceptances over the time and it is still continuing and received Excellence FIAP Honors from Federation de l'Art Photographique in 2009 .
Kaushik Dolui's works/projects published/selected   in Dodho(13th times), 24 works as editor's favorite in Nat Geo, Monovisionawards, iphotographeroftheyear (silver-award 2017 ), photoawards, ndawards, fineartphotoawards, 35awards, photographize magazine (issue no 38) , px3, France (Bronze winner in fine art category 2021), tzipac, fotodng, 1x(10 images), moscowfotoawards (Silver in fine art, 2021),  Annualphotoawards, DNG Magazine(Issue no-156), thecrazymind, jaamzin, Photoimaginart, monovisions (interview), Minimalist Photography Awards,  Tagree, Art reveal magazine(interview, Oct 20),Edge of humanity magazine,The Motif Collective( First place in Architecture Oct,2021), theflyingfruitbowl   and  Gold winner in Tokyo foto awards 2018(tifa) in fine art/collage category.