Pan Americana is the road that leads across the continent; down from Patagonia up to the north, to Alaska. It actually takes you from the start untill the end. It is thousand kilometers long vessel which is giving a pulse to this vastness and life within it. 
We were forced to climb upward, surrounded by laughter and tears, and by all things we call life. And then one day, we stopped. The table said, Cementerio de Natabuela. Somewhere in the midst of Ecuador. Or if you know the anatomy; around appendicitis of Latin America. In one very unusual and special place … Eternal
We were expecting to find supernatural peace and usual tranquility at the cemetery. Wooden crosses stucked in cracked earth should be evidence that everything is finished at this point.. End of the Road! Sudenly, a light breeze has brought us a dusty black hat right beside our feet! A moment later its 'faithful companion' came slowly linping. Fortunately, it was the day and the sun did not allow the night to express all its fears.
The old man, shaking the dust from his hat muttered; Bienvenido amigo … todo lo que la Cuna Mece, la Azada lo entierra aquíWe thought it was rather 'unusual' welcome but it actually meant much more: Welcome Stranger, … see, everything that rocked the cradle … inhere hoe buries!
He started to have a lunch, sitting on the edge of the empty tomb. And life continued, on this world, above ground, in the dust. All the things under the earth remained still,at least for now. Fortunately. Death is just a job. Nothing more and nothing less. While most people refuse this safe job, and are still trying to find something more dinamic, not to say vivid, these people at the cemetery Cementerio de Natabuela, by the Pan Americana road, do it by routine. Digging graves, pushing caskets, collecting bones and dried flowers, a few prayers for the dead, or living. Nevertheless, both living and death are being here! At dusk, when the day slowly turnes its back on the ground, 'workers' didn't finish the working hours, and went home. Death does not care for shift work, the rights of these workers, or Sundays or holidays. A job has always been here and will be.Life, as such, continued … and where it would normally be difficult to find. At one cemetery. While the red evening sun gallows on nearby treetops on one forgotten cross remained black, dusty hat. Thus giving a chance to the night to develop all the fears! [Official Website]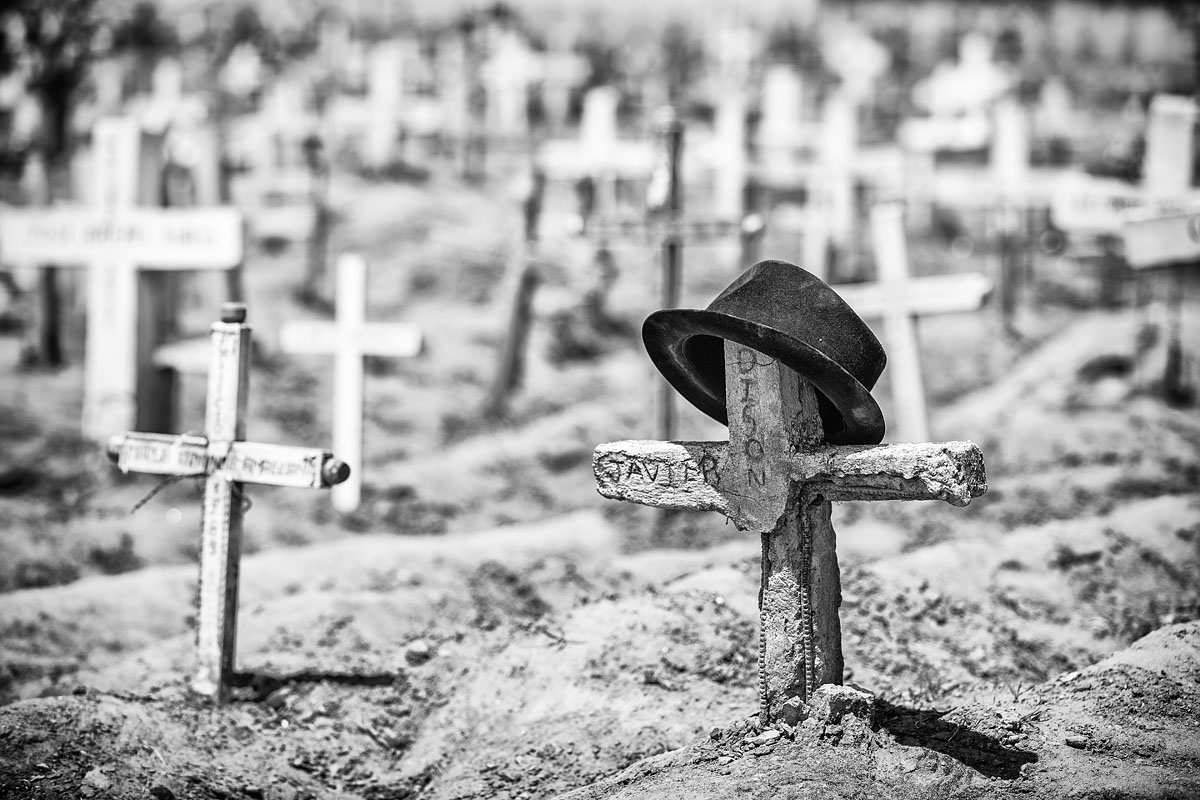 Legal Note: The photographer attest that have full authorization to give consent to the publication of these photos or project and have the authorization and permissions of third parties. Guarantees that you have all the necessary communications of property and you have obtained all the necessary authorizations for any property, buildings, architecture, structures or sculptures appearing in your photographs.