I consider myself to be first and foremost an artist before I am a photographer.  Since I can't draw to save my life, I use the camera as my brush to express my vision of reality.  However, I try and stay true to my guiding principle, which is to create unique and original images.  To show something in a way that has not been shown before.
Bridges and Structures
Even though I do call myself an artist today, I started my adult career as a Civil Engineer and I guess that that part of me is reflected in the subject matter in which I choose to depict in my art – Bridges and Structures.  My path to this project was direct and purposeful as a means to depict engineering marvels that utilize nature's wisdom. I am fascinated with how the beauty, efficiency and simplicity found in nature such of the spider web or conch shell inspires technological design and innovation. It is truly awe inspiring when humans cleverly adapt what is already there.  Combining the engineered structures with their architectural elegance to be expressed and celebrated through art is my true passion.
When I started out on my photography career I always aimed for the 'one wow shot'.  Again, trying to remain true to my aim in having an original outlook on a subject. I thought that there was no use in taking more than one shot of the same subject, that would just be repetitive, so most of my early work consisted of a 'one shot' per subject, the Capilano Suspension Bridge, the Vasco de Gama Bridge and so on.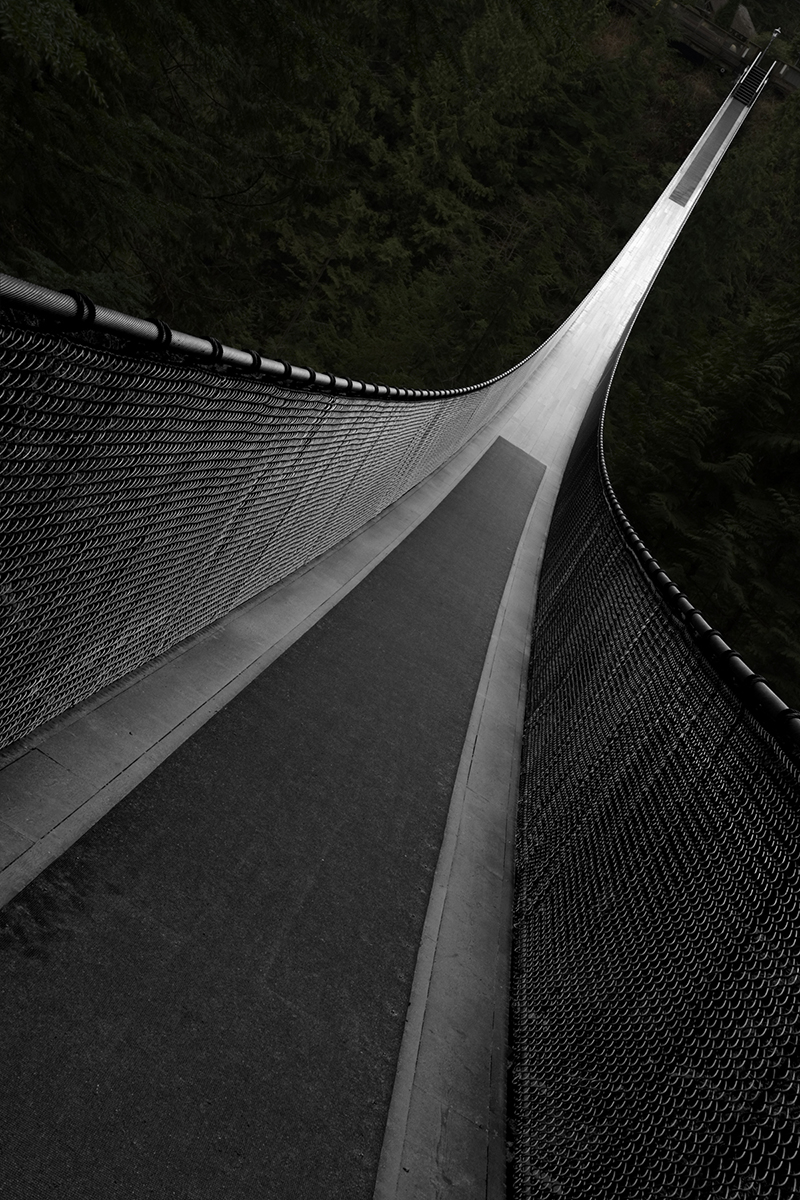 Capilano Suspension Bridge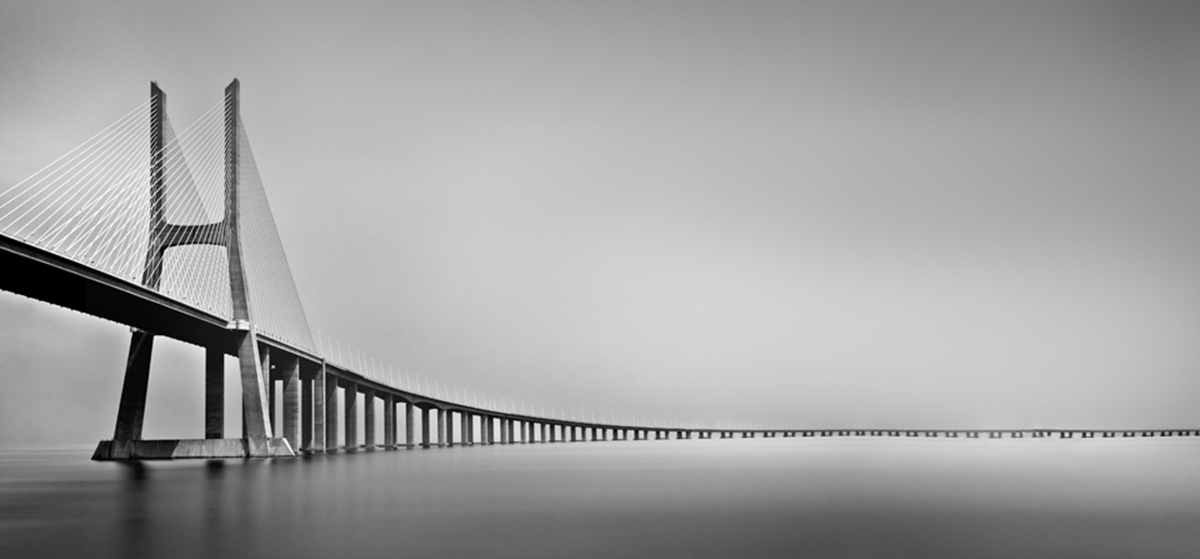 Vasco de Gama Bridge
If I did manage to create a series, it was unintentional and never consisted of more than two images per subject.

Chase Building #1

Chase Building #2
It was only recently that I decided to challenge myself and create a series of images per subject as in the Sundial Bridge images.  This project was a growth process for me as I forced myself to step out of my comfort zone and create a consistent series rather than a one shot.  I still wanted to stay true to my belief that each image should stand strong and have its unique quality on its own, but at the same time I wanted to have them all tie together to be part of the same 'family'.  I wanted to take the series concept and adapt it to my vision as what a series should be and not what I thought it was or resisted.
Stills plus Long Exposures
Photography typically eliminates the continuous dimension of time.  A frozen moment in time can only hope to be timeless.  Daytime long exposure photography however offers the two-dimensional image a greater chance of immortality as time is literally being stretched.
In my portfolio work of Stills plus Long Exposure I wanted to enlarge the spectrum of time in contrast with two dimensional moments by combining a long exposure with a still shot.  The long exposure emotes the flow of time, which provides the isolated still shot a timeless context beyond the mechanics of boats, cameras, and eyeballs.

This image is a strong representation of the eternal, shown through the long exposure of the water, and the split second moment, represented by the still shot combined together to express the solitude of a single boat in the vastness of the infinite ocean

So far I have depicted only two phases of time.  It was through this image of the kite surfer where I found a way to bridge between the two opposing time phases of the sky (eternal) and surfer (split second – moment) to expand the spectrum of time by shooting the water as a semi long exposure.


This ability to translate a subtle conception with limited visual tools is the true hallmark of an artist.  It compels me to dig deep into my soul and search for that 'gut feeling' a place, structure or situation gives me and ask myself, how can I convey this inner impression I have through the limited tools of photography.  By digging within myself to find a way to bridge between my vision and the tools I have to convey it, I find that is where creativity lies.
I enjoy searching and finding novel ways to communicate concepts, to open people's eyes to seeing something differently.  Just like whenever someone points out to you something you have never considered or realized before it makes you slightly more aware. It makes you grow.  For me there is no better purpose in life than becoming and sharing constant growth and change.

Sharon also provides a Video Tutorial about the Creative Process and How to Create Award Winning Fine Art Photography as well as eBooks.  To view more of Sharon Tenenbaum's work: [Official Website]