There is a large increase in Greece of Bulgarian Roma, who because of short distances come in the country by car. The Bulgarian Roma are EU citizens and have the same rights with the other citizens.
 Usually, they don't stay for a long time in one place. They get some rest, take care of their cars and sometimes, if they are lucky, they can find a job for a few days like working in the fields picking watermelons, apples, nuts etc.
Their cars are usually vans. These are suittable for a large family. They can cook inside the car when the weather is bad and of course use it for sleeping. Sometimes the women and children are sleeping inside the car, while the men are sleeping outside, in handmade tents or down on the ground using blankets for mattresses. Most of these vehicles are bad and old. The men spend hours over their machines trying to make these work.
I remember, one day i was driving with my car on the national road. I saw two young boys walking and i stopped the car. Their vehicle was broken and their dad was trying to fix it. The boys showed me the way to the car. A man was there over an old car's engine and some parts of it thrown away around. We made a deal which was something like this. I would give him the tools to fix his car. He would let me take some photos. One hour later i was back there with some tools and the camera on hand.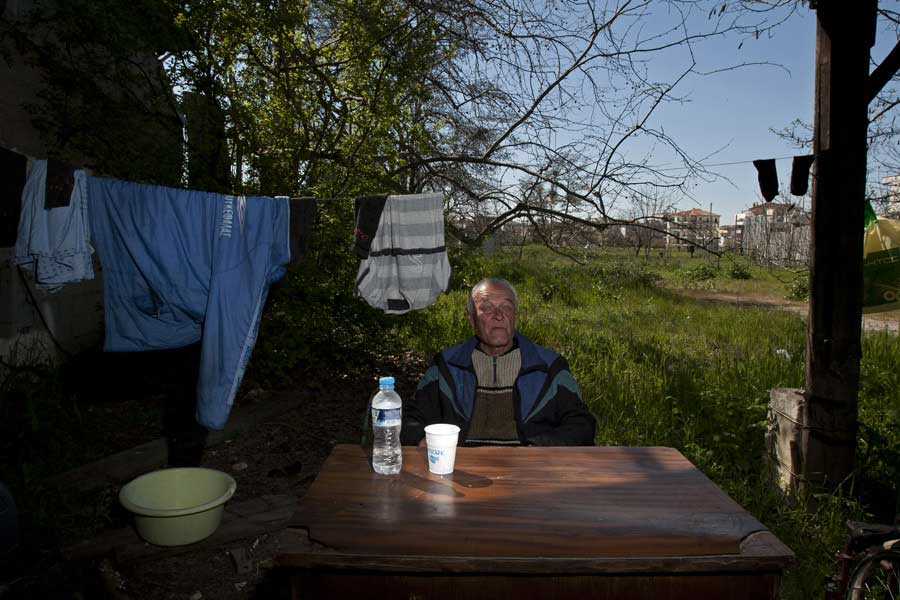 The Bulgarian Roma face intense discrimination, violence, unemployment, poverty, bad conditions of housing and health. While i was working on this project, i always searced for places that could host these people. I was entering inside the old, abandoned houses and buildings of my city. I was double checking the places that other Boulgarian Roma had lived before. I was exploring desert and dark places like bridges (under it) and old factories.
One day i visited a location under a small bridge. What i saw was quite interesting. There were two cars and ten people. Two tents, a table with two men drinking alcohol, some clothes spread out on a fence, a bike with no wheels.. The whole scene was like a scene from an Emir Kusturica's movie. Two young boys were fishing at the river and a few minutes later they brought two sheatfishes. ( some eat this fish but most people prefer not to taste it because the river is quite dirty ). Their mother cut and cleaned the fishes with fresh water and then she cooked these.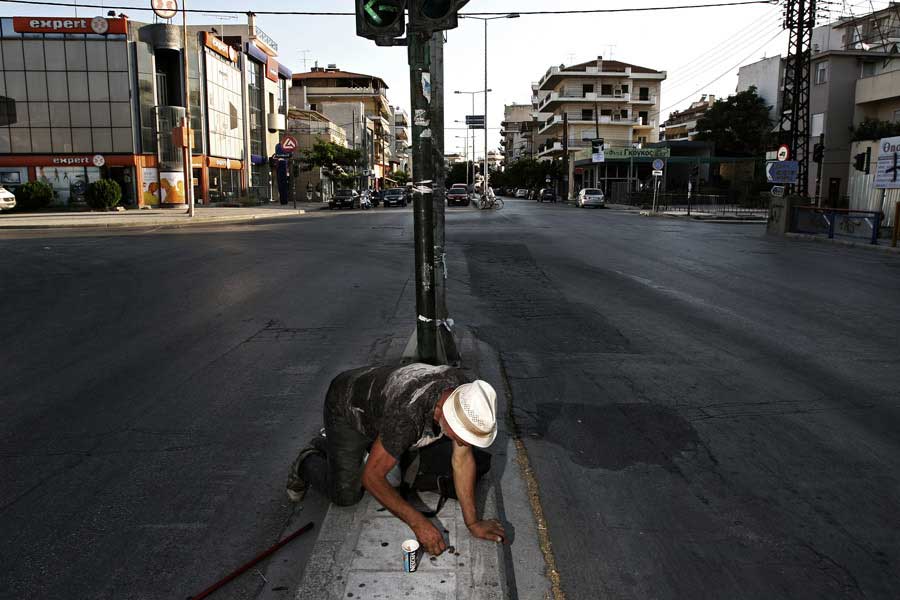 The Bulgarian Roma are usually scavengers that go around the city with self-made carts to look for metallic objects, from iron, copper or aluminum. Cables, electric appliances, mattresses, clothes, are also welcomed. All the metallic parts are removed and sold by the kilo in recycling installations. Each group has its own territory and knows when the garbage trucks pass in order to pass before garbage collection. Iron is sold for 20 cents per kilo while copper has a much better price. Some end on the street, in churches, in super markets begging for money from morning till night. Others are forced to beg, even violently, falling victims of ruthless slavers who after promising them work, exploit them and force them to beg. The culprits select people who have no relatives, who will not look for them, and after removing their personal papers, they transform them to beggars, always under continuous surveillance.
An evening, i was under a bridge again. A man, about 40 years old was sleeping on an old mattress. I came closer. He woke up, looked at me but didn' react at all. Then i clearly saw that his face was beaten by someone. His both eyes were red and there were signs of violence use. There was also dried blood on his nose and his head was shaved in a bad way…
The "Bulgarian Roma in Greece" is a project I started back in 2010 and finished in 2015. It is a long term project that i worked among other photographic projects…