Briefly about Body Parts photography.
 As an artist when shooting body parts, I see infinite beauty. In fact, for me, the human body is the greatest piece of art created. There are endless possibilities: a hand can be captured in any number of ways and will give different impressions to the audience and the photographer.
You can see a hand and feel pity for a person, or, you can look at it and feel fear, depending on how it is shot. Body and its' parts in photography can identify more than they are in reality.As humans we think that we know someone or others think that they know us, but it's not true, we never show everything, never show real us and that's what makes us individuals. This work is about the area where no one else is welcome. Level of closeness where nobody can come close enough to see real us. Sometimes other people try to get in through those borders and it's a violation of privacy. And individual must hold those borders and sometimes it turns into clash and effects relations between two.
I tried to show those unseen borders by hands of model, how she tries to stop us to see her closer. The real her. While her hands show borders, camera refines 'the violator'. By this, each viewer of these series takes role in it and can understand the concept more clearly. Most of shots are close shots to create that area of privacy which model tries to hold. In some frames she just keeps her hands between us (camera) and real her and sometimes where we (camera) push she tries to push back. In this series hands of model play role of gatekeeper who hold the borders and during this action form of hands have been captured.
About Orhan Talibov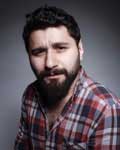 Orhan Talibov was born in Tbilisi, Georgia in 1988. Due to the conflict in Nagorno Karabakh, his family moved to Baku, Azerbaijan, where he began to draw and paint at the age of 10. After completing high school, he decided to continue his studies in Istanbul, Turkey, where he began to pursue photography seriously. In 2012, he began a Master's in Cinematography at Marmara University. Shortly after, he decided to dedicate himself professionally to photography, primarily focusing on portrait, urban landscapes and body part photography. His approach is simple and direct, and he usually works with minimal equipment. He prefers to focus on the simple beauty of things in our everyday lives and to draw the viewer into the world he portrays in his photographs. Charles Bukowski and Tom Waits are among those who have inspired him to look at the world with a different perspective. Orhan's appreciation of aesthetics and his perspective in photography is very much intertwined with cinematography, and he has also been influenced by many filmmakers, such as Stanley Kubrick, Jim Jarmusch, Sergio Leone, Terrence Malick, Jacques Audiard, and Alejandro Gonzalez Inarritu. Orhan is currently based in Istanbul and works as a freelance photographer.[Official Website]