Shifting Roots was photographed in the forest located along a small river close to Vienna.
In these times of climate change, water is considered to be the blood of earth. The river becomes a metaphor for life. Shifting Roots addresses the origins, moving on, beginnings and ends, and ongoing transformation of the cycle of life and generational change. The forest becomes a source of energy and inspiration for all creativity. Shifting Roots is the third part of a trilogy after Roots & Bonds (2015) and Goosewalk (2019).
About Regina Anzenberger
Born in Vienna; painting since age 13, 12 years painting with oil and red sand from the Australian desert; artist, curator, founder and director of the AnzenbergerAgency and Gallery; director of the ViennaPhotoBookFestival 2013-2017. Personal artistic projects include exhibitions and publications such as Philodendron (exhibition catalogue with painting, drawing, and photography, 2006), Der Hund Shakeera (self-published, 2010), All about Golf (AnzenbergerGallery, 2010), and My Golf Diary (AnzenbergerGallery, 2011), Roots & Bonds (AnzenbergerEdition, 2015), Imperfections (Collector's Portfoliio, 2016) and Goosewalk (AnzenbergerEdition, 2019, German Photobook Award Silver Medal 19/20). Lives and works in Vienna, Austria.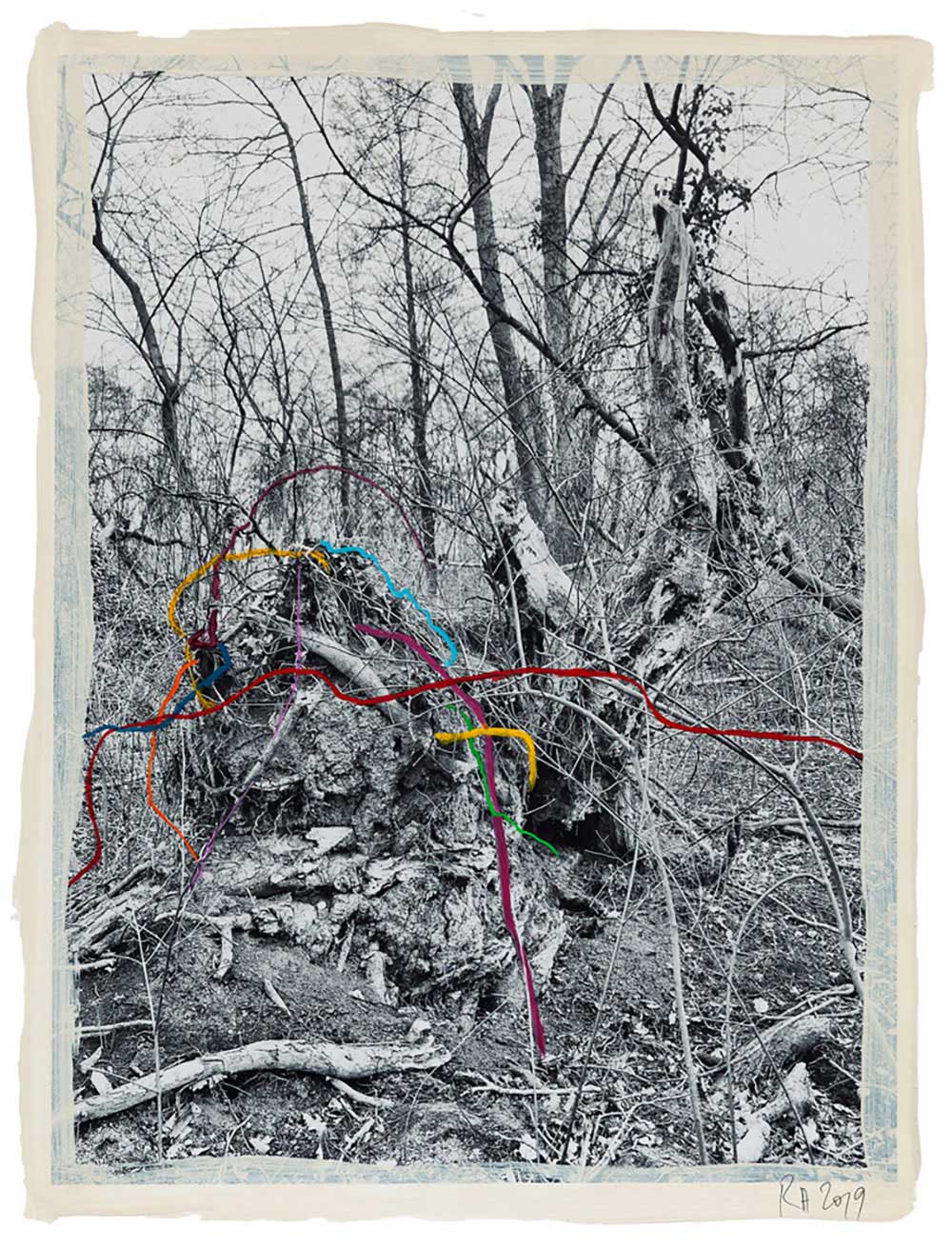 Shifting Roots
(collector's edition – pre-order)
Photographs: Regina Anzenberger
Text: Regina Anzenberger
Publisher: AnzenbergerEdition
124 pages
Pictures: 46 black and white photos and 28 mixed media works
Year: 2020
ISBN: 978-3-9503876-1-2
Price: 128 €
Comments: Collector's Edition of 25 copies. Book size: 24 x 18,5 cm. Book: Edition of 350 signed and numbered copies including the collector's editions with a signed print (25 different motifs in the size of 20 x 15 cm, printed on Hahnemuehle PhotoRag Ultra Smooth paper). Available motifs can be seen in the preview (look inside). Please contact us if you want to choose the motif of the print. Prices (not by numbers but by sold copies): 1-10 Euro 128, 11-15 Euro 148, 16-20 Euro 180, 21-23 Euro 220, 24-25 E