The edge or border of something. An amount by which something is won or falls short.

 
Consider the mind and body as a parchment that is scribed, erased, and scribed again—used and reused in perpetuity until its fibers begin to unravel and fall apart. Each layer is affected and shaped by the previous—partially healed—but forever bearing the wounds of its history. A psychological estrangement has occurred: a cavernous fissure, a misunderstanding and an ultimate rejection of the teachings of my ancestors. Their ideologies are largely rooted in fear—a mode of self preservation designed to protect them from those that are different—from the unknown. My only fears manifest in tandem: I fear from where I came—I fear what I've become. This is a knee-jerk reaction. This is narcissism. I am a con man. I am a soothsayer. I wield the camera as my scepter, harnessing light—conjuring images from the past—selling you images of the future.  
This project is an extension of my examination of the family photo album.  Compared to previous projects this collection of images is more personal and more self-referential.  I am approaching middle age — I do not have my own family in the traditional sense — and I have never subscribed to the notion of the American Dream.  I photograph my friends, my partner, and myself in a failed attempt at immortality and to challenge the definition of "family."  As an artist I think it is critical to react to what is happening in the world.  Becoming a Specter also describes the anxiety and psychological estrangement I've experienced as a result our current social and political predicament in the United States. I think of this project as a form of aesthetic defiance. It is my goal to expand the perimeter of visual information that might be considered for new iterations of the family album.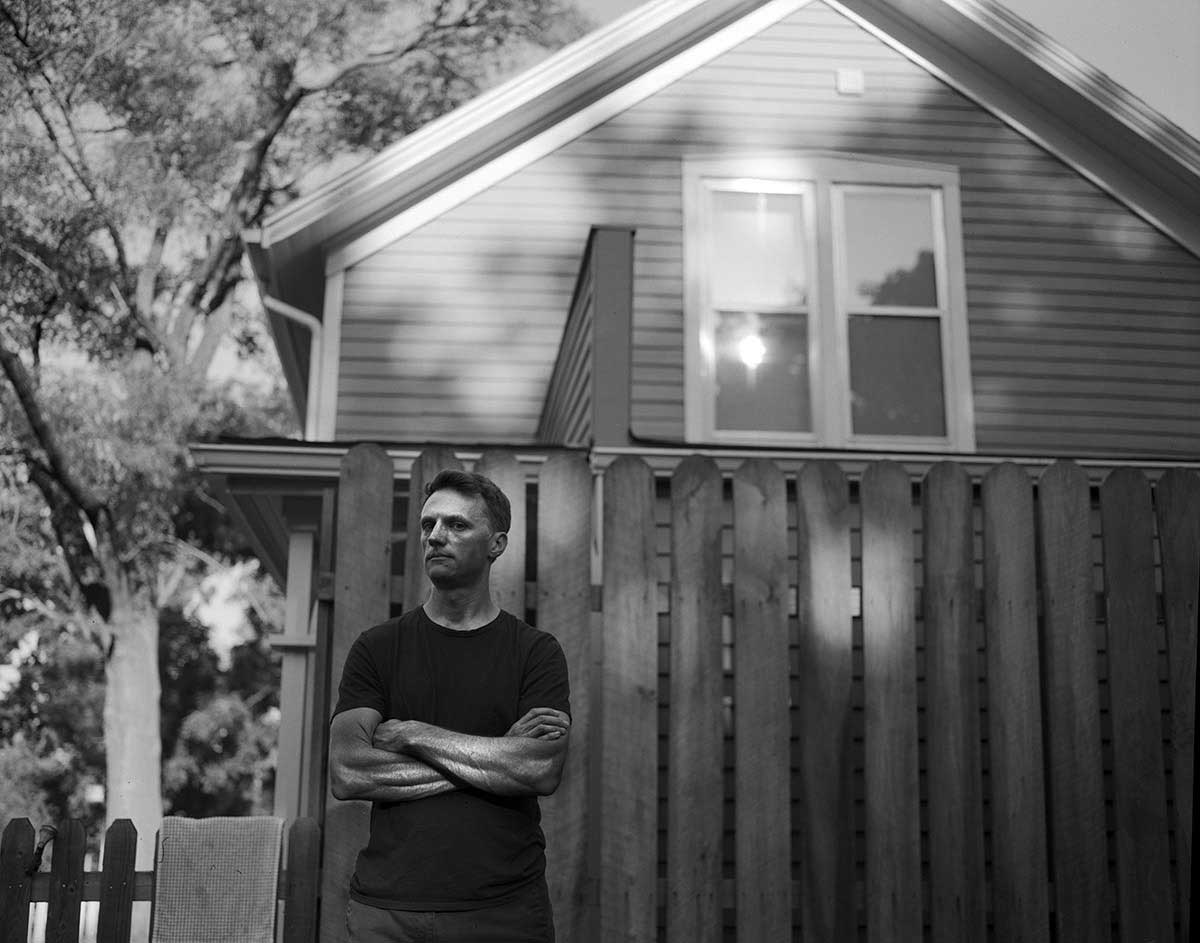 About Daniel W. Coburn
Daniel W. Coburn was born in San Bernardino, California in 1976. His work and research investigates the family photo album as one component of a visual infrastructure that supports the flawed ideology of the American Dream. Coburn's friends and family members confront his camera to construct a potent amendment to the idealized family album. Daniel's projects illuminate important issues that are often suppressed in traditional family albums. In doing so, he has expanded the perimeter of visual information considered for inclusion in new iterations of the family album.
Coburn's prints are held in collections at major institutions including the Museum of Contemporary Photography at Columbia College, The Marianna Kistler Beach Museum of Art, and the University of New Mexico Art Museum.  His photographs have been the subject of solo exhibitions at the Mulvane Art Museum, Silver Eye Center for Photography, Filter Photo Space and La Fototeca Gallery.  Photographs from Daniel's comprehensive body of work have appeared in numerous international group exhibitions including Álbum de Família at Centro Municipal de Arte Hélio Oiticica, in Rio de Janeiro, Brazil. His first monograph, The Hereditary Estate, was published by Kehrer Verlag in 2015.
Daniel Coburn is a recipient of a 2017 John Simon Guggenheim Memorial Fellowship.  He was named as a finalist for the Arnold Newman Prize for New Directions in Photographic Portraiture the same year. Coburn received his MFA with distinction from the University of New Mexico in 2013. He currently serves as faculty at the University of Sydney, Sydney College of Arts. [Official Website]