The shops at the latest trend from Paris and New York, set the tone
Adjamé Cocody , Treichville, Marcory.. in every districts of Abidjan, shops are selling cloths made in china, alternate with tailors shop and Traditional Outfits shops.
I observe this busy festival of elegance and I notice a detail : almost all the mannequins are white. I am wondering why, and i decide to find out by asking questions to people around me. All of them tell me that it must be because the mannequins are manufactured and imported from Europe or Asia. I am not satisfied by the answer. I become obsessed with these frozen men, women and even children .
The more I look , the more I ' see ' them … as human presences. Some irritate me, others amuse me , sadden me and move me. As time goes by, my subconscious gets used to this little obsession .. I cross the same streets, the same areas of Abidjan, I familiarize myself with some of these mannequins, and I begin to see them as people frozen in time and space. I also note that most mannequins are manufactured locally, and I spot several places of handcrafted mannequins, by the road. I want to understand why. Why are locally made mannequins in white ? in an african country as Ivory Coast? Why are these human presences with sad facial expressions? Some faces seem about to break into tears.
Behind the " locks / windows " , the models seem imprisoned. These white presences are dressed with African traditional outifits . Local manufacturing will adapt to local tastes … morphologies, wide hips , well-filled breasts , full arms. This type of mannequin is called " Awoulaba " Awoulaba is a term in Baule language from Côte d' Ivoire, for « beauty queen ». In Ivorian popular culture, Awoulabas are beautiful women with impressive measurements: a significant face, large breasts (criteria , originally more or less negligible in the name of a Awoulaba ), a remarkable drop in the kidneys and, above all , what is important to be described as such , hypertrophy of the buttocks. Note that an Awoulaba is not obese, it has a special morphology ; only her buttocks are disproportio- nate. It looks like she has a guitar shape. Miss Awoulaba is organized to stand out from Miss Ivory Coast, inspired by the globalized standards and criteria. More and more often, girls with overweight are integrated in the contest of Miss Awoulaba .
The models with European standards are called « Taille Fine » (Thin Waist) This leads us to the incessant ballet of white women in African outfits .. tunics, cloths … and that eggshell color and the sad look… The idea is that women are exposed to so many influences and diktats, by the media, that finally , the image of beauty becomes a superposition, an accumulation of these millions of influences that society projects abouts beauty image. This becomes confusing because beauty standards merge so much that it becomes difficult to have a clear idea.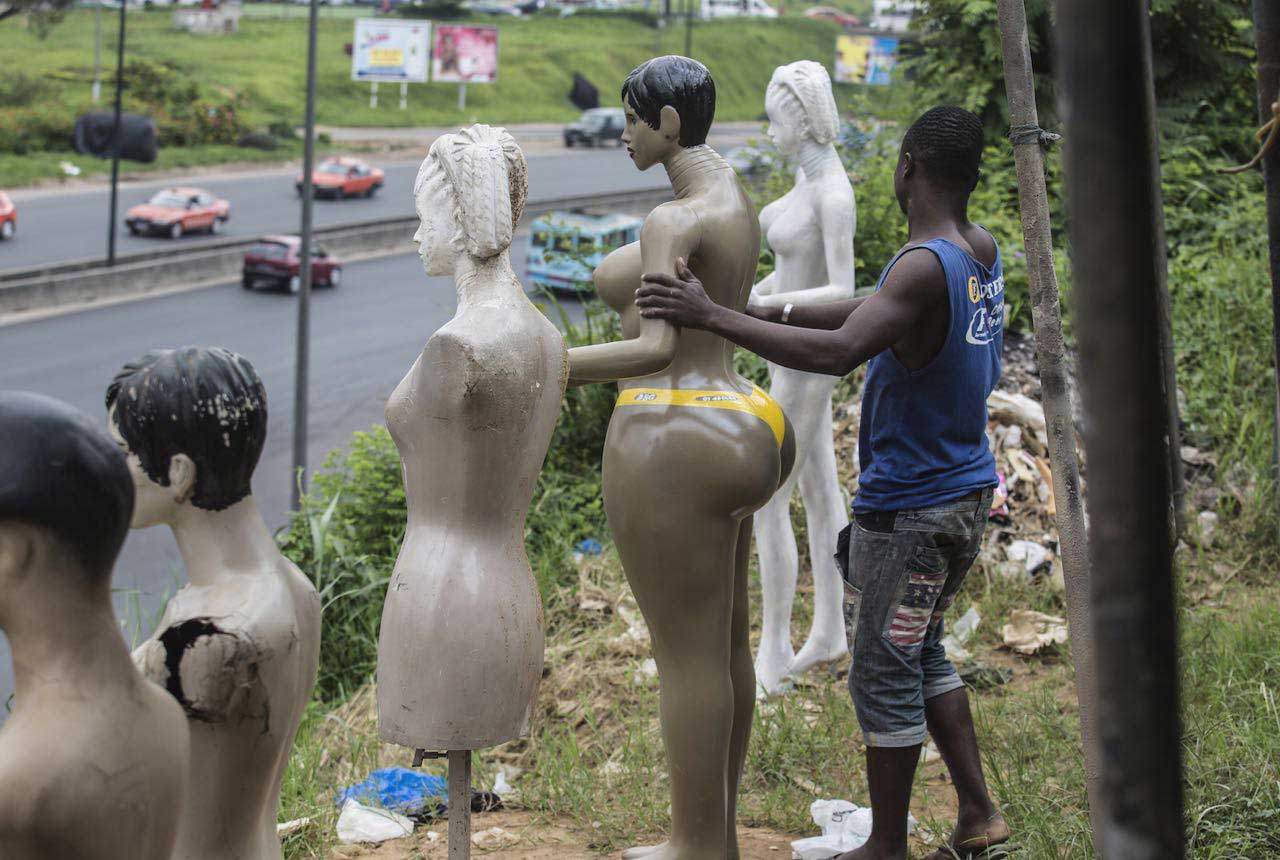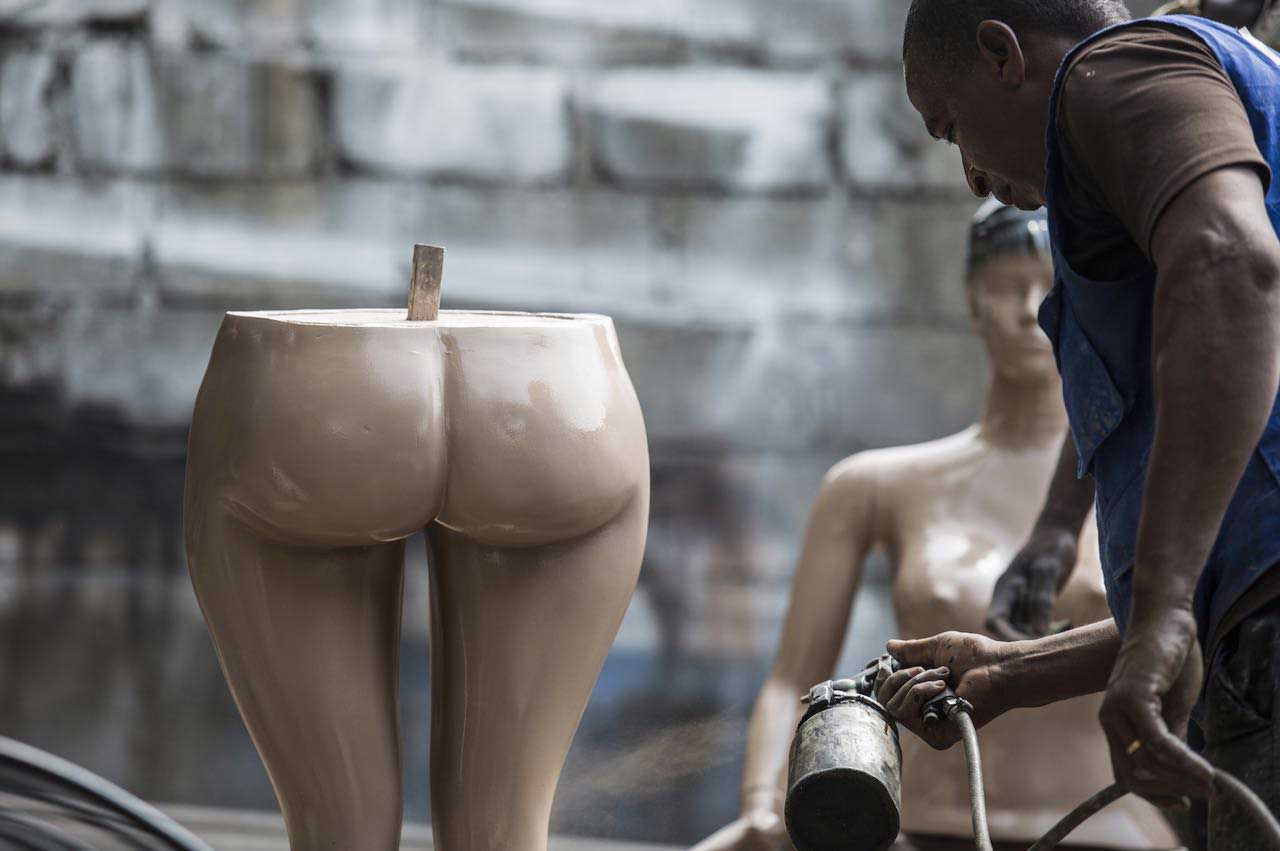 The conceptual photo compositions evoke "the Venus" celebrities who are supposed to "embody" the perfect popular beauty, and who millions of women try to imitate. their popularity is mostly due to their physical appearance. yet, their body shape is clearly noticeable.
These compositions are the result of "real women's naked bodies" superposed with the "perfect shaped" mannequins to finally reach to an hybrid representation of what is supposed to be a "perfect woman". the "real one" and the "perfect" one.
Designers
The local manufacturers reinterprated the original imported mannequin to make it to the local beauty standarts. If they keep the white skin color, they totally reshape the original molds to make new mannequins
and call it « Awoulaba». The phenomenon is quite recent. It started only in 2011. This is mostly due to the growing demands of fashion shop since then. The business is florishing because now that it is made locally, a mannequin is cheaper and it can be customized to the buyer's taste.
The fashion shop owners and tailors are the main clients. To them, the fact that a mannequin can be designed at their own taste is increasing their incomes because a mannequin with curves is perfect to present their goods.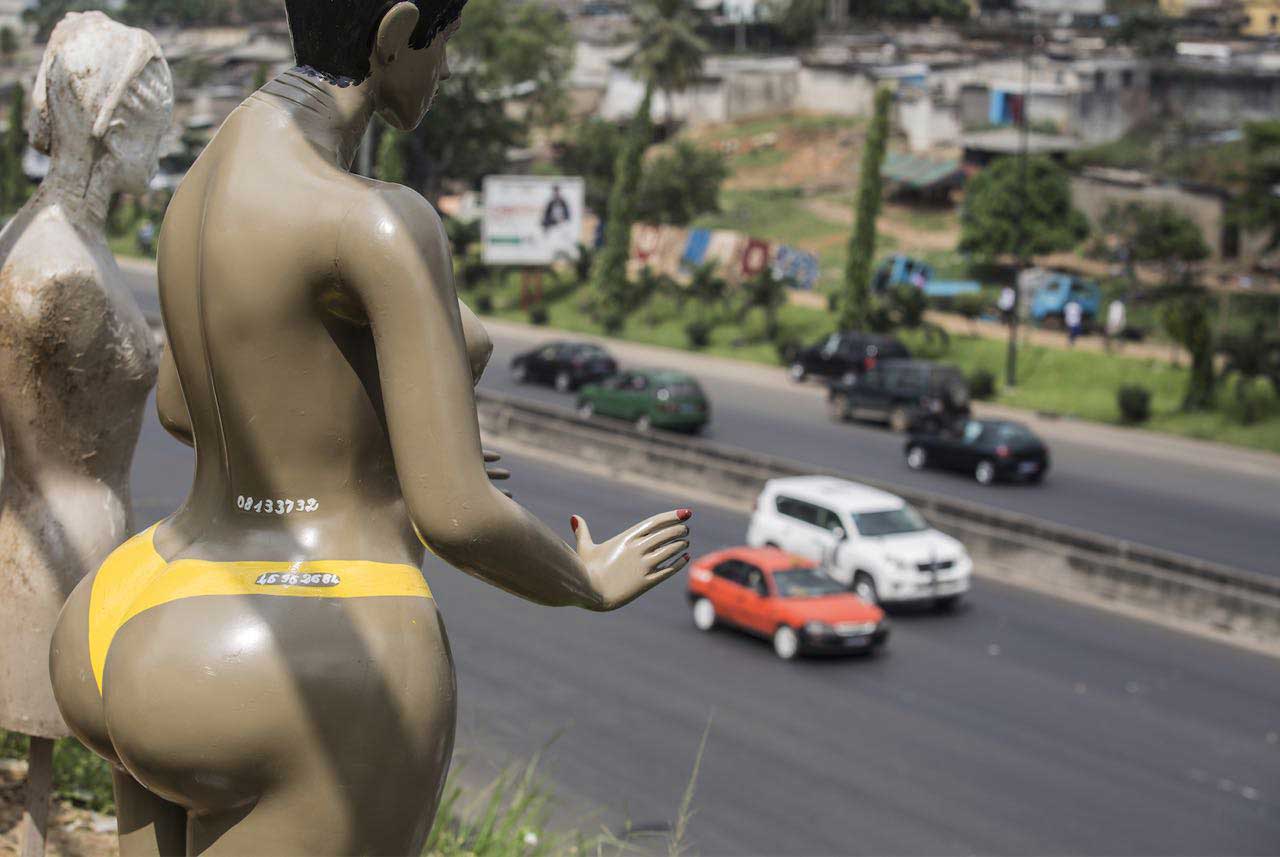 I chose to add some pictures of the manufacturer's catalogues to show how proud of their creations they are. Even if they will sell them soon, they own their creations in a way. The gestures and postures are confident, with some autority. The appear as the designers and "creators" of these creatures made of polyester.
Awoulaba / taille fine explores the african identity. The series highlights the social contradictions of african culture, the complex notions of femininity, beauty and body image in a contemporary africa.[Official Website]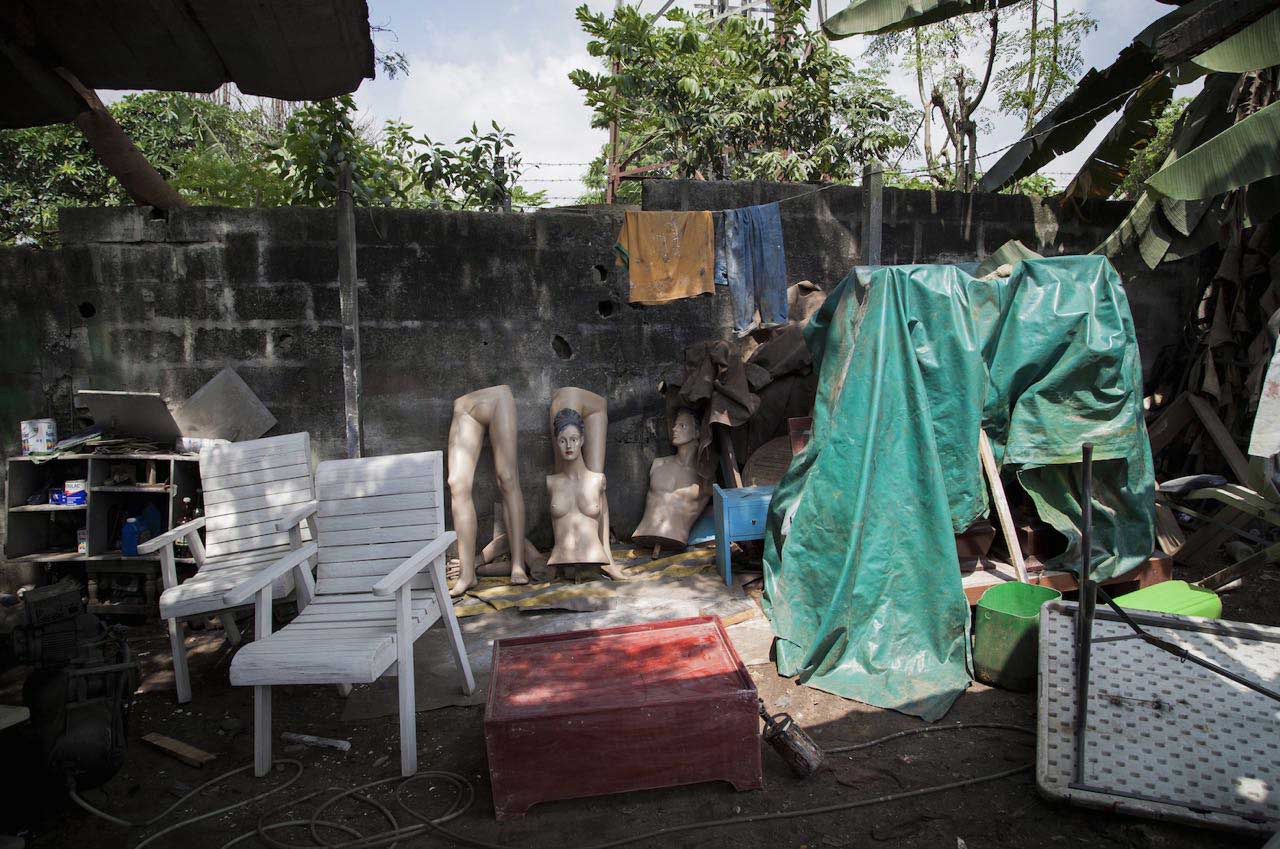 Awoulaba/taille fine – Joana Choumali by Maria Pia Bernardoni
The latest project by Joana Choumali explores the complex, contradictory notion of femininity, beauty and body image in contemporary Africa and, by extension, possibly, in every contemporary feminine world as observed with the sudden world wide obsession with enhanced bottoms and previously breasts.
Joana has been documenting local manufacturers in Cote d'Ivoire who are producing mannequins customized for for the idealised pulchritudinous African taste and shapes. It is a recent phenomenon, only started in 2011, but already very successful. The local manufacturers modify or create mannequins, with body shapes more more associated to those of African women: wide hips, well-filled breasts, full arms. They even paint them in darker colors at times. This type of mannequin is called "Awoulaba", which stands for "beauty queen" in Baule language from Côte d' Ivoire. In Ivorian popular culture, Awoulabas are beautiful women with impressive measurements: a significant face, large breasts, a remarkable drop in the kidneys and, above all, hypertrophy of the buttocks. Taille Fine, instead, is the term used to identify models or mannequins following western standards of beauty.
Besides the documentary aspect of the project, Joana investigates the concept of beauty and body perfection. What is to be considered a perfect body? Should we model ourselves into the souless perfection of the mannequins we are surrounded by? Or should we design our own concept of beauty and identify models who can more veritably represent us?
Women are constantly exposed and influenced by fashion diktats, models imposed by the media and global standards that hardly can represent the variety of the human bodies. Beauty, then, becomes a superimposition, the projection of the mood and trends that a society converge upon at a particular time in history. What is to be considered beautiful and attractive blurs and get confused with what is supposed to be liked, what is supposed to be considered beautiful by popular standards.
The project is composed of two parts. A first more documentary group of images, showing the craft and works of the manufacturers. They are so proud of their final products to get to the point of treating them like real persons, and they have the habit of documenting their creations for the shop catalogues in the fashion of real portraits.
There is a second group of images where Joana superimposes images of real women's body parts to the perfect shapes of the mannequins. They evoke the "venus" celebrities who embody "perfect beauty" in popular culture:
Kim Kardashian ( the "white awoulaba") ,
Nikki Minaj ( the "light skinned" Awoulaba )
Naomi Campbell (the black taille fine),
Lupita Niango (the "black taille fine")
Beyonce ( the "light skinned" Awoulaba )
These conceptual composition constitute the hybrid representations of what a "perfect woman" is supposed to be: the real one and the perfect one, all at the same time. The final image results in a disconcerting and destabilizing ensembles of shapes and symbols and colors and ideas. You are still able to decipher and recognize them, but it is impossible to appreciate or, most importantly, to identify with them.