Apocalyptic Visions: An AI Odyssey into Surrealism
In a digital realm where the boundary between reality and imagination dissolves, I embarked on a captivating journey using the potent tools of Midjourney v5 and Photoshop. "Apocalyptic Visions" invites you to explore a world where the ordinary transcends into the extraordinary.
In the year 2150, our world has transformed into an ethereal dystopia, where blimps, helicopters, and enigmatic floating objects dominate the skies. Through my lens, guided by AI prompts, I have breathed new life into these futuristic elements, transcending their technological origins to forge surreal symbols of a world poised on the precipice of transformation.
With Midjourney and Photoshop as my artistic allies, I have harnessed the power of technology to infuse mood, color, and imaginative elements into every visual. "Apocalyptic Visions" is a testament to the fusion of AI-driven artistry and boundless creativity, where the surreal redefines the ordinary, and the realm of imagination knows no bounds. Join me on this odyssey, where we challenge the limits of visual storytelling and enter a world where surrealism reigns supreme.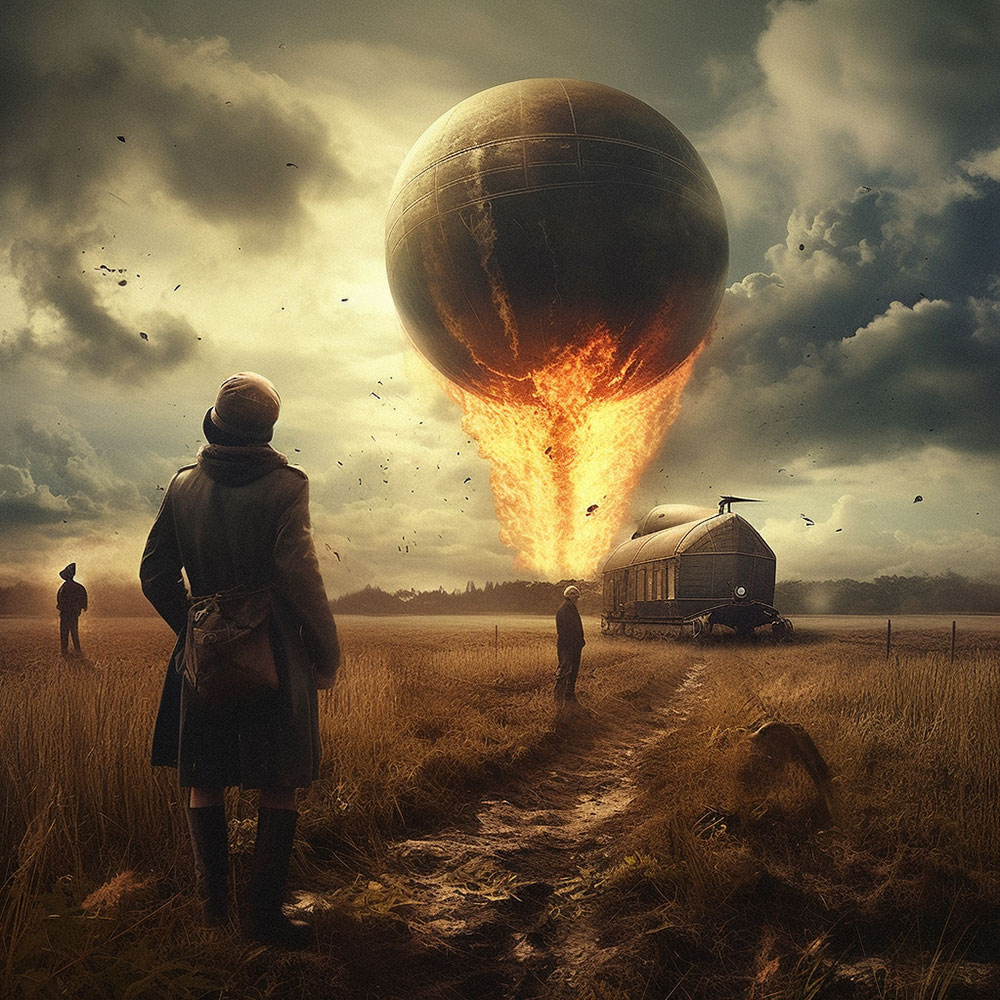 About Eric Jude
Eric Jude is an entrepreneur, coach, and photographer, driven by his unwavering passion for capturing unique images of every person he encounters in his life. Whether it's in a corporate setting, at home, with family, or while they're living out their dreams, Eric strives to tell a story with each individual he photographs.
He takes the time to get to know them and understand what drives them, then creates an atmosphere that reflects their true personality. With every portrait, Eric aims to create an image that will stay with them for a lifetime. Being a natural perfectionist, he puts in meticulous effort, working on each portrait with passion and love. This commitment and dedication are reflected in his body of work, and he eagerly anticipates creating more portraits and pictorials in the future.
Having worked as a photographer in both New York and Canada, Eric Jude has been fortunate enough to shoot fashion and lifestyle campaigns for a range of fashion brands, designers, magazines, and film events. Notably, in New York, he shot the entire catalog for Levi Strauss, as well as numerous corporate and business photoshoots.
He has collaborated with film directors on ad films and has directed a few of his own. Interacting with people from diverse backgrounds is one of his favorite aspects of his work, and he is always eager to create a diverse portfolio that reflects a variety of personalities and lifestyles. [Official Website]