I was born and raised in a small town in the mountains of Saxony in Germany and now I live in County Galway / Ireland. I am hooked to photography for over 15 years now. It all began with an old SLR (a "Praktika") my Grandfather gave me.
I started to photograph flowers, landscapes and ruins. In order to gain better control over my art, I bought gradually the equipment for my own darkroom, which I then set up in my first apartmentâ€s bathroom, I was completely thrilled with the possibilities to create my own perfect dream world. Six years ago I switched to digital SLR. It was not easy for me because of all the work and time invested in analog photography but it took not long until I started appreciating all the new possibilities. Nowadays I spend many hours daily in front of my computer, building my own world of imagination.Everything I know about photography, I taught myself. I started with simple static motives. Thereby I learned a lot about the right light. Later I took self-portraits which gave me a better understanding how to allegorize different facial expression and gestures. Each of my photos derived from a story that developed in my mind and this story continues after the photo was taken. They are little excerpts of my thoughts which I try to reflect in this way. It's not important for me to show reality. I want to show my world of fantasy and wishes. My moods, feelings, dreams and aspirations are components in all my photos. You could call me a daydreamer. I often digress with my thoughts towards far and surreal places where I am the Queen and this world develops itself further with every thought of mine.I'm fascinated of humans with interesting faces and their emotions and expressions. Every face is unique and the same face can look totally different in varying scenarios. I find inspiration for my "dream-stories" in a lot of things like music, books, films, conversations, faces and so on. I have a little book where I write my ideas down. There are countless ideas which I want to realize but there is barely time to finalise them all. Under normal circumstances my photoshootings are precisely planned and prepared. That means that I arrange the setting beforehand to test how things will appear. But of course there are at times photos which arise spontaneous. Mostly this happens when I try to photograph children or animals. I flesh out my ideas with attention to detail. The preparation for a photoshooting can take a few days. Styling can also require a few hours. But the most time I spend with post-processing. I prefer to work in studio environment because there I can adjust the light according to my priorities and don't have to prepare for contingencies. I find my models amongst my friends, on the streets or on Internet model-pages. I´m always open for new and interesting faces. [Official Website]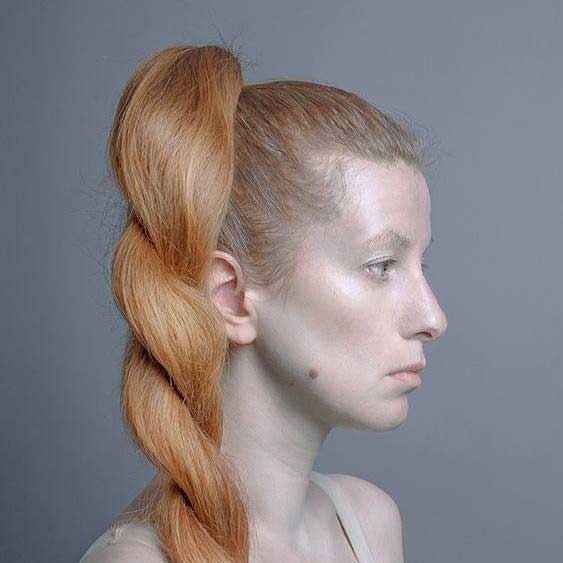 Can you explain us the idea or the story behind this image?
One day I saw the flowering dandelions in my garden and had the idea for this picture. The homogeneous surface reminded me of a brightly intense fabric and I imagined how I can bring those colors and shapes into everyday life and what I can replace it with. We are surrounded by so many things with supposedly established and ordinary purposes. So I came up with the thought to change this by rearranging the flowers and giving them a new purpose in our day-to-day life. The idea to wear flourish flowers as hair accessories is nothing new. But I wanted to go a step further and not just use single flowers. They shouldn't just be an accessory for the hair but rather become the hair by themself and be the main body decoration. Furthermore, I wanted to bring the rapid evanescence into it by using a mixture of fresh and withered flowers.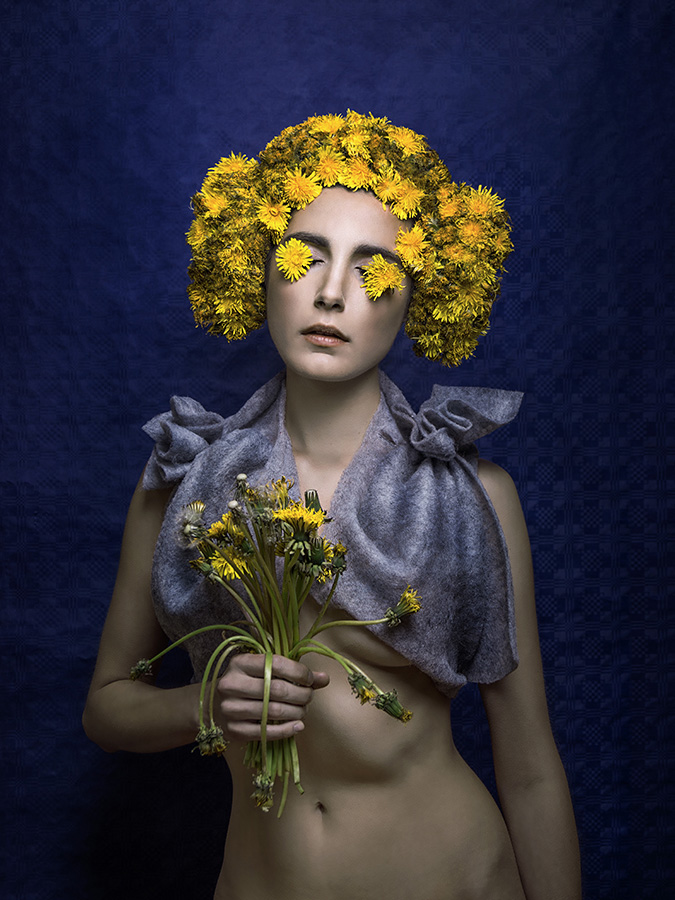 Can you explain us what equipment you used for its realization?
My equipment for this shot was a Sony Alpha 57 with a 18-55mm F/3.5-5.6 SAM lense. Besides that I used a studio flash from Godox and I made other use of a paper tablecloth for the background.
Tell us how it is taken from the most technical aspect.
I took the photos with an ISO 100. The shutter speed was 1/200, the aperture F/4.5 and the focal length was 30mm. I positioned the flash light frontal and above the model to create more dynamic and hardness through light and shadow.
What problems and challenges did you face when you took the shot of this image?
Because I knew pretty well how the photographs eventually should look like, the settings were relatively clear to me. So there was no big testing with the position of the light, focal length and aperture.
My main problem arose with the flower wig. It started with the time frame for the production of the wig. Everyone knows how fast flowers fade when they are picked and not put into water. So the time frame was rather limited. In order to get a mixture of fresh and withered flowers, I had to pick the flowers not in one go but staggered, put some into water and left some without water to let them wither.
The next problem was the fixation of the flowers themselves. I created a wig basis where I could only pin the flowers on it. This led to quite an unstable construct and this meant that we had to be very careful during the shot so the flowers would not break loose. It could not be avoided altogether and I spent a lot time with replacing flowers and re-fixing them.
We are talking about the postproduction process. How do you get the final result?
In comparison to the preparation, the post processing took less time. I tried to get my arrangement as close as possible to my final concept.
First, in the post production, I made the usual skin and beauty retouch where I removed "rough" skin blemishes (of which my model does not have so much). This was followed by a correction of colors, which means I removed a red stain and gave more saturation into the yellow and blue. After that I cleaned up some spots in the wig, where small gaps occurred. The last was an adaption of the tonal correction to get even more of this dramatic appearance by brightening the light spots and dim the dark spots.
I am very satisfied with the final outcome as the result basically reflects exactly my idea which I had at the very beginning when I was looking at my dandelion meadow in the garden.