Erik Johansson is a photographer and retoucher from Sweden based in Prague, Czech Republic and Sweden.
He is working on both personal and commissioned projects with clients all around the world. Erik  Johansson doesn't capture moments, he captures ideas. With the help of his camera and Photoshop the goal is to make it look as realistic as possible.
I was born in April 1985 outside a small town called Götene in the middle of Sweden. I grew up on a farm with my parents and two younger sisters and I spent a lot of time in nature. For as long as I can remember I have liked drawing. Maybe because of my grandmother who was a painter. When my mom asked me how my day in school was I would rather draw a comic showing how it was. My dad got a computer for work already in the mid 80's so I also early developed an interest in computers, mostly by escaping to other worlds through computer games. At the age of 15 I got my first digital camera, a very simple point-and-shoot Fuji film camera, but it opened up a new world to me. Being used to the process of drawing it felt quite strange to be done after capturing a photo, it wasn't the process of creating something in the same way as drawing. You didn't start with a white empty paper, once you pressed the trigger you were done. I early felt like I wanted to do something more to the photos and having an interest in computers made it quite a natural step to start there. I was playing around with the photos in the computer trying to create something that you couldn't capture with the camera, mostly very basic modifications like changing color or putting my little sisters on our roof top. That is how my interest in photo manipulation started, I learned by trying but it wouldn't become a profession until years later.
For me photography is just a way to collect material to realize the ideas in my mind. I get inspired by things around me in my daily life and all kinds of things I see. Every new project is a new challenge and my goal is to realize them as realistic as possible.

Erik Johansson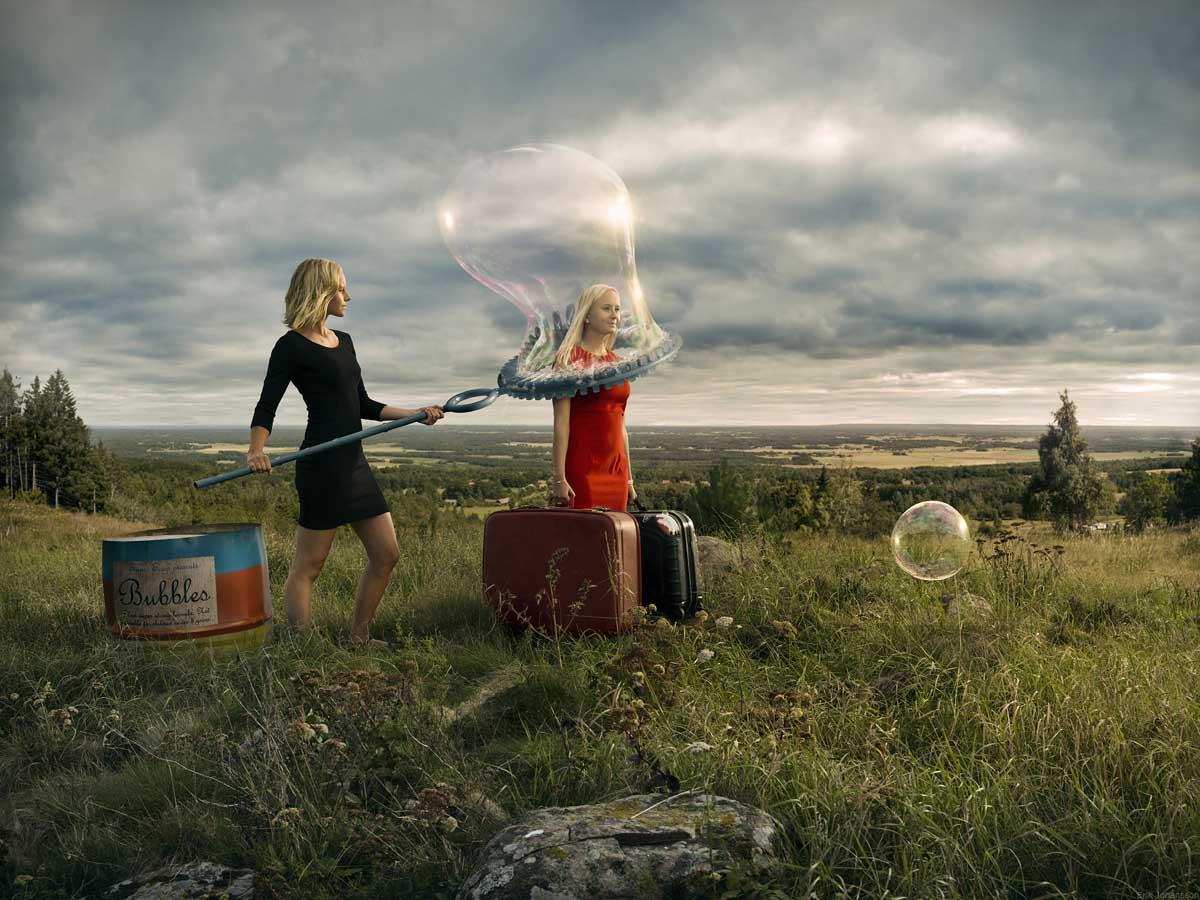 I was quite good at mathematics in school and liked the science behind how things work. I went for the natural science program in high school and in 2005 I moved to Gothenburg to study Computer engineering at Chalmers University of Technology. By that time I didn't have any plans on doing the photography for a living, I couldn't imagine it to be a real profession, it was just a fun hobby and didn't really believe that fun and work could be combined. But during my time studying my friend Eric bought a DSLR (Canon EOS 350d). This camera was somthing completly different from the simple point and shoot cameras I had tried up until this point. I was out taking pictures with Eric a few times and it led to me also getting a DSLR (Canon EOS 400d) the year after. A pretty big investment at the time still being a student. I took up my interest for photography and photo manipulation once again but this time having a better camera I felt like I wanted to spend more time manipulating them as well. I had learned the basics already and started spending more time on each photo.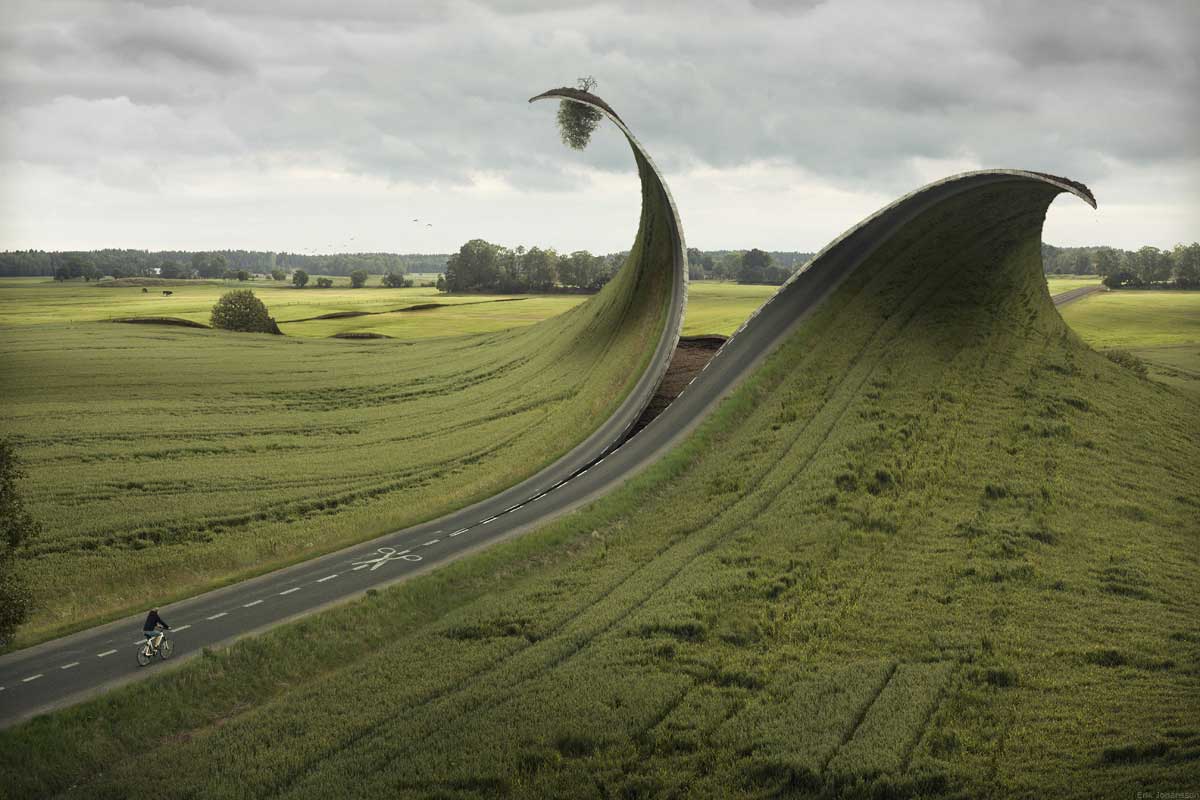 I had a lot of ideas that I wanted to bring to life and it was a lot about problem solving trying to make it look as realistic as possible. After publishing some of my images online I started to get requests helping out with some retouch for a few local advertisement agencies. I slowly started freelancing in parallel with my studies while still working on my personal projects. I got more and more jobs and by the time I finished my studies with a master in Interaction Design I felt like I rather wanted to try out the photography path, at least for a while to see how it went. It was time to change environment after 5 years in Gothenburg so I moved to Norrköping in the eastern part of Sweden to try out the life of a freelance. I made new friends and work slowly stared to take off. At first for some advertisement agencies in town but by having my work published online I also stared to get requests from abroad. In early 2012 it was time for something new again and I packed my bags for Berlin, Germany. I've always thought that inspiration lies within the contrast between things. With the history of Berlin I couldn't think of a city with more contrasts than Berlin. Once again I had to restart, meet new friends and get to know a new city. In November 2015 I moved once more to Prague, Czech Republic and where I am currently based.
Today I work on both personal and commissioned projects, sometimes quite unusual like a street retouch prank or anamorphic illusion installations. I've been working with clients such as Google, Adobe, Microsoft and National Geographic. I love doing my personal projects and but it's also satisfying making someone else's vision come to life with the commissioned work. I think growing up on the Swedish countryside had a big impact on my visual style. A lot of the environments in my photos are captured near places I know, around my parents' home with wide open landscapes and small red houses. Inspiration is everywhere and once you learn the tools you're only limited by your own imagination. This year I turned 30 and I feel like I'm just getting stared for real. There are so many more projects waiting to be put to life. [Official Website]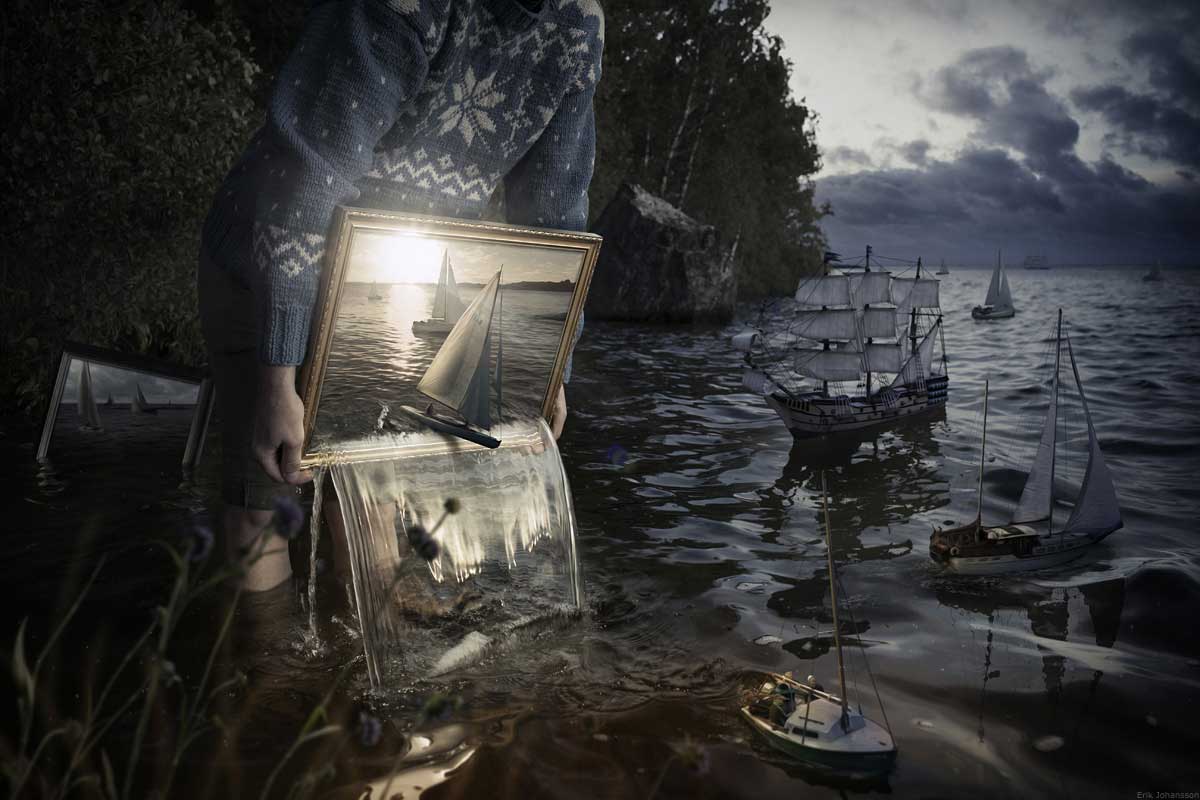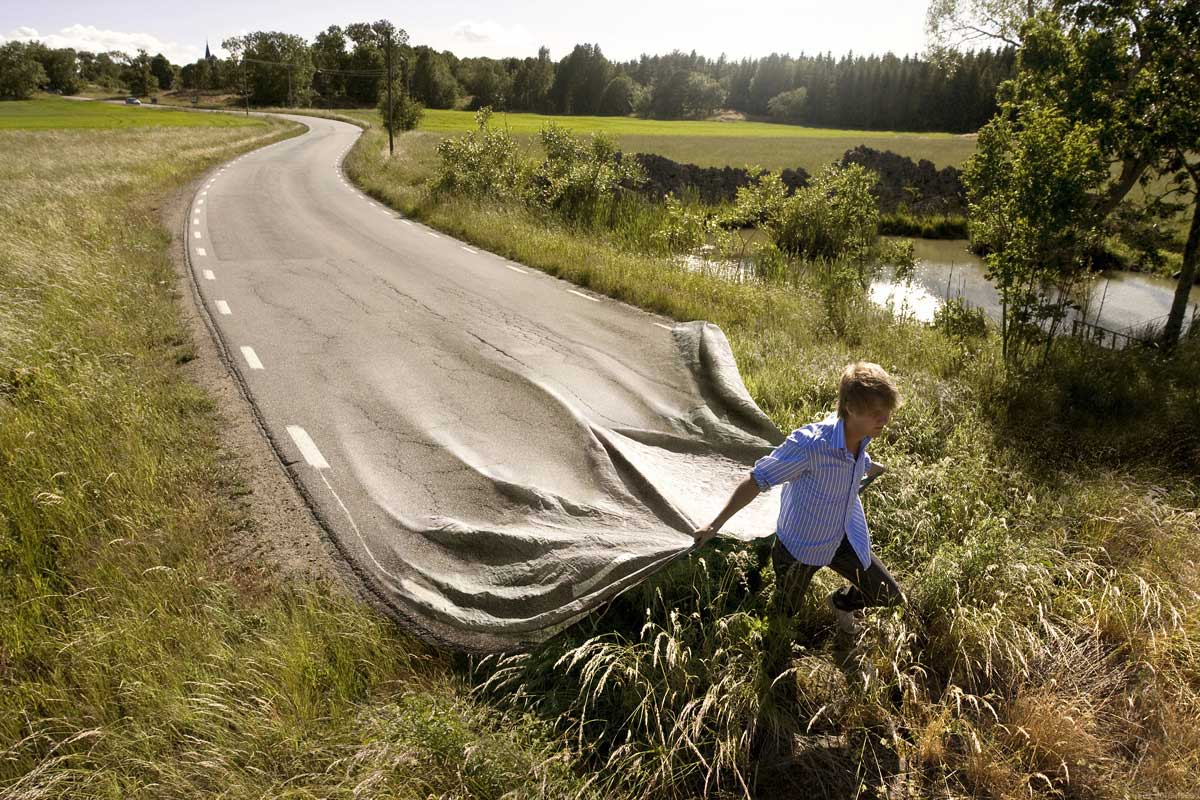 The only thing that limits us is our imagination.

Erik Johansson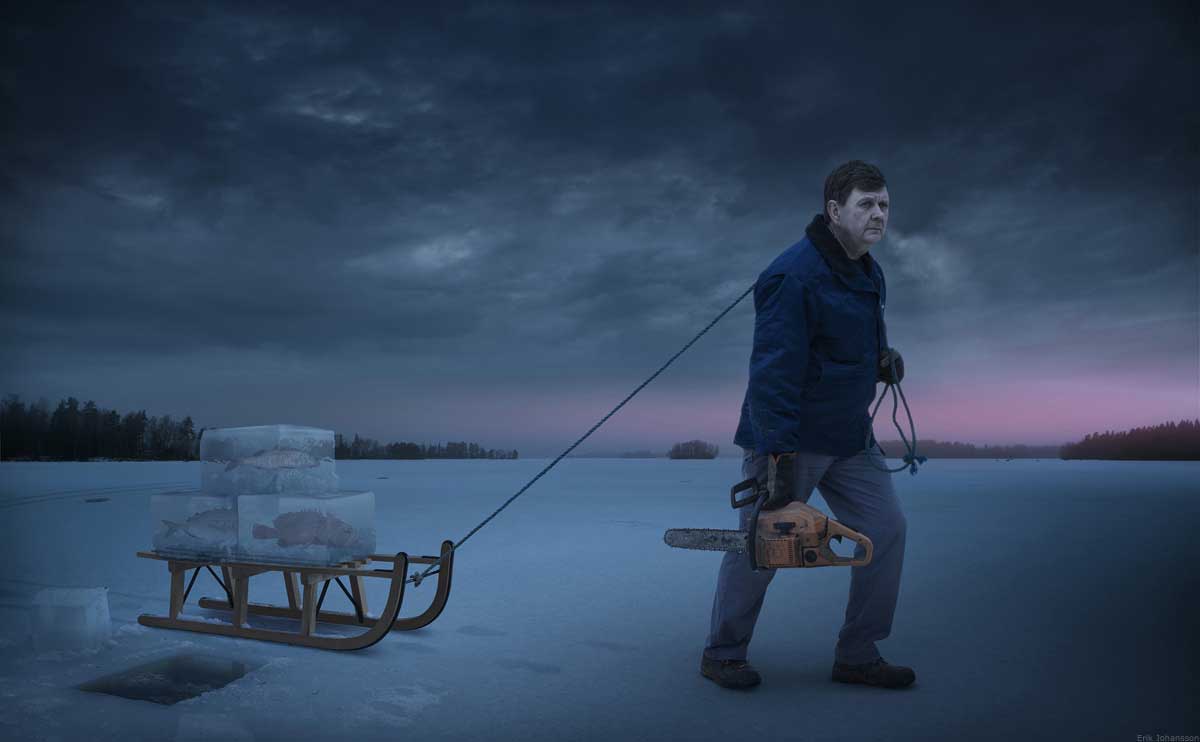 I'm a photographer and retoucher from Sweden. I use photography as a way of collecting material to realize the ideas in my mind.

Erik Johansson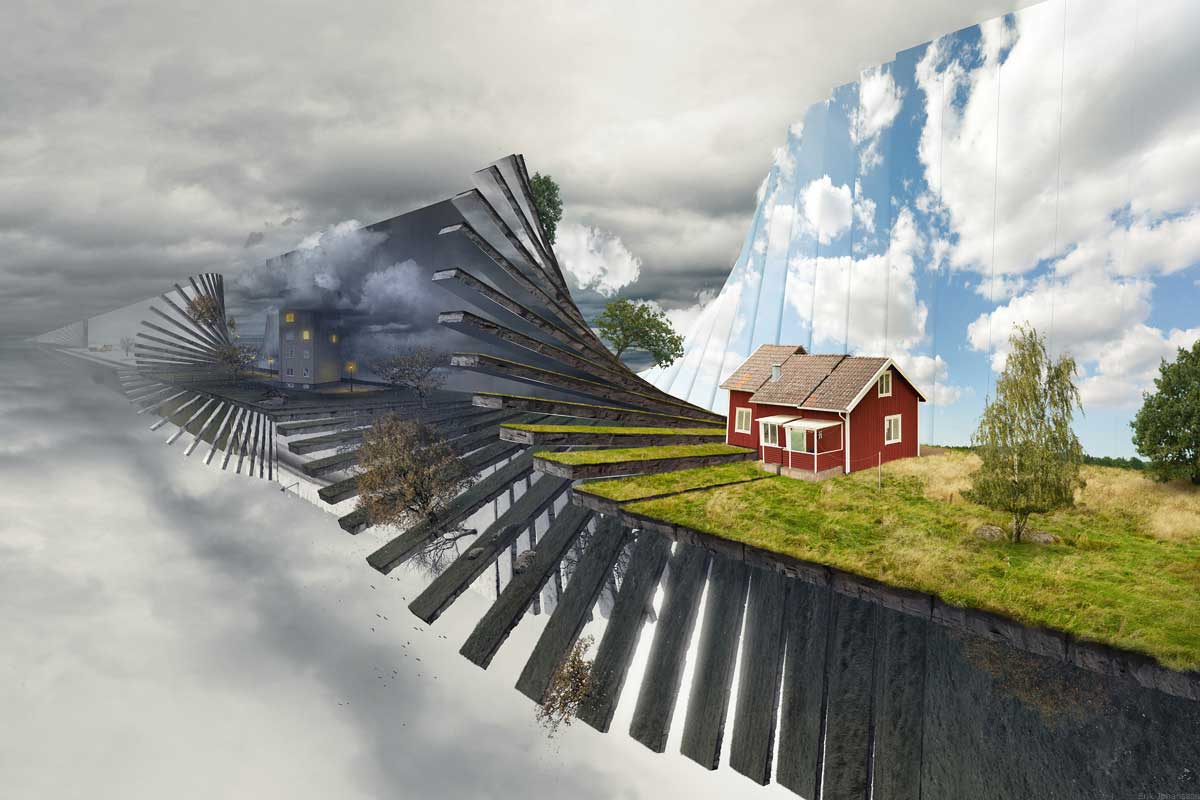 I don't capture moments, I capture ideas.

Erik Johansson