All Out is a global movement for love and equality. We are the world's largest LGBT+ online activism network. We work towards a world in which nobody has to sacrifice their family, freedom, safety or dignity because of who they are or who they love.
On May 17, to mark International Day Against Homophobia, Biphobia and Transphobia (IDAHOBIT) 2021, All Out (allout.org) and MTV (mtv.com) have launched a major international photography competition.
The competition
Contestants are being asked to submit original photographs in one or more of the three themes of IDAHOBIT 2021: Resisting, Supporting, Healing.
The themes have been selected to reflect the journey of the global LGBT+ community through the COVID-19 pandemic. There has been a disproportionate impact on LGBT+ people during the global health crisis, with discrimination, violence, hunger, homelessness, loss of access to HIV medication and unemployment all rising sharply.
We expect pieces that will provide a moving, sometimes painful, sometimes hopeful insight into how our community has weathered this unprecedented storm. We will announce winners and runners-up on 28 June, Pride Day, and the anniversary of the Christopher Street riots in New York City.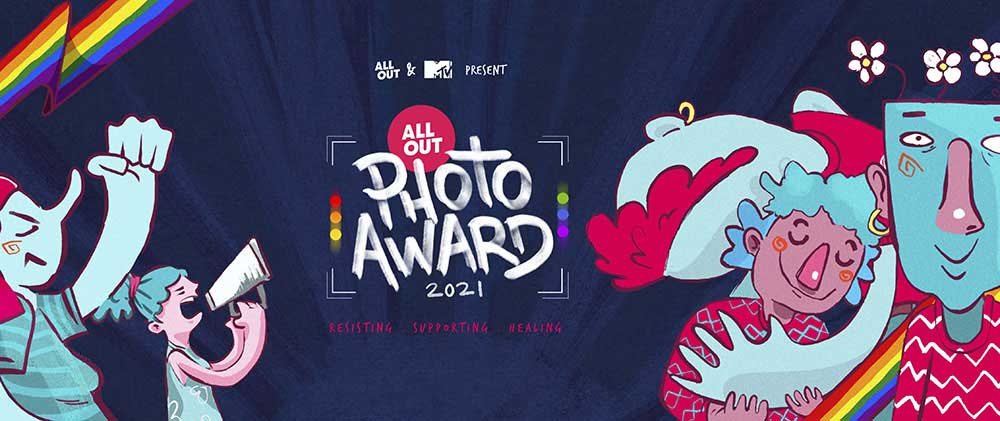 Additional background information
In so many countries around the world, LGBT+ people continue to face a disproportionate impact from COVID-19. Existing marginalization, dependence on the informal economy and
pre-existing health vulnerabilities, particularly HIV, are all combining to leave queer communities horribly exposed. All this comes on top of existing challenges of the discrimination and violence queer communities were already facing. Attacks on LGBT+ people continued as more "LGBT-free zones" were established in Poland, innocent LGBT+ people were arrested and mistreated in countries like Russia, Cameroon, and Tunisia, and many were targeted by hate crimes, and denied access to basic human rights.
Throughout all these difficulties, the LGBT+ community has persisted and resisted. Here at All Out, a global movement for the rights of LGBT+ people, we have witnessed an unprecedented wave of solidarity and support from people all over the world helping those in need.
The All Out Photo Award is a photography competition that is motivated by that solidarity. Inspired by the theme of this year's International Day Against Homophobia, Biphobia, Intersexism and Transphobia (IDAHOBIT), "Together: Resisting, Supporting, Healing!", the competition calls on photographers to share unique photos that capture how LGBT+ people and their communities and allies around the world resist attacks and discrimination, support each other in these difficult times, and heal together. The All Out Photo Award is being presented by MTV and All Out.
What participants can win
All submitting photographers will benefit from:
●  Submission review by our jury of professional photographers
●  Opportunities for immediate exposure (e.g. across social networks and websites)
All participants will have their work viewed by an international panel of professional photographers, and have the opportunity to win the following prizes:
The winners in each of the three categories will receive a cash prize of USD $1,000
● The runners-up (two in each category) will receive a print voucher from BayPhoto.com valued at USD $300 and a one year subscription to Flickr Pro valued at $72.
The winning and runner-up photographs will
●  Be displayed on the big screen at ViacomCBS headquarters in Times Square, New York City during Pride season
●  Be included in promotion on MTV, LOGO TV, and All Out social media channels
●  Have their work printed and exhibited at WorldPride Copenhagen 2021
●  Receive a dedicated feature on All Out's website and online gallery
●  Receive additional opportunities for exhibition and publication through All Out and its partners
About Jury
Isabel Okoro, Visual Artist
Isabel Okoro, born and raised in Lagos, Nigeria, is currently a Toronto-based photographer. Okoro uses photography to visualize an imagined world and eternity, as a space to immortalize family, friends & those she meets along the way. Her governing photographic thesis is predicated on the creation of a Black utopia; a world free of the anxiety, violence and oppression experienced by those of the African diaspora. Her work has been featured online with i-D Magazine, WePresent by WeTransfer, Nataal Magazine and Der Greif Magazin.
Nelson Morales, Photographer
Since 2008 Nelson Morales has dedicated himself completely to photography independently and has studied various educational programs of contemporary photography in Mexico. His work focuses mainly on issues of gender, body, identity and sexual diversity. He has made different individual and group exhibitions in 21 countries, and he has obtained different mentions and recognitions around the world. His work has been published in Aperture, New York Times, Vogue Italia, Vogue México, Vice, mexicanísimo, TETU, Loeil de la photograpie, The British Journal of Photography, Der Greif, and many more. In 2018, he published his first Photobook, "Musas Muxe" and in 2019 he published his second Photobook "Fantastic Woman". His work belongs to different collections, both public and private.
Mengwen Cao, Photographer, artist, educator
Mengwen Cao is a photographer, artist and educator. Born and raised in China, they are currently based in New York. As a queer immigrant, they use care and tenderness to explore spaces between race, gender and cultural identity. As a board member of Authority Collective, they are championing diverse narratives and perspectives in the media industry. They were recognized by The Lit List in 2018 and PDN 30 in 2019. Their projects have been featured in publications like The New York Times and NPR. They have participated in international exhibitions like Photoville and Jimei Arles Photo Festival.
Maurizio Fiorino, photographer, novelist and journalist
Maurizio Fiorino is from Crotone, a small town located in the deepest south of Italy. At the age of 22 he moved to New York City, where he lived for about eight years and studied photography. He is skilled in documentary photography and storytelling. In 2014 he published his debut novel, Amodio. Things he loves most: his bike, boxing, Sicilian brioches, Greek statues and art in all of his forms.
Gui Mohallem, Visual artist & activist
Raised as a queer kid in a Lebanese family who settled in a small town north of São Paulo, questions of belonging and identity have permeated Gui's work from the get go.
A film degree holder, he had his first solo show in NYC in 2008. In the following years, he's showcased his work in Brazil and abroad, speaking at many photography festivals. Activism has permeated his work, especially since 2014, when he co-founded #VoteLGBT, an activist collective and NGO.
Charmaine Poh, Photographer, artist, writer
Charmaine Poh works across photography, film, and performance to create spaces for narratives in the margins. Central to her practice is considering the performativity of the everyday, and the ways tenderness can be a form of resistance and rebuilding of worlds. Her practice often employs ethnographic methods in working with communities to establish processes of co-authorship and sharing.
Her work has been supported by the M1 Singapore Fringe Festival, the Singapore International Photography Festival, Objectifs Centre for Photography and Filmmaking, The Taipei Arts Festival, The International Center of Photography, Photoville, WeTransfer, and The New York Times, among others. In 2019, she was recognized as one of Forbes Asia 30 under 30 – The Arts. She graduated with an M.A. in Visual and Media Anthropology from the Freie Universität Berlin, and a B.A. in International Relations from Tufts University.