African Photographer A profession in transition. The uncertain balance of a job between two eras.
Mohamed, Omar, Diallo or Siby are African and photographers. These ʻpictures catcher' come from Mauritania, Senegal,Guinea Conakry, Mali and Burkina Faso. In this area of Africa, photography still plays an important part in society. Yagfa, The doyen of Nouhadibou's photographer's (Mauritania) explains: "There is no artistic photographic culture in Africa. We only want souve- nirs".
From simple I.D. photos shot in a kitschy studio to album orders for weddings, christenings, official ceremonies…the photographic profession in Africa isn't finished but the job itself, very different, from in the West, is changing. "Mechanical". A strange word to describe a manual reflex camera, but that's what professional photographers call their old equipment. If some of them are now using digital or electronic manual reflex cameras, many are still working with old cameras from the 70/80's : Konika, Canon, Pentax, Zenith…
Even though some of them call themselves traveling photographers, most of them have their own studios, often with tempting colored shop fronts, decorated by the local ʻcalligraphist'. The interiors, lit by neon light, are usually simple, and equipped with a single sofa for customers, a table and a few plastic accessories. On the wall are hung posters or colorful fabric that is used as a background for portraits. The cost of rental and materials being high (films, printing…), It is common for premises to be shared with other professions, such as dress- maker or barber. Sometimes, the studio is directly located in the photographer's house, like Siby's from Senegal, who confides that he ʻneeds to have another job to make ends meet'. Some of his colleagues are also builders, part time teachers, or nursing auxiliaries. Furthermore, from June to September, during ʻwintering', which corresponds to the rainy season, business decreases. It's only after harvest that weddings and ceremonies start up again.
For these photographers, especially those from villages, film processing and development are pos- ing problems: "Working with manual cameras is getting more expensive, because the laboratory I use to ʻwash' (develop) my pictures is 300km away from my studio" says a photographer from a village in the area of Podor (Senegal).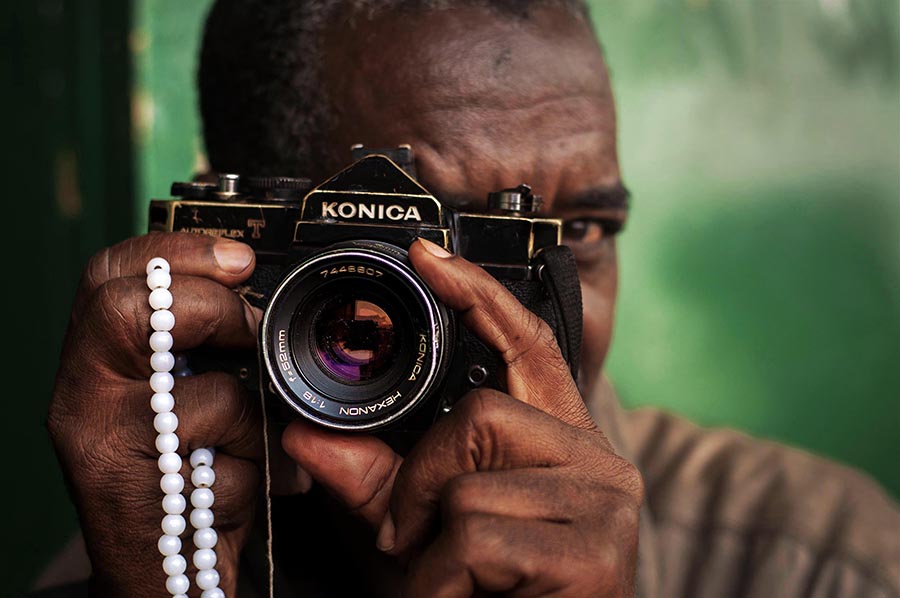 "I pay the roundtrip bus ticket to get there, and sometimes, customers aren't able to pay the pictures they ordered, or collect them 2 or 3 years later". In these countries, a 13×18 print costs around 0.70 euros, which is expensive when you think that a basic meal only costs half that. There was a time where African photographers had to ʻsend their films to France to for black and white development' says a photographer near Maliville, Guinea Conakry. If the economical argument is highlighted, there are few other parameters that should be taken into account "Although digital photography is less costly, it could be the end of the photographic profession".
Digital Photography Between fascination and abnegation For Mohamed, Nouakchott photographer (Mauritania), the development of digital photog- raphy is not necessarily good for business. Digital cameras and cell phones with integrated cameras are easily accessible to the general public and the way they shoot pictures is similar to us. If we do not improve our photographic skills, our studios will soon close and only film processing labs will remain open to print customers' personal pictures. Here, the simple fact of owning a cam- era is an added value, which enables too many people to call themselves photographers and quickly set up in business. Competition is harsh, some are breaking prices to get by and there is very little solidarity between photographers".Despite this pessimistic discourse about the future of their profession,Mohamed sees a solution: training.
"African photographers today do not have access to training, the little knowledge they do have is transmitted verbally. They use this or that setting de- pending on the light, and often inappropriately. Those who want to become photographic reporters have to study in Dakar (Senegal) as Mauritania doesn't have any photographic schools". This lack of training is seen in the result. Photographs are usually ʻoverwhelmed' by frontal flash, badly, adjusted, framed, anticipated, and "One day, I accidentally slowed down my shutter speed and when I developed my pic- ture, I was surprised to see that there was a double exposure with the background and my model's face. I realized that we don't know our cameras well and that we were limiting our- selves to the settings we always use. For my part, I'm pretty sure that without proper training and good equipment,We are heading straight towards the decline of our profession".
About the project
"It's on the West African road, aboard the Mercedes 911 (an old fireman truck from the moving photography school "Atelier Nomade") that I have met them , from Mauritania to Guinea Conakry ( and Senegal, Mali & Burkina Faso). It took
me two winters to make it (2012-2014). While nowadays, digital photography is used almost all around the world, most of them were still equiped with old silver-based camera from the 70/80's. They were having economic difficulties and needed quick changes.
"We never had any photography training in our lives, we only learnt how to use our camera by ourselves, that's why our pictures don't look professional at all. When everyone will get his own camera, they won't need us anymore, as they might shoot even better than us. If we do not have any good training, we will disapear little by little and only laboratory will remain, for the customers." told me Mohamed, a photographer from Mauritania. Feeling that I was between two pages of African photography history, I wanted to immortalize them with their third eye, inside their kitshy studios or outside, during wedding or ceremonies. Pride, shyness, fun … hidden behind their lenses, each photographer had his own way of reacting, to look at me, to hold the camera.That was a way for them to show the realities of their business and keep a track of an era almost over. " [Official Website]