The series "Collectives" reveals a contemporary look of life stories from a globalized world seen through mosaics of constructed images. The observer is faced with large panels of aerial photos if seen from afar appear to be textures or geometric forms that if inspected closely, surprise the viewer with a richness of details that compose a daily urban lifestyle in consumption patterns.
The work on view reveals the enormous quantity of products and lands that humans beings use for living on our planet. All the images, made of hundreds of different pictures that together create imaginary landscapes, depicts the reality featuring huge areas that humanity needs each time more to aim all steps of the consumption chain. VERDE exhibit the big demand for food showing large areas used for plantations and CEASA presents the complex operation to distribute the food. Our society produces immeasurable quantity of disposals and ARIZONA shows us an unbelievable boneyard composed of old aircrafts. The work COLETIVO  represents a nightmare scene of what it's happening in all big cities in the world where the car has a growing presence.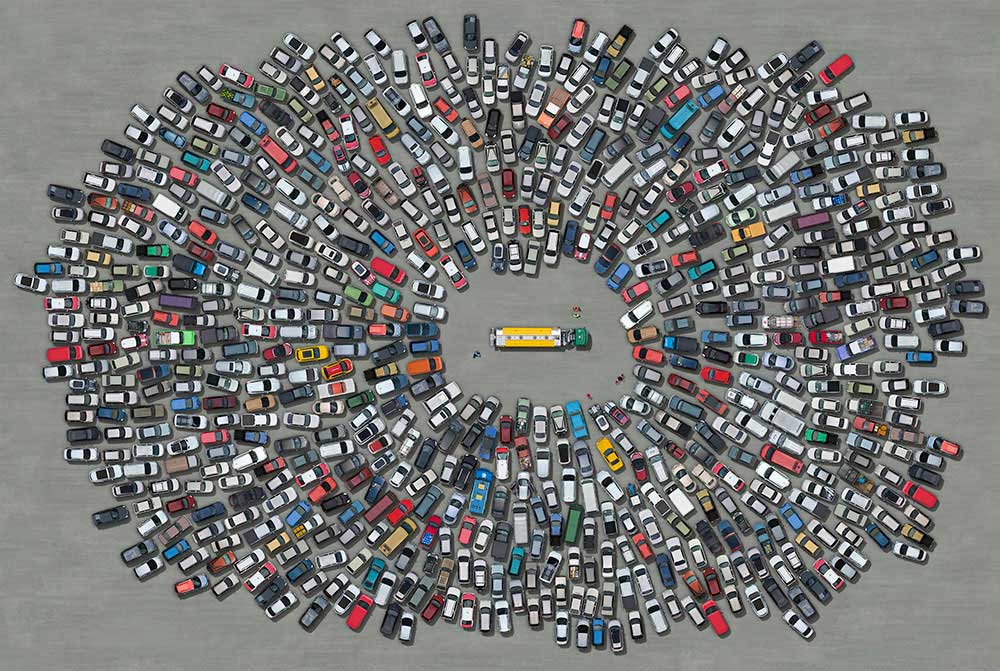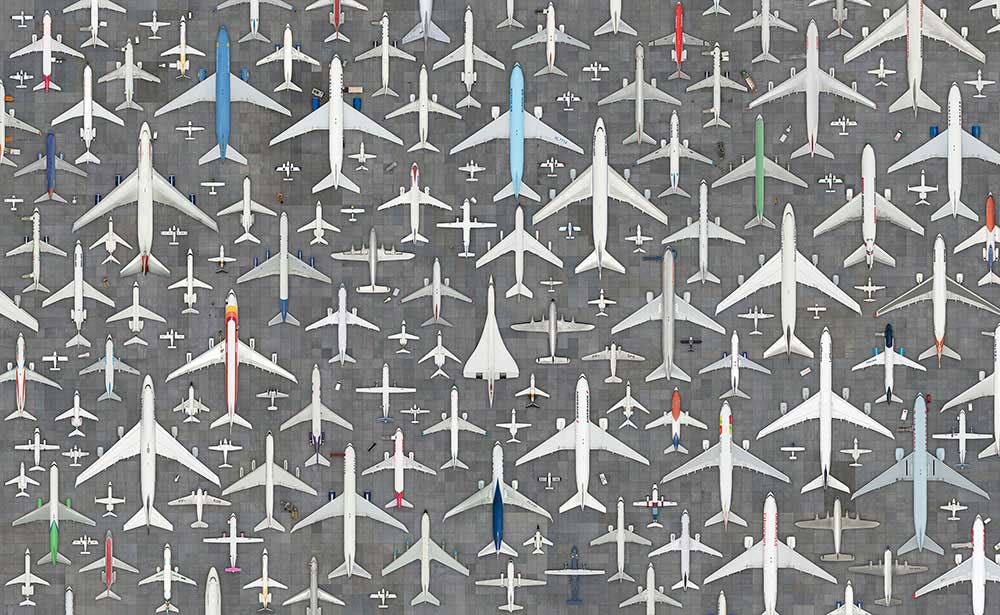 AEROPORTO is a surreal airport that is a portrait of globalization, mobility and the quickness of our way of life. Composed of more than a thousand photos clicked at several airports in Brazil and in the United States, the work presents itself as an immense communicative system of the relationship between humanity and its new way of interacting with time and space, reinforced with the striking resemblance to the shape of neurons.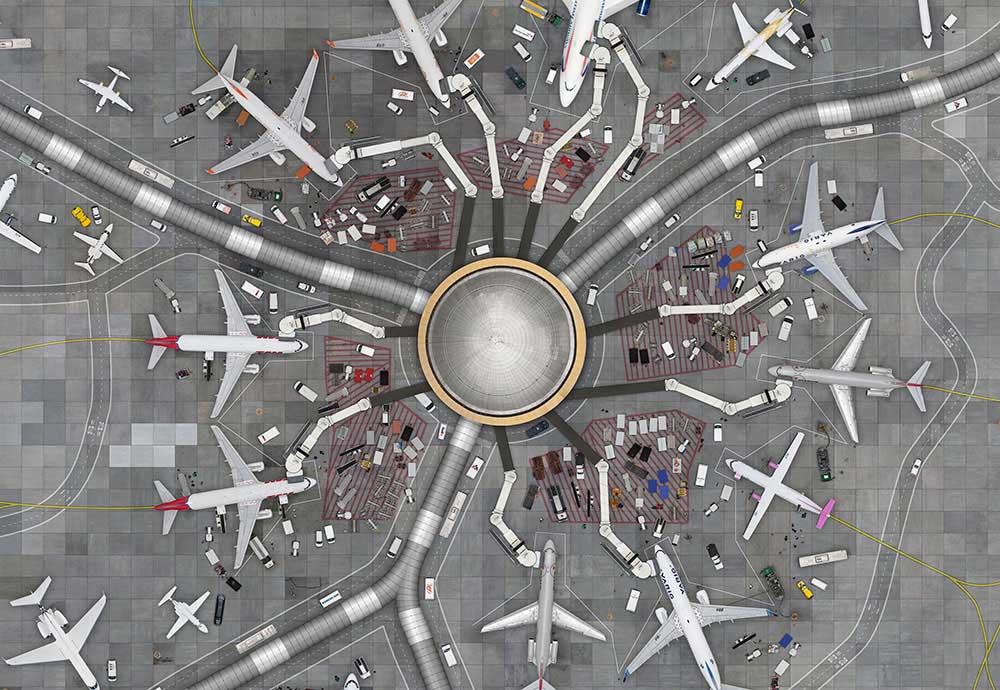 About Cássio Vasconcellos
Cássio Vasconcellos (São Paulo, SP, 1965) – Photographer since 1981. Vasconcellos has had his images exhibited in twenty countries. His series "Nocturnes São Paulo" can be admired along with today's renowned professionals in the craft in the pages of "The World Atlas of Street Photography" (Thames & Hudson, England / Yale University Press, USA, 2014). 
Some of his recent exhibitions are "Past/Future/Present: Contemporary Brazilian Art from the Museum of Modern Art, São Paulo",  Phoenix Art Museum, Phoenix, Arizona; "Collectives", Today Art Museum (TAM), Beijing (2013); "Trees", Fondation Cartier pour l'art  contemporain, Paris, France (2019); "Civilization: The Way We Live Now",  National Gallery of Victoria, Melbourne, Australia (2019)
The Brazilian photographer has thirteen books published, and his awards include Paulista Association of Art Critics (APCA – 2002) for best photography exhibition of the year with "Noturnos São Paulo"; 
The artist's photographs are in Brazil's main private collections as well in museums such as the MASP – Museu de Arte de São Paulo (São Paulo, Brazil), and abroad in the Bibliothèque Nationale (Paris, France) and the Museum of Fine Arts (MFAH, Houston, US). [Official Website]
Legal Note: The photographer attest that have full authorization to give consent to the publication of these photos or project and have the authorization and permissions of third parties. Guarantees that you have all the necessary communications of property and you have obtained all the necessary authorizations for any property, buildings, architecture, structures or sculptures appearing in your photographs.