I am an Israeli based photographer and an electrical engineer by profession. Following a health crisis, I found myself seeking treatment in India and went through a life-changing journey. After returning home healthy I decided to realize my dream and learn photography.
I am fascinated by the world of photography ever since, and I am especially keen about people photography of any kind, whether it is portraiture, street photography or culture photography – anything reflecting the humanity that we all share.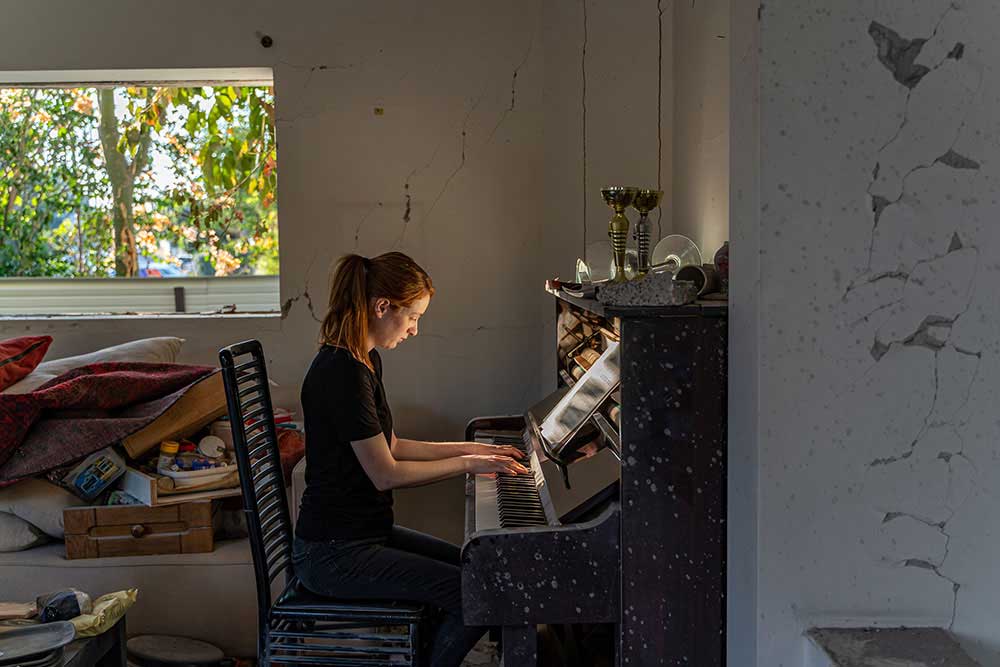 This project evolved after several months of passing by the ruins of a house on my daily drive to work. I knew that this house, located in my hometown had suffered the direct hit of a rocket during the "Guardian of the Walls" military operation. Something about the remains of this house triggered some primal fears within me.
With every passing day, the thoughts within me intensified: who was the family that once lived in this house? What does it do to a person, to know he was a hairsbreadth away from his death? How does it feel to lose your home, your roots, your safe place?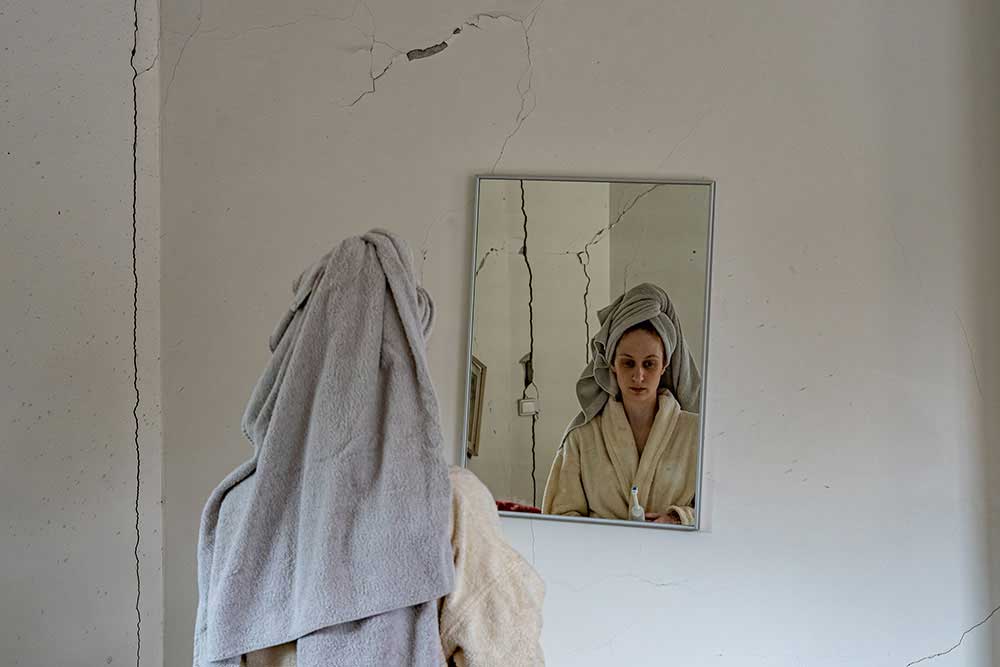 After a few weeks, I managed to get in contact with Drora Navon, the mother of the family who had lived there. I expressed my desire to create something meaningful with them, something new out of that chaos. 
I arrived to meet them at their home for the first time to examine the place and plan the photography sessions. Nothing could have ever prepared me for what I saw and felt at these moments. It was as if I had entered a war zone. My senses were heightened, my defense mechanisms triggered, aiming to protect me from the horrors laid out in front of me. Nothing was left of the spacious house but the perforated broken walls of the ground floor, brick fragments, nails, wooden and metal beams, shattered glasses, and an assortment of damaged personal belongings scattered everywhere.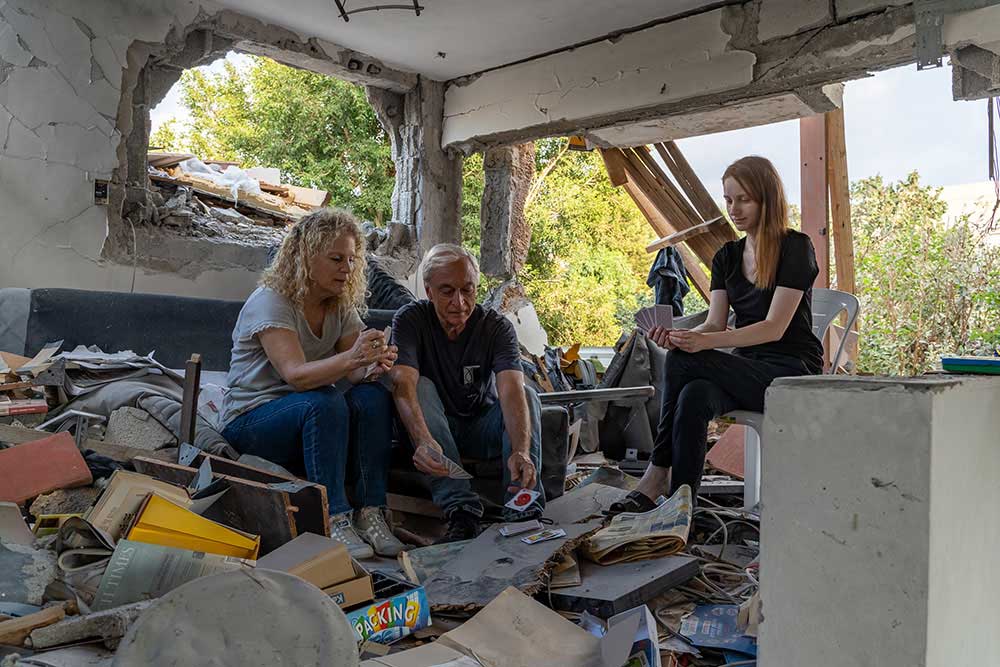 Everyone who lives in this area knows the drill; once the siren is triggered, we have 90 seconds to get to a shelter or the safest place we can find. When they heard the sirens in the dead of the night the family managed to get into the shelter on time. While I was photographing, I listened to the family retell these moments of anxiety inside the shelter, when they heard the explosion and realized that a rocket had hit their house directly. 
Over the next few weeks, we met up a few times to take the photographs. I photographed them doing day-to-day tasks in the house. The poignant contradiction between the crumbling house and the domesticity in the mundane personal activities tugged at my heart. Washing your hair, reading a book, playing cards, all these activities suddenly took on a newly unsettling meaning.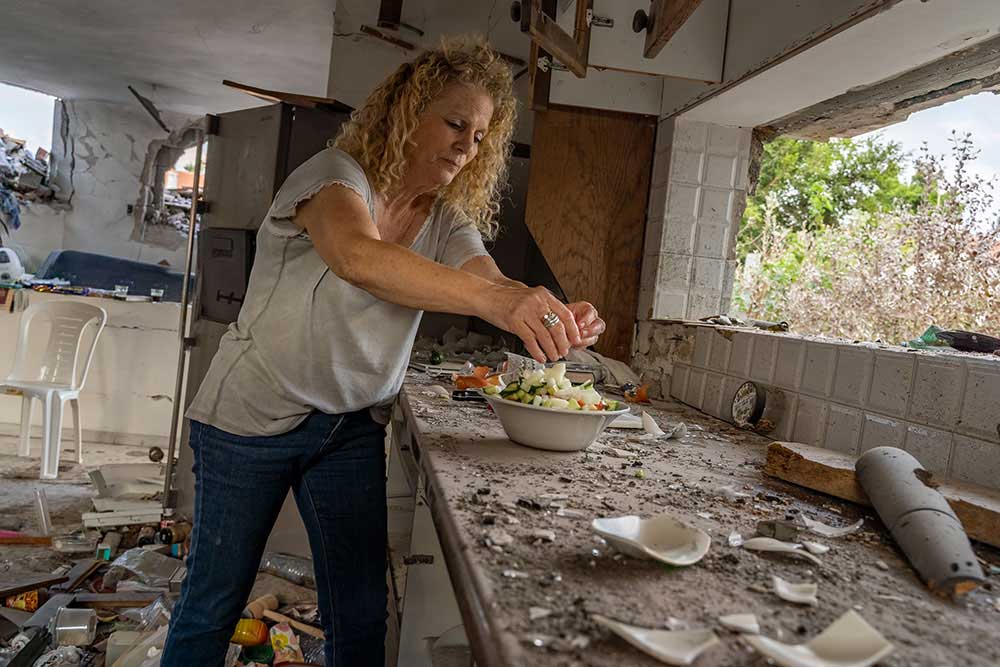 Slowly, as time progressed and we got closer and mutual trust developed, I started to see the added value of this project other than its artistic one. Processing this trauma gave birth to a subtle healing flow both behind the lens and in front of it. This close observation has shown me moments of grace, optimism, laughter, love of humanity. These were moments of hope.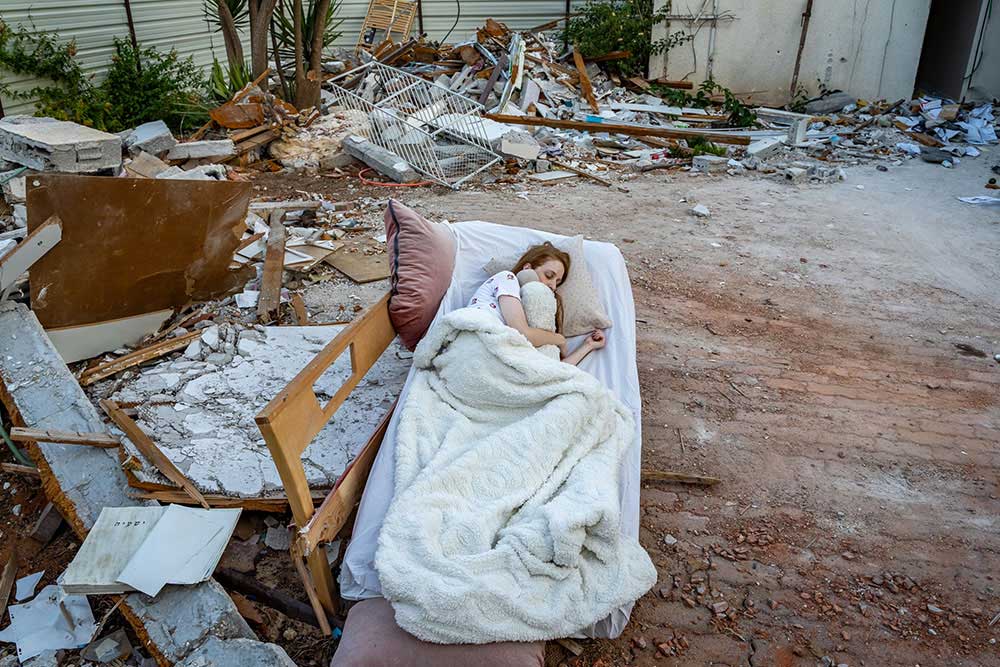 Now that this project is over and I go back to look at the photos, I feel all the more emphatically how futile any kind of violence is. At the same time, the belief in man's power to rise from the wreckage and choose to live to the fullest even under harsh circumstances is strengthened in me. I trust the human ability to become a ray of light shining into the darkness, if only for a moment.