There are so many things to explore in Delhi ranging from heritage to culture to food. However, one thing that came into the picture very strongly from the last few years is a beauty of Yamuna Ghats and chirping seagulls around it during winters.
The river especially caught my attention when I saw several pictures which showcased the beauty of this place during winters. The excitement of watching the seagulls flying above the Yamuna in the backdrop of magical sunrise made me visit the place on daily basis before office. But the excitement soon faded when I realized that there's other side attached to it which is leading to its death.
On World Water Day, I asked a local boatman about his story and the reasons behind the dying condition of Yamuna. He bravely said that only 5% of the pollution is by the people visiting the Yamuna whereas the remaining 95% of the pollution is because of the 17 sewage drains pouring into the river and the lack of sufficient sewage treatment plants. This whole incident shook me from inside and made me decide that I will not restrict myself to make only beautiful pictures of the Yamuna but explore and present other truths as well. The story which started due to the excitement of watching the seagulls in the backdrop of magical sunrise ended into questioning myself as a citizen of India and my responsibilities in saving Yamuna's life. I started covering everything from boatman to seagulls, from prayers to pollution, from polluted foam to ferry.
It's a well-known fact that this sacred river is a lifeline of Delhi, serving three quarters of the population, but it is gasping for life now, as the entire river is drained off for human and industrial use, and replenished with toxic chemicals and sewage from several industrial drains. This photo series on Yamuna depicts the harsh reality of dying Holy River.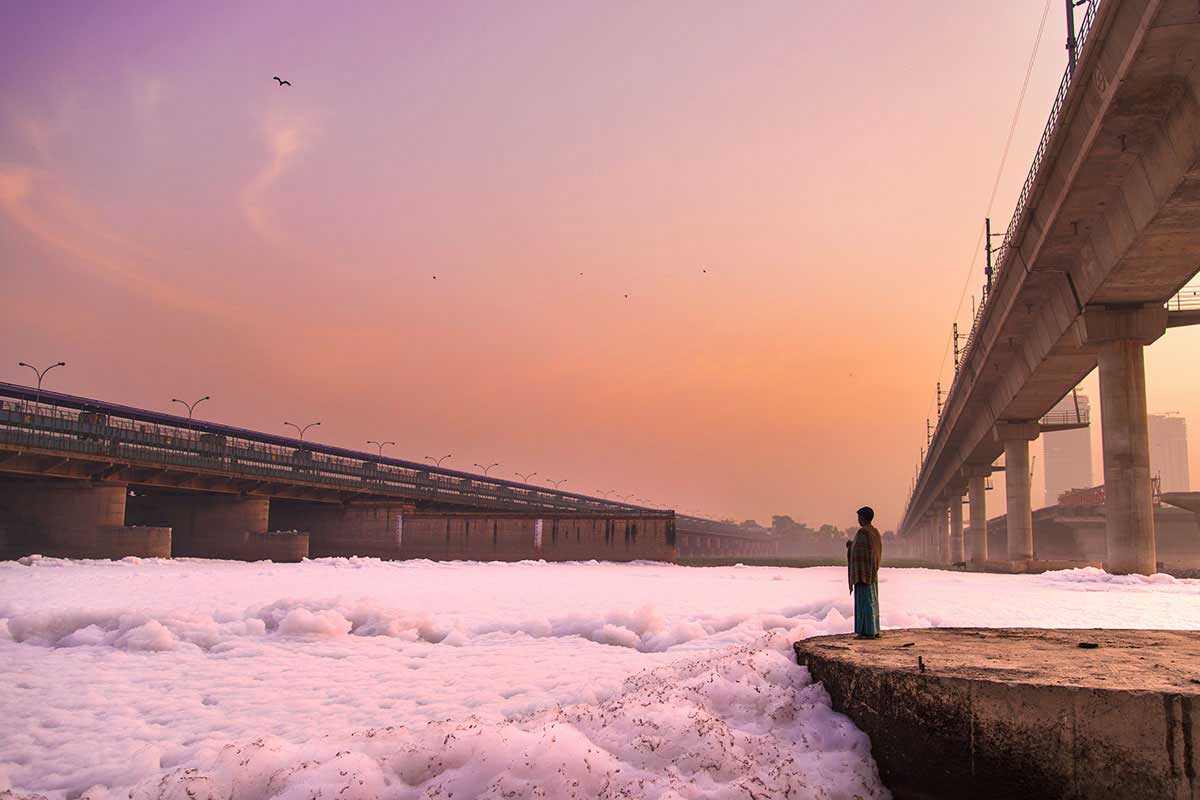 About Jai Thakur
Jai Thakur, a Business Research Analyst with one of the top rated Wall Street firms started photography out of his passion for traveling and storytelling. Brought up in Bengdubi cantonment of Darjeeling district he is now based in Delhi. His work has been selected and displayed at various platforms like Where the Road Leads at Lalit Kala Academy, Sahitya Kala Parishad Annual Art Exhibition, NiceFoto (Delhi & Jaipur) and Jeevika: 10th Asian Livelihood Documentary Film Festival. 
He won awards at the repute of PX3- Paris Photo Prize 2018, International Photography Awards (Harmony) – 2018, Monochrome Black and White International Photography Awards – 2018, 2017 & 2016, International Photography Awards – 2018, 2017 & 2016, Moscow International Foto Awards – 2016, International Photography Awards (Family of Man) – 2016, Tokyo International Foto Awards – 2016, Sahitya Kala Parishad Annual Art Exhibition 2015 (Govt. of Delhi NCT) and Jury Mention at Jeevika: 10th Asian Livelihood Documentary Film Awards. His work has been published in various media platforms be it print or online like National Geographic Your Shot, 121clicks, Photographer's Magazine, Dodho Magazine, CityAir News, Indian Education Diary,  etc. He is also a Brand Ambassador of Tripoto Pvt. Ltd. Other than photography he loves cooking and writing poems. [Official Website]