Winning photography: Sina
I was allowed to accompany an avalanche dog team for a day up in the mountains in Melchsee Frutt, Switzerland.  It was a great desire of the dog handlers, to have some action shots from there dogs. So I made a few snapshots of the dogs in action during the training. The young Labrador Retriever bitch Sina had a lot of fun in the snow. Not easy, to capture her temperament and her speed with the camera. A great day for all of us, the dogs did a great job!  Thanks to the avalanche rescue dog team and there dogs!
About Dalia Fichmann
I'm an amateur photographer from Switzerland. When I got my first professional DSLR In December 2012 I started getting serious about photography. I never leave the house without my camera My preference is to shoot everything that moves, especially animals and action sports. Animals are constant part of my life, I could never live without them!
To capture their movements, their characters, their emotions with my camera is my passion!!!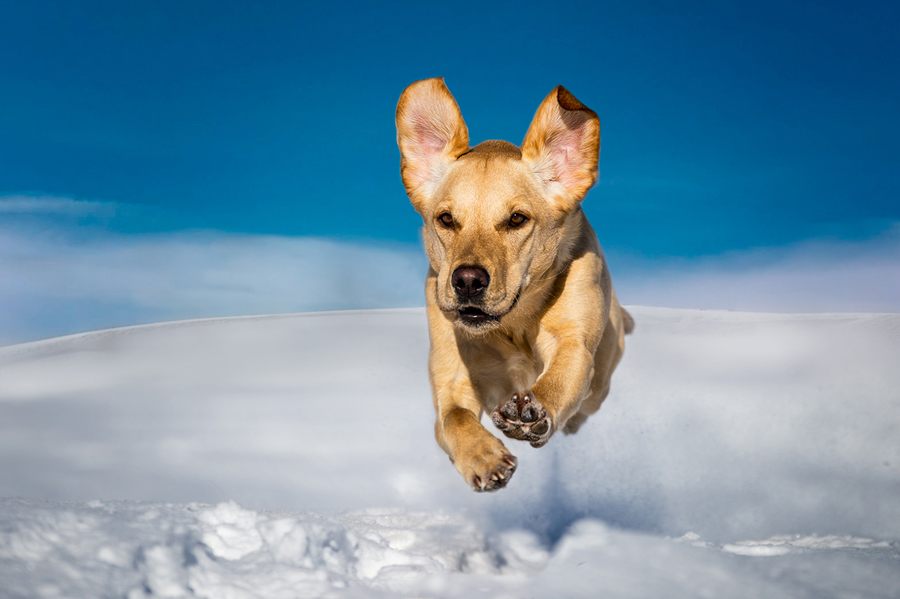 When ever possible, I photograph the animals in their own territory, where they feel comfortable. In order to show their character and their beauty it is important that they feel safe which works best in their usual habitat. This is the reason why I don't do studio shoots. Animals do not be half natural in the artificial studio environment. They can not be forced and it takes a lot of patience to portray them in a way that does them justice. There are days when I go home with out a single photo because the animal just doesn't feel good and doesn't want to interact. I have learned to accept this and come back another day. I would never expose an animal to a dangerous situation only to get a good picture. However I was already in quite dangerous situations myself  just to get a great image.
To accompany a sport contest with the camera, is a challenge every time but one that I like. The conditions are mostly very difficult, sometimes even dangerous. It needs fast reactions, power of endurance and patience. At the end of the day, I feel relieved, if all the athletes and me and my equipment come back safe. The fun of the free riders at an extreme sports event is catching always gives me a good mood . In sport photography, there are many rules, I love to break them!
Photoshopping is an equally important part of my images. Especially in the category of wild life. It gives me the opportunity to bring out, the beauty and the character, the particularities of each animal. I do not change the essence but I make it visible. Not everyone likes my pictures. Some purist are against Photoshop and I do respect that. In photography I find peace and balance tomy often stressful daily life. It is my passion, my life! [Official Website]