"Wet Dog" is a series of dogs photographed during their least favorite activity: bath time. Exposed at a vulnerable and humiliating moment, the soggy doggies wiggle, shake, haul themselves out of the groomer's soapy grasp. I captured their priceless expressions as they are trying to salvage the last bit of dignity they have.
The series "Wet Dog" was created at a groomer's salon in New York. I was working on a project called "Metamorphosis" and showing the various stages of the grooming process, and how dogs' appearance is altered to fit human standards of beauty. It was a sort of metaphor of the transformation of dogs from wild animals to subdued pets. During the process, the groomer bathed the dogs. I turned my camera towards the tub and starting photographing. At first, I was fascinated by the way the water played with their hair: it was dripping, modifying the color of the fur, changing the aspect of the dogs. A second before they shook, the dogs looked like statues. And then, I noticed their expressions. Each dog had a different reaction to the water being poured on them. Some were very stoical, others battled with the groomer. Enduring a very unnatural process, they were letting the human does what the human does…
The relationship between dogs and humans is fascinating. With my photography, I wish to explore the dynamics of that relationship, and what it says about our society. Dogs are the only specie that decided to live in such close partnership with us. We've become so close that in a city like New York, where human relationships are challenging, dogs often replace friends, spouses and children. People are lonely and dogs are being shaped into perfect pets. Apartments are small and dogs are becoming smaller and smaller. The toy breeds have appeared, created and manufactured to fit our deepest needs. These new "apartment dogs" never grow up, don't need to go outside, and fit in a purse. They might seem to be the ideal companions. People go through extremes to fit dogs into their urban lifestyle. Today, dogs are more than just animals. They have become life companions for humans, and that comes with a price for them: a life on a leash, eating a doing what the human wants, and sometimes suffering health consequences of an urban lifestyle.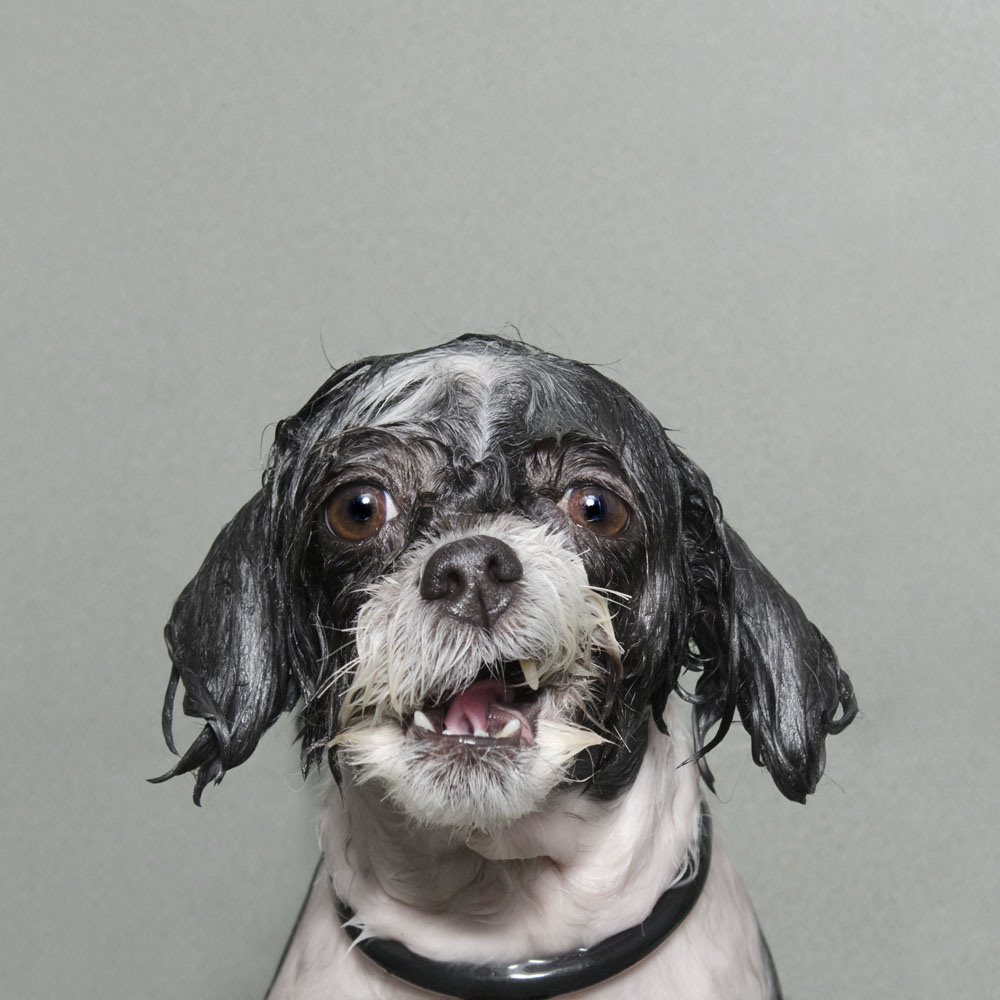 I have photographed dogs in various settings, from the high fashion dogs of New York, who wear hundred of dollars worth of outfits at charity events, to the stray dogs of Puerto Rico, who often live short lives of abuse but still look for a gentle hand to pet them and take them home. Observing their attitudes, their personality, their interactions with people but also with other dogs, I try to decipher today's dogs, and what the dynamics of our relationship to them means about us, humans.
This is the heart of my photographic exploration. With my images, I want to celebrate that particular bond, but also challenge it. What is this bond made of? Codependency? Why do we feel like dogs need us and cannot make it in the wild anymore? Why are dogs accepting anything from us, even abuse? Has this deep, codependent bond influenced, long term, the dog as an animal and specie? Looking at the wet dogs and their expressions, the angry looks, the pleading eyes, I can't help but wonder: have they even adopted some of our facial form of communication? Gandhi said: "You can judge the morality of a nation by the way the society treats its animals". Today, humans are taking their relationship to dogs to new grounds. They do treat dogs like they treat other human beings: there is love to be found, but also abuse, glorification and abandonment, care and neglect. What we do to dogs mirrors what we do to people. Observing the dynamics of the dogs/humans bond is like observing the human society. And if dogs are ever able to communicate with us at a deeper level, I wonder what they will say to us.
The Wet Dog series is a finalist in the Portrait category of the Sony World Photography Awards 2014
About Sophie Gamand
Sophie Gamand is a French photographer living and working in New York. Since 2011, with both a documentary and artistic approaches, she explores the contemporary dynamics of the relationship between dogs and humans for a major essay entitled "The Engineered Companion". Sophie's series of "Wet Dog" portraits gained international recognition in the fall of 2013. She is currently working on her first "Wet Dog" book with Grand Central Publishing (scheduled for Fall 2015). [Official Website]