When arriving in Palm Springs, the first things you see are giant windfarms over desertic fields and miles of gated condominiums, golf courses, swimming pools, stores, and parking lots. Are you entering a vacation paradise, or a community fighting for its survival at the turn of the 21rst century?
Going to Palm Spring felt like travelling in time – from ancient times to post-climate change future, with stops in the mid-century and the 1980's. I felt torn between time-zones, awe, and despair. It took me some time to figure out the trajectory of the place: a disappearing oasis. I waited for a rain that never came – and I ended up with my feet buried in the sand.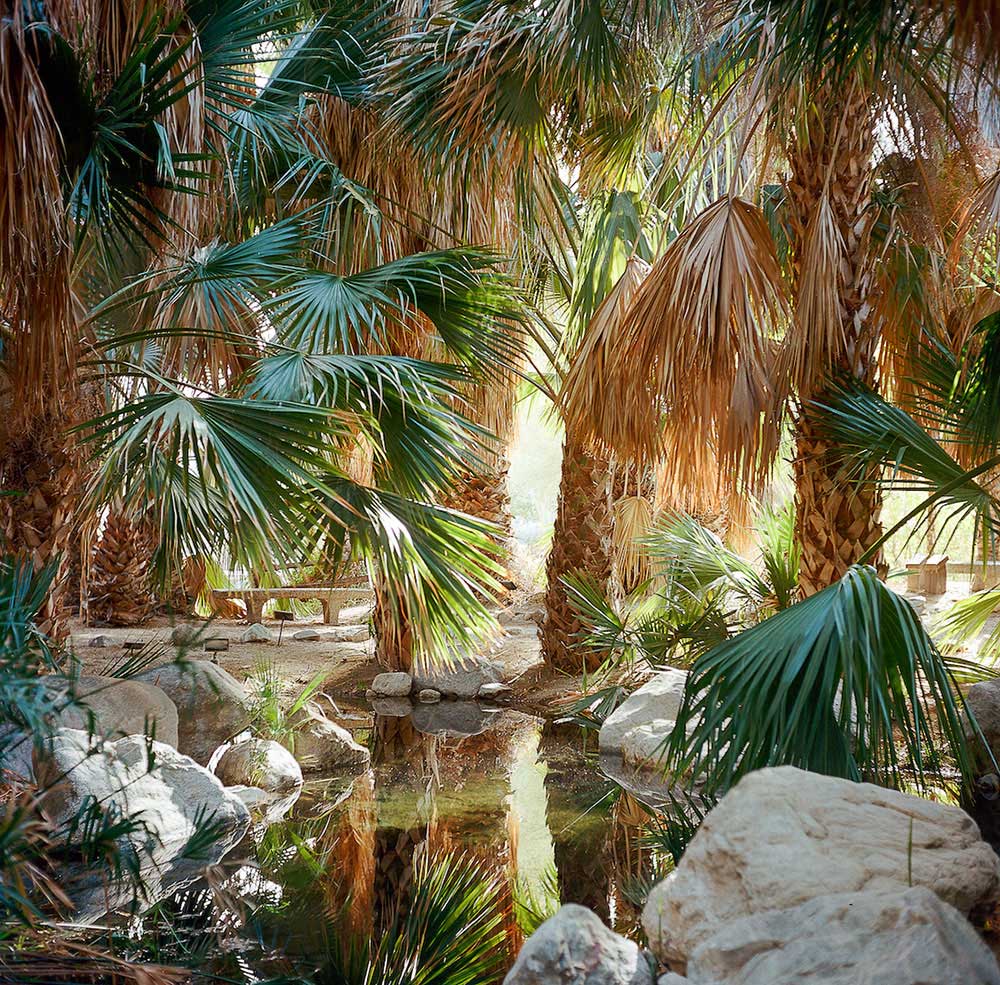 In this series called "Waiting For The Rain", I invite you to travel from a distant past – a natural oasis – to a post-climate change future – when drifting sands might cover it all. Swimming pools maintain the illusion that Palm Springs is still the oasis it was, whereas drifting sands and large water drainage channels – destined to avoid flash flooding – are indicative of a non-sustainable ecological model in a drought-plague state, where water is now imported from the shrinking Colorado River.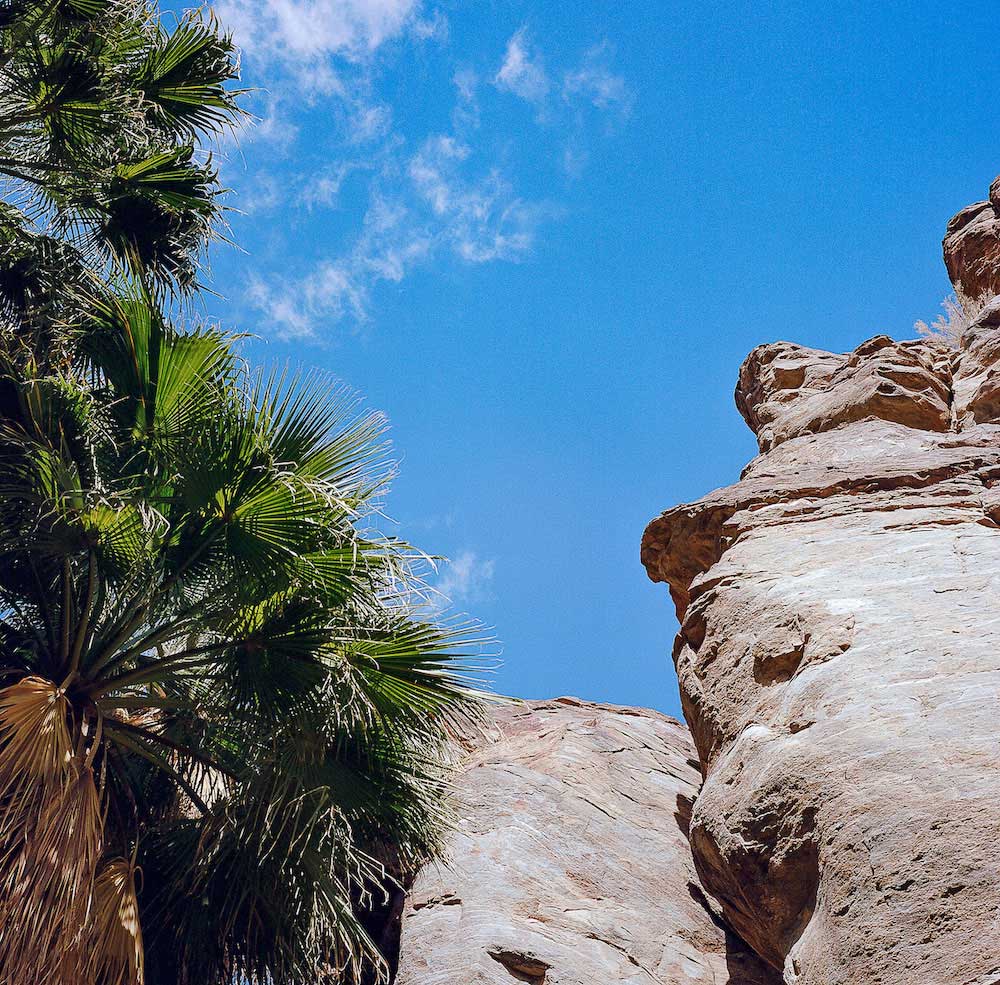 Let our imagination run wild. Two-hundred years from now. A group of humans visit the arid, burned-out, sandy ruins of Palm Springs in air-conditioned driverless pods, listening to audio guides describing the remains of what will be considered the apogee of consumption society. "To your right, admire the remains of a mall where our ancestors used to perform shopping, in stores. You can imagine palm trees planted in what was called a parking lot, to your right". Click, click, do the camera-augmented eyes. 
Film captured with a 1951 and a 1965 Rolleiflex cameras, on Kodak Portra 400. Film processed by Photoworks SF.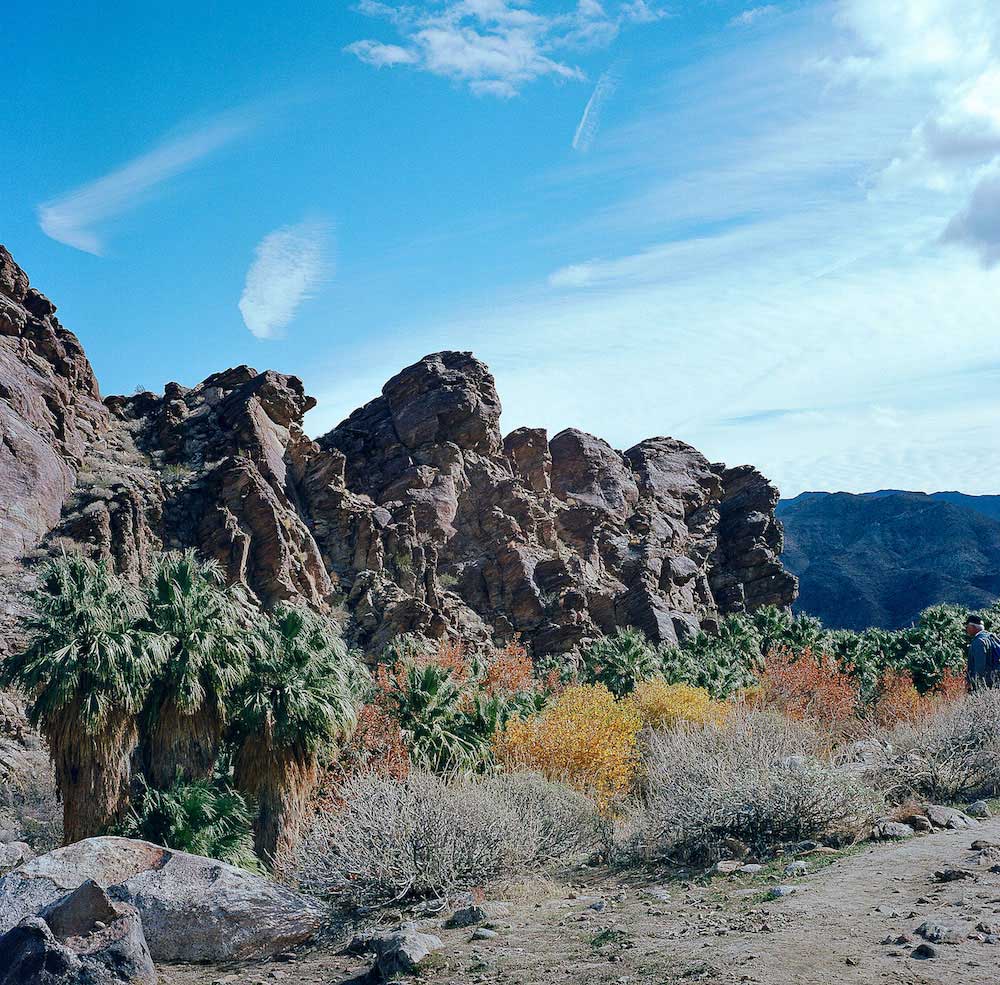 About Claire Maen
Claire Maen is a photographer from France living in the San Francisco Bay Area, California. She wants to capture the poetic beauty of commercial, (post)industrial, and natural landscapes in California with her 1951 and 1965 Rolleiflex cameras. She is drawn to the edges, when land meets water, houses cover hills and desert, warehouses linger along fields and highways. Despite our world turning digital, she believes in the power and beauty of film photography, and its delicate colors. [Official Website]