Entering the world of Wing Chan's photomontages is the beginning of a visual adventure.
His unique and stimulating images encourage you to take a closer look at the environment of the city.
Everything is there for you to discover and find a harmony within the apparent chaos of urban living. Interpret them however you wish but let them linger in the mind so a pattern of the cities true fabric emerges. Wing's Urban Tapestry photomontage series explores the daily life of the city. The images are of places we all know such as shopping malls, escalators, subway platforms and passengers inside the trains. We tend to forget people and what is around us as we get so caught up in the bustle of urban life but they are the heartbeat of the urban fabric. By capturing and building up multiple photographic images into a complex whole I create a visual harmony out of the chaos of city life. The rhythm within these photomontages allows the viewer to look again at the environment and to interpret the photomontages in their own way.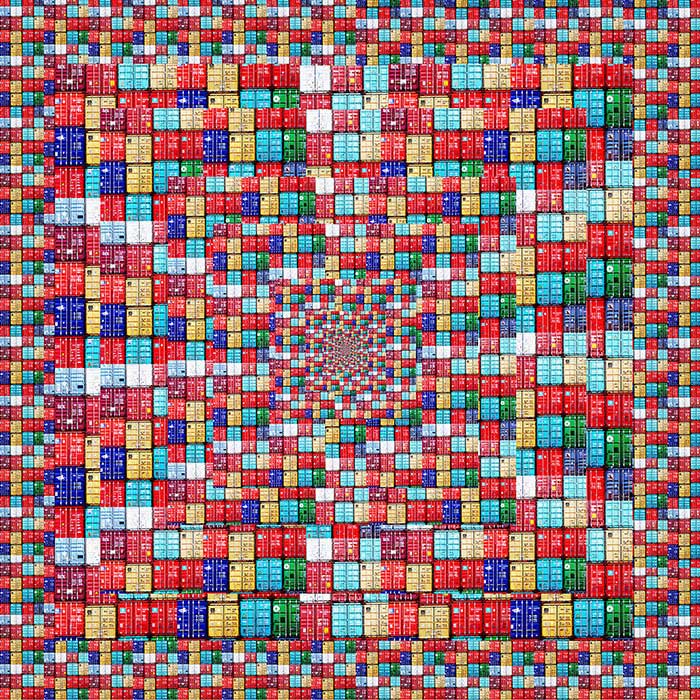 About Wing Chan
Wing Chan was born in Hong Kong in 1962 and grew up in the shadows of the old Kowloon Walled City. This was a very different city to modern day Kowloon, and Chan's formative experiences were embedded in that hardened era. At the age of six, he started out working in a noodle factory, in what was then a rough neighbourhood near to Kai Tak airport. But diligence with his studies enabled Chan to excel at school, and at 18 he left Hong Kong to pursue his vocation for art in the United States.
In 1985, Chan graduated from the internationally renowned Art Center College of Design in Pasadena, California, and began an award-winning career in commercial design, including operating his own graphic and branding firm in New York City with clients including Giorgio Armani, Emporio Armani, American Express Private Bank, and Standard Chartered Private Bank.
During this time, Chan also served at an adjunct professor at the Fashion Institute of Technology in New York. Chan's graphic design and photomontage works have appeared in numerous publications worldwide, including in New York magazine, AIGA, Print magazine, HGTV (USA), l'architecture d'aujourd'hui (France), Kolaj magazine (Canada) The Korea Times, Seoul Auction magazine (Korea), Bangkok Post, Photo Art Magazine, Bangkok TV (Thailand), design anthology magazine, South China Morning Post, The Standard, jet magazine, In Design Live, HK magazine, Perspective magazine, Jet magazine, 48 hours magazine, baccarat magazine, Hong Kong Economic Journal, Ming Pao Daily, City magazine (Hong Kong), pen magazine, World Corporate Profile Graphics, World Trademarks and Logotype (Japan) and art publications based in China, the United States, Japan, France, Sweden, Denmark, Germany, England, Singapore, and Spain.
In 2011 Chan relocated to rediscover his roots in Hong Kong. Focusing on his photography and photomontage and inspired by the wealth of subject matter in Hong Kong he continues to apply his mastery of forms, shapes, colours and textures to the creation of his fine art photomontages. Chan has held exhibitions of his photomontage work in Paris, Tokyo, Seoul, Hong Kong, Singapore, and Bangkok. He has conducted Art Talks at The Affordable Art Fair Hong Kong, Hong Kong Art Gallery Association, and Hong Kong Photo Imaging and Camera Expo (PICEX). He is also a regular guest speaker at Island School.
"To me, New York City is for dreamers and doers. The city is an empty canvas with endless possibilities, the kind of city which embeds itself in you. Once you have lived there, you carry it with you forever. In many ways, Hong Kong is like that too. These are my towns, my homes and they always will be."
– Wing Chan –
"My life's journey has afforded me opportunities to experience, absorb and express artistic creations on a global scale. While my introduction to the use of montage occurred in Hong Kong, my three decades in the United States provided access to Abstract Expressionist art that greatly impacted me. My travels to other cultures has also imprinted onto me and today I apply all of these influences to my photomontages,"
 –Wing Chan –