"It's like paradise with a lobotomy." — Neil Simon
Like the rest of the globe, the Coronavirus forced Angelenos to quarantine and shelter in place. (un)real landscapes: Los Angeles plays itself explores what a pandemic society looks like — otherworldly, unreal.
Pre-pandemic, the streets of Los Angeles were decidedly at odds. Increasing homelessness, changing demographics, and rapid gentrification of older neighborhoods were already happening. Parallel with this, Los Angeles is the movie backlot of the world — a pretend land, a place for dreamers. Los Angeles is all of this and more. During long walks in this time of COVID-19, the city revealed a new self and an ever-changing sense of place.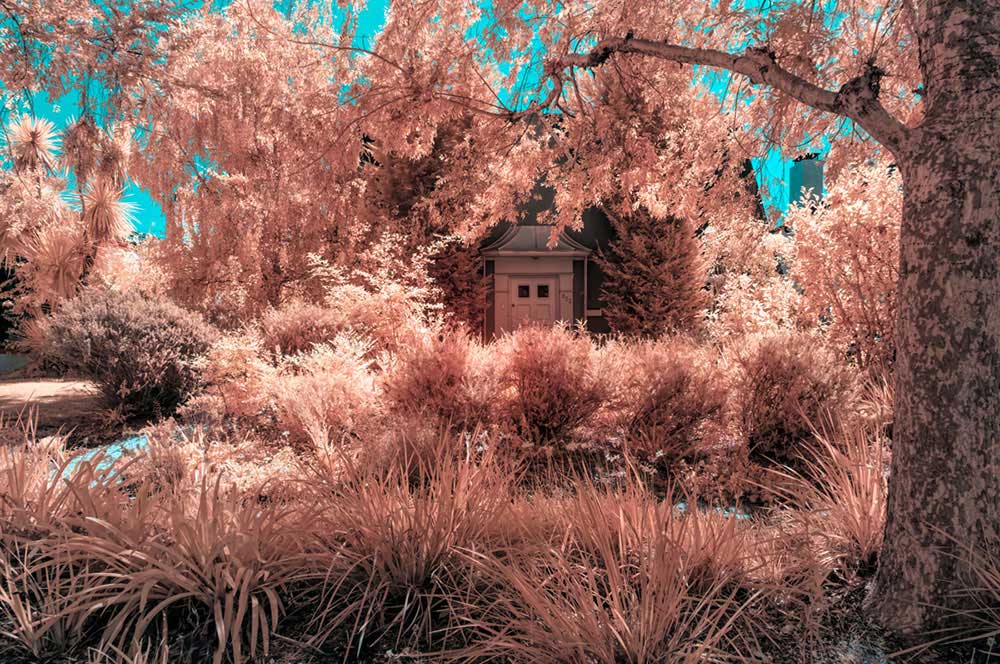 Shot using a color enhanced infrared (IR) (665nm) camera, (un)real landscapes' IR images call to mind Kodak's Aerochrome infrared film. This film was used frequently by governments, the military, and the scientific community for aerial photographic applications, such as vegetation and forestry surveys, hydrology, and earth resources monitoring, where infrared adds a different dimension of discrimination. In (un)real landscapes, the infrared camera also transforms our understanding of urban topography and shows natures' persistence, often shrouded in surreality.
About Karen Constine
Karen Constine is a fine art and documentary photographer who examines cultural traditions and spaces in transition. Her photography is a visual exploration of contemporary pilgrimages.
Karen's has exhibited her work in national and international group exhibitions including, Art in the Plague Year, at UCR ARTS: California Museum of Photography; #ICPConcerned, Global Images for a Global Crisis at International Center of Photography; Connected World 2020 at Los Angeles Center of Photography; and Forsaken and Abandoned exhibitions at S.E. Center for Photography, among others. Awards include the 16th Edition of the Julia Margaret Cameron Award for Women Photographers, Cityscape Series, 3rd place, and 17th Edition, receiving honorable mentions in several portrait categories. In addition, Lenscratch and Aesthetica Magazine have published her work.
Karen received her B.A. in Communications from the University of California, Santa Barbara, and is actively involved in the photographic and arts community in Los Angeles. Presently, Karen is working on several personal projects, including her series Harajuku in L.A., an ongoing series of portraits that capture the self-expression and individualistic styles adopted by Harajuku and J-fashion-inspired persons living in Southern California.
Karen's photography and travels have taken her to six continents, including visits to remote indigenous populations and cultural and environmental significance places. She is based in her native city of Los Angeles. [Official Website]