To change a relative place, perception or normal order of… Transposed is an ongoing series of abstract monochromatic works expanding on notions of reality. 
A change in perspective leads to a change in experience. Momentary black/white horizon and coastal lines become distorted and rearranged through an emergent and transient practice of image laying. Each piece in the series allows the witness to embark upon new cycles of imagination and associations, providing an experimental chance to dream and envision from their own subconscious — to be transported into worlds of their own creation. , where daydreaming is actualized.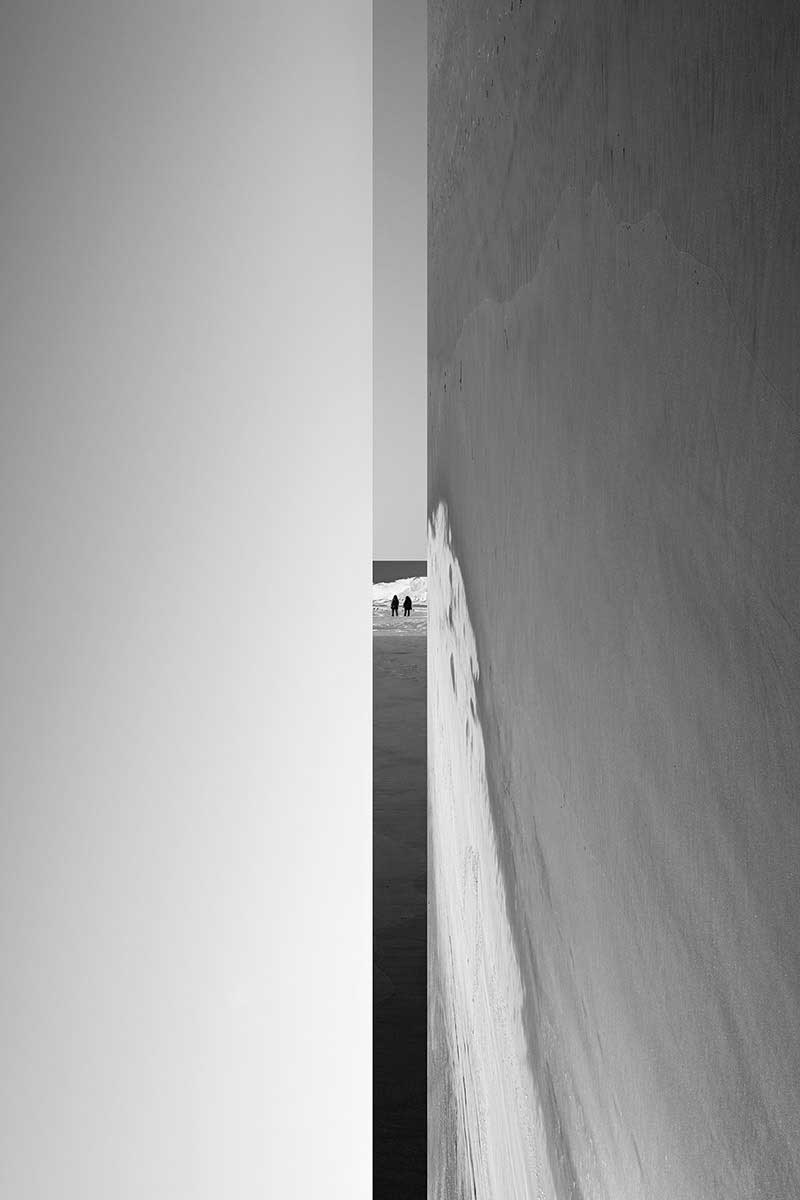 About Sisters of the woods
A change in perspective leads to a change in experience–– known for their depth of concept and philosophical undertones Canadian artists Melissa Amber [b.1983] + River -Lee [b. 1989] are the creative team Sisters Of The Woods, residing in British Columbia, Canada. As conceptual fine artists the women use the lens of photography to explore many aspects of multi sensory experiences. Using abstraction mingled within the actual, their photographic explorations offer powerful perspectives and partnerships within self (psyche) and nature.
Often, working in their signature abstract style, with bold compositions and unadorned shapes—such as intersecting plane surfaces, and principal geometrical figures, their photographic monochromatic neutrals and style have an essence unto its own. Many layers of a single image combine uniquely to offer the viewer a new experience of reality within their works.
Winning fourteen international photography awards/honours during their first year of professional collaboration the women are emerging with a distinctive meaningful perspective in conceptual fine art. Filled with generosity of spirit, their works are purposeful, alluring and uniquely philosophical. Their work has been described as having a kind of subtle Surrealism, an expression of the unseen unconscious, drawing viewers into the act of day dreaming and emotionally experiencing photographic fine art. [Official Website]