Dreams. What are dreams? Are they only, the sweet luxury of the rich man's incorrigible son? Who does not have to bother about earning his bread and butter, or are poor men allowed to have dreams too? And if poor men do have dreams , does society give them a chance to fulfill their dreams? Or are they " too poor to have any dreams?"
Located in the heart of busy Kolkata is a 75 square feet room. A room with its pale green wall paint, falling in patches here and there. The room comprises of a single bed, sacks of coal , a bicycle and a stove.  the occupants of the room are an elderly man from varanasi and his three young sons Arvind, Manoj and Bnod.  Now this story is neither about the room nor about the old man. This story is about the three young boys and their big dreams. Dreams that are beyond the four walls of the room. Dreams that involve reaching the topmost position in the world of boxing , a position so high , that on reaching there , the mocking ruthhless society around them is almost inconspicuous.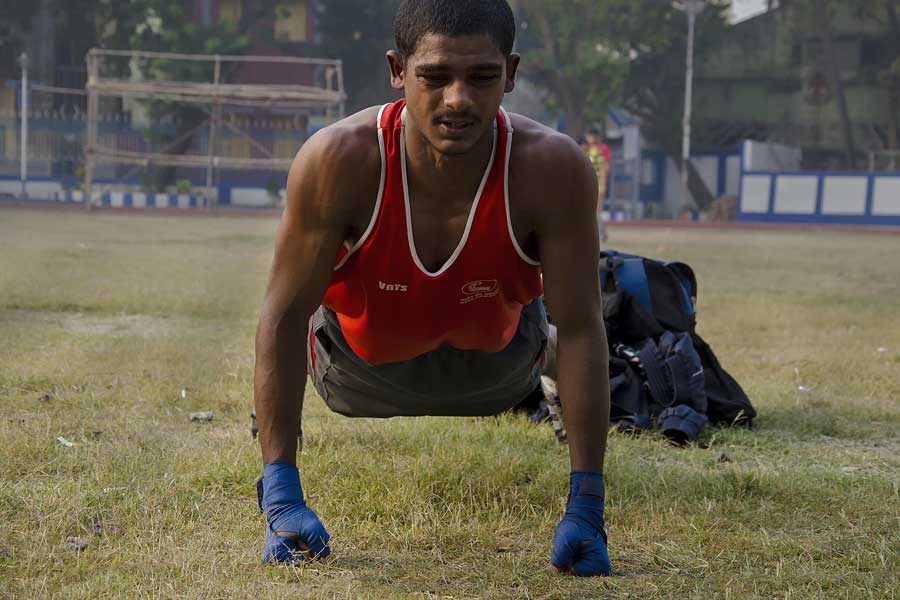 During the day , the boys assist their father in his small scale coal business and other household chores. Arbind mainly takes care of the timely delivery of coal to the customers He also takes maximum responsibilities on his shoulders so that his brothers do not have to concentrate on anything else other than boxing. Manoj and Binod loks up to  Arbind as an example. Both of them were attracted to this sport by seeing their big brother's boxing gears.
Like any other penurious family of this poverty stricken country , the family somehow manages to just scrape by. Come evening , this thralls of society, are transformed into men of passion . Once their gloves are on, even brothers turn into competitors.
In their struggle they are supported by their coach and staff of Bhowanipore Boxing association. This club is their alma mater , where they spend most of their time. Its kind and caring staff have played an important role in boosting the boys and making them ready to compete at national level. Two particularly senior members of the club take keen interest to the boys . They occasionally invite them over to their house and take personal interest in their health and well being. They offer them nutritious meals whenever possible since good nutrition is one of the essential steps in the ladder to success. Sometimes these two members gives them their own boxing gears.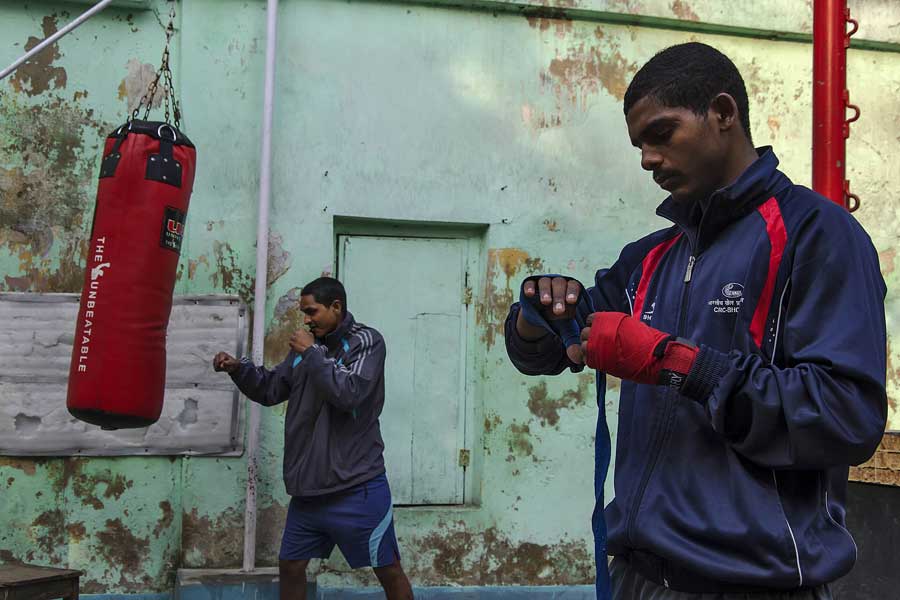 These three brothers has bagged numerous medals and certificates from many state and national level competitions, some of which are gold in 23rd sub junior national boxing championship in 2008 and 1st sub junior  national men's boxing championship in 2013 by Manoj, Gold in 2nd all india invitational boxing championship in 2011 and silver in 4th Netaji Subhas state games in 2013 by Arbind. Binod has won gold in school state boxing championship in 2015 and 1st inter kolkata boxing championship in 2013. Now they dream of making it large and take it to international level. They idolizes Indian boxer and Olympian Vijendar Singh, and hope that someday they wll also make it to the Olympics like him.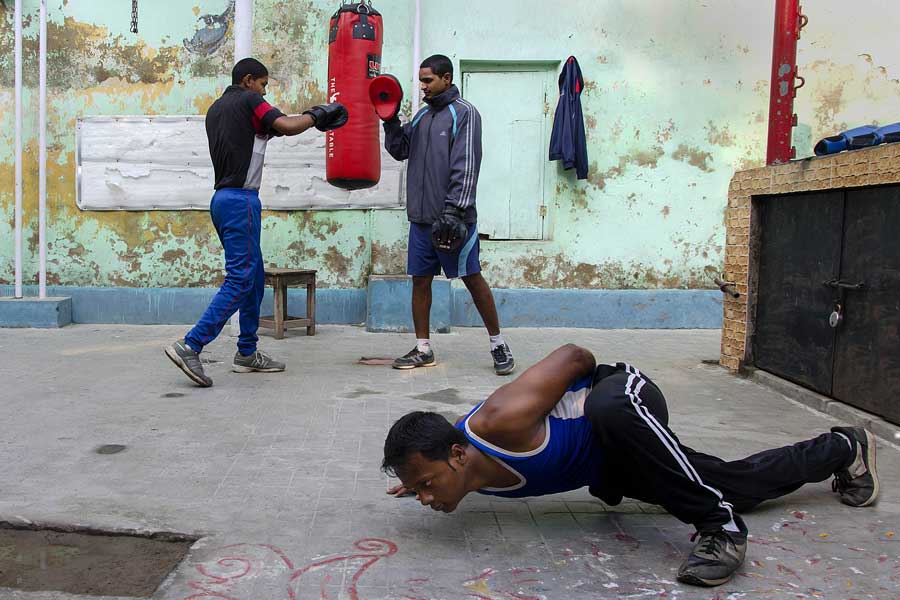 Arvind is trying hard to get a government job in sports quota so that they can make both ends meet and at the same time his boxing career is not disturbed. Binod goes to a government aided school , while Manoj stays back at home during afternoon because it was not possible to manage school fees for both of them.
For them, fighting is not a hobby, its an identity. To do something where they are the showstopper and people will applaud their performance. Blood, sweat and tears, they would give it all inside the ring because it gave them something that society failed to give them in all these years :Respect. Their world is not round anymore it was square ,like the square of the rink. Its their dream to earn a livelihood off their passion, to see their father give a rest to his old bone
They were not born with the luxuries of a comfortable life but that doesn't stop  them from following their passion. Boxing is their passion, it is who they are. In a country where money rules all, where talent dies an unrecognized death everyday in every corner of the street, where dreams are often given a backseat and life is driven by responsibilities, where man is judged by the number of currency notes in his pocket ,
Here is the life tale of three brothers who fight against all obstacles society throws at them for once and for all to become the greatest boxers of the country with humble beginnings. They fight for recognition. The fight for respect. They fight for existence.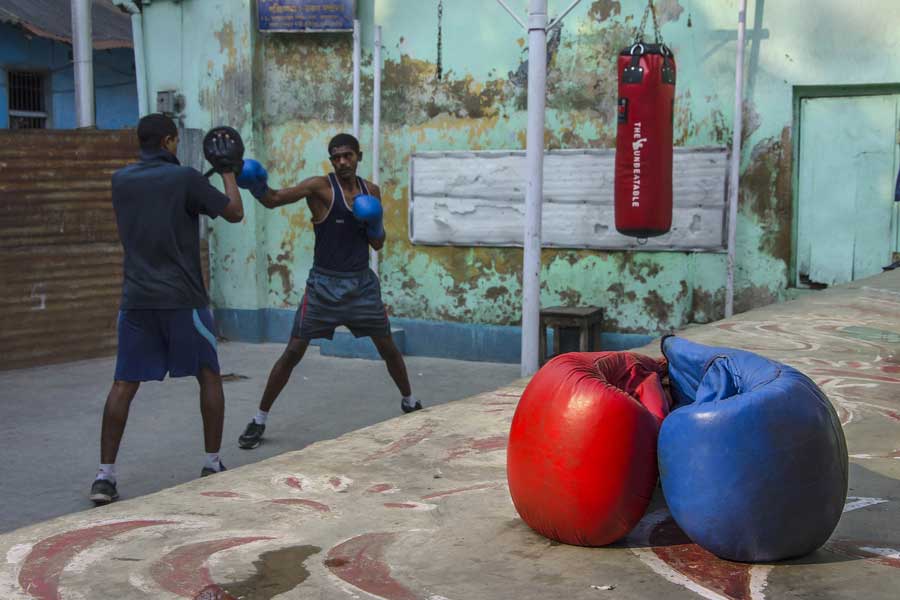 About Kanishka Mukherji.
I am Kanishka Mukherji.  I did my Masters in Marine Science holding a First Class 2nd rank. Presently I am working in State Bank of India.I started doing photography just 2 and a half years back with a Canon SX 160, point and shoot camera. Few months later this hobby turned into a passion . My current gear includes Nikon D5100, a Nikkor 18-105mm lens, and a Nikkor 35 mm 1.8g lens.
According to me, a  photograph is a bridge between the subject and the viewer. A photograph should compel the viewers to think and be one with the subject. Each photograph should tell a story and give a jerk to the thought process  of the viewers.
Despite my busy work schedule I manage to take some time out to sneak into the world and bring out the untold stories from the life of people.
Life is a quintessential element of my photography because they say, "it is more important to click with people than to click the shutter".