According to Hindu mythology 'Kalappali' is a ritual, which means sacrificing in the battlefield for ensuring victory. It was believed that whoever performed this sacrifice first and with his life in front of goddess Kali will ensure victory of his side on the battlefield.
In the Mahabharata's epic battle of Kurukshetra, Aravan, the son of the great warrior Arjuna volunteered to sacrifice himself in this ritual. His only wish was to get married before the sacrifice. But no woman was ready to get married for a day. Lord Krishna took the form of a lady as 'Mohini' for marrying Aravan to fulfil his desire. This pastime is re-enacted in rural Tamilnadu, the southern part of India through a festival. First there is a ceremonial marriage, then a celebration of their widowhood following the ritual re-enactment of Aravan's sacrifice.
Thousands of transgenders/eunuchs from across the country gather during this festival. They dress up as brides and get married to Lord Aravan in and around the temple of Lord Aravan by the priests where the priests put up holy turmeric-coated sacred marital threads around the necks (called Thaali) , and the wrists of the transgenders. The smell of burning camphor, the sound of drums played, the ecstatic dance and the enchanting songs of the newly weds create an amusing atmosphere in the area. The local people provide food and beverages at cheap prices in the night and the crowd spends the night openly in the courtyard of the houses in the surrounding area. The wedding night is also celebrated through acts of sex.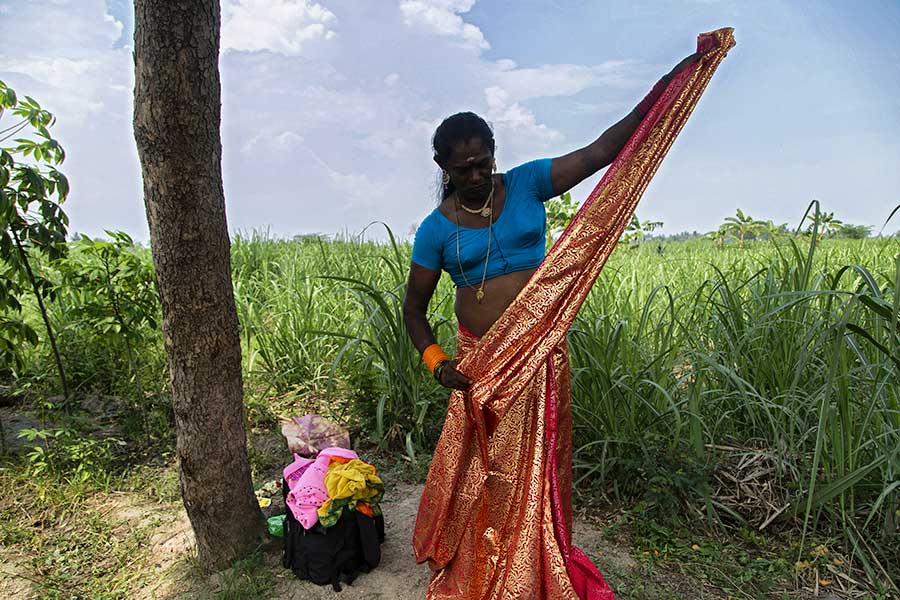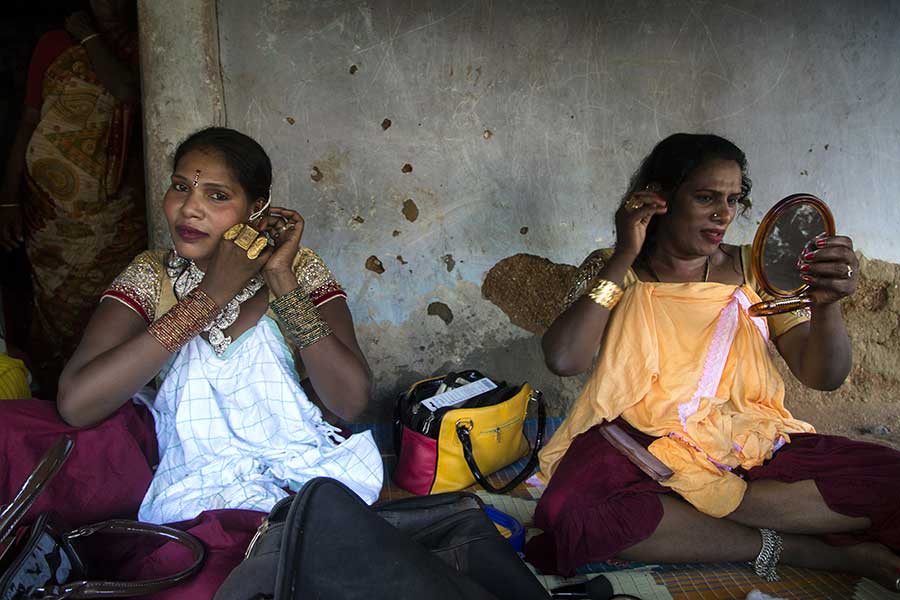 The next day the brides get ready with makeup and costumes and put up huge fire with camphor, symbolizing the death ritual of Aravan. The un-burnt hot camphor is considered to be holy and people collect it to keep it in their houses for good signs. Then the transgenders/eunuchs gather to mourn the tragic death of Aravan while the sacred threads are cut off from the neck and hands and their glass bangles are broken by the priests to symbolize their widowhood. The widows take bath and get into white attires and leave as the proud widows of Lord Aravan.
Lord Aravan leaves a lineage before he dies which makes him immortal in the history of mankind. It is from his lineage that the transgenders or eunuchs are said to have been born. That is why the transgenders or eunuchs are also known as Aravanis in this part of the world.[Official Website]