The long term photo essay underlines the mutation of the Independence square in Kiev. From 2014 with an analog camera (Fujica ST705), and black and white films (HP5+/T-Max400), to a 2017 digital perspective (Canon 7D), the post-Maïdan universe and its pro-European stronghold has returned to normal.
The use of diptychs, with the same framing, reminds us the Ukrainian ephemeral revolution, and its ashes: In the aftermath of the Euromaïdan, the atmosphere settles down; activists desert the pedestrian esplanade. As for the "One Hundred Celestial Heroes" – killed by the Berkut security forces – their fates stop at the square. Paralyzed, the location, and Khreschatyk Boulevard, have turned into a village of irreducible militants and veterans from all over Ukraine. Maïdan has also become a sanctuary where improvised altars remind us that democracy has a human cost. Around the daily prayers, right-wing political parties such as Pravy Sektor and Svoboda take advantage of the popular uprising to recruit the youngest.
In 2017 I decide to see Maïdan again. The war has since broken out in the Donbass, a new president is in power, while the nationalist parties have moved closer to the new government. On the spot the contrast is striking: passers-by replaced campsite's militants. The revolutionary atmosphere has disappeared, and the post-Maïdan silence has been replaced by the noise of traffic jams. Like any big capital, the esplanade welcomes every day many tourists. Looking like a patriotic duty, they are proud to take pictures. Only remembrance stone reminds us that Maïdan was violently repressed. As for the facade – formerly burned – of the union house, it is now concealed and renovated, as if to heal the memory of a whole generation. Even if life in Kiev returns to normal, Euromaïdan remains, in a way or another, in all minds. As for the endless conflict in the East, it seems to be relegated to the background by a part of the population, concerned about new future prospects.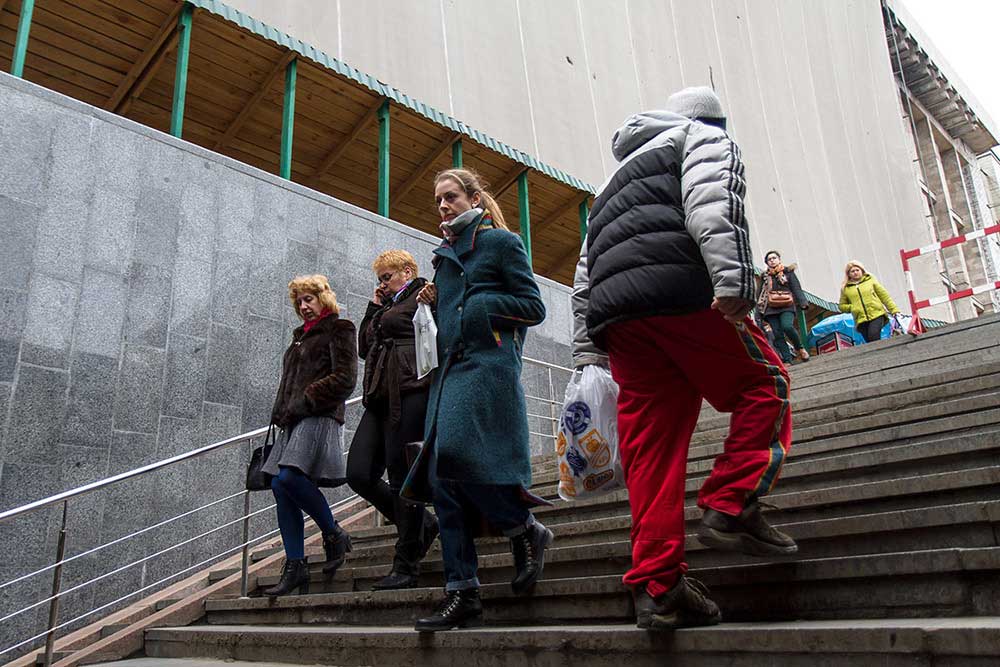 About Thomas Girondel
Thomas Girondel was born in the city-port of Le Havre, France and is a 33 years old former coastal disasters officer working as a freelance photographer. He lives between Nantes, France and Berlin, Germany. In spring 2014, Girondel spent several weeks in Ukraine where he documented life in the midst of a conflict zone with his analog Fujica camera. His work "Reaching Donetsk" was exhibited in a solo show in 2015 at the gallery Cosmopolis in Nantes, France and recently in Sète on May 2017.
In 2015, he covered several French as well as Eastern European topics with either political or social dimension. Starting also in 2015 and continuing in 2016, he recorded various protest movements, both in Nantes, France and Germany that he contributed to AFP forum. In March 2017 he returned to Kiev, three years after he documented the post-Maïdan universe, his photo essay presents diptychs to underline the mutation of the Independence square since 2014. In December, he completed an internship as a photo editor at Le Monde French newspaper in Paris. He has been recently published in January 2018 in the French weekly news magazine lobs. [Official Website]