As a photographer, my goal with this project was to capture the essence of the unique and ever-changing New Orleans cultural landscape and preserve it for others not fortunate enough to witness these colorful events first hand.
To complete this body of work, I spent ten years living in and studying New Orleans, shooting all the while. However, it was only images from the last three years of that decade that I felt were worthy of inclusion. I hoped to explore the authentic side of New Orleans, to see beyond Bourbon Street and dive deep into the soul of this great city and it took time to do so. Beyond simply making images of festive moments in time, I strived to create works that stand on their own as memories of a great culture now drastically changed while giving hope for a return to a more familiar tomorrow.
Part of my process during Mardi Gras involved shooting from the hip while fully costumed and masked in close proximity to my subject, allowing a certain intimacy to take place.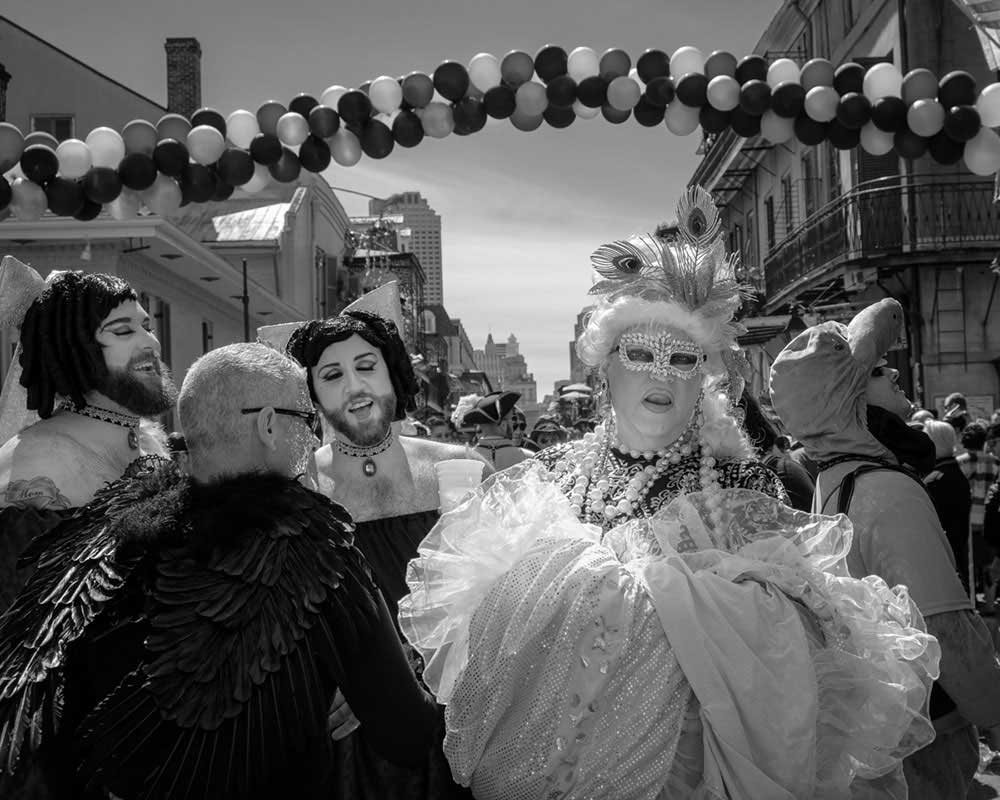 About Michael McGrane
Michael McGrane (b. 1968 US) is a New Orleans/New Mexico based visual artist working in a variety of media, including photography, art masks, painting, and digital art. Having been previously employed as a sign artist, graphic designer, gallery owner, illustrator, and art consultant, he draws on many artistic disciplines to bring these diverse images to life.
Michael began his photographic journey in New York City during the heyday of the hardcore punk era of the mid 80's, attempting to document a now extinct music scene and the distinct personalities within. His work was later featured prominently at CBGB's 313 Gallery in their 2000 exhibit, New Revisited. He then went on to found his own highly regarded art gallery in the East Village and curated exhibits with HR Giger, Mick Rock, Mark Mothersbaugh and many other now well-established artists. These experiences developed into a passion for shooting the unique characters, street musicians and other cultural aspects of New Orleans. Atmospheric scenes from abandoned places and local cemeteries are also common subjects. Michael's work was chosen as a Featured Entry in the LensCulture Street Photography Awards 2020, and has been exhibited extensively in numerous galleries and museums including the Louisiana State Museum, The New Orleans Contemporary Arts Center, and The Ogden Museum Of Southern Art. [Official Website]