"Hong Kong Lines and Patterns" is a street photography series that comes with a fine art aesthetic and the compositional approach of isolating urban subjects, geometric elements and forms fromthe chaotic urban environment of Hong Kong.
This series portrays the way of life of different urban characters in the context of their surrounding geometric environment, which were all culled from mundane everyday scenes, with fleeting
moments seized from near and distant. Nevertheless, those subjects look trapped and lost inside an artificial geometric labyrinth without realising it. The sense of confinement in which the urban structure crashes the person, enclosing them into small boxes with no way out, is suggestive of the modern condition of how we succumb to the glory of the urban landscape, which is also a product of our creation. Perhaps this photo series is a metaphorical view of urbanity while also implying the melancholic romance of hectic modern city life in a metropolis like Hong Kong.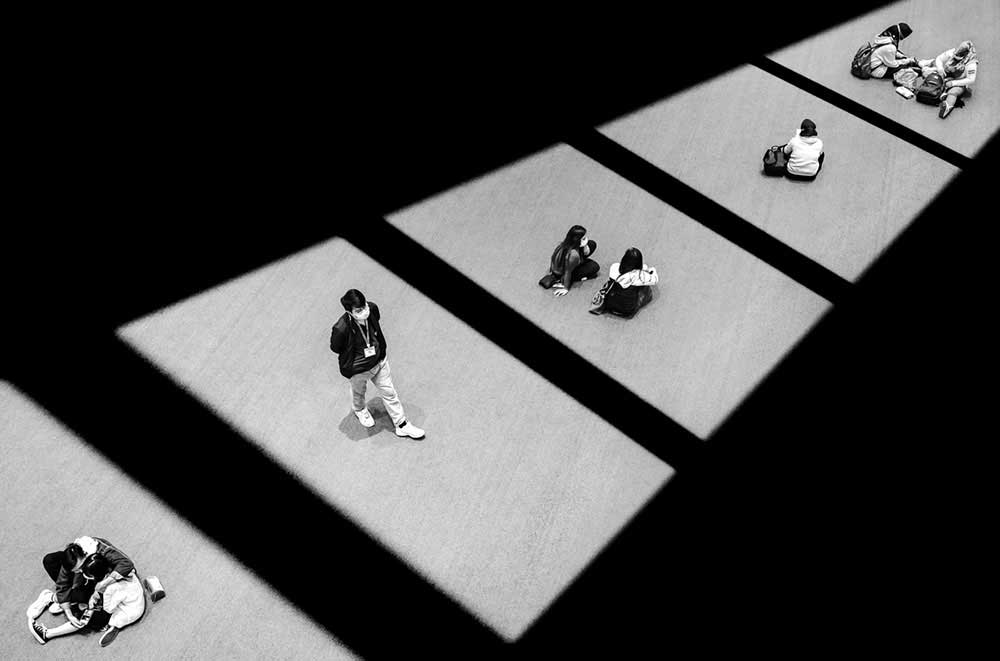 About Jason Au
Jason Au (b. 1994) is an award-winning photographer based in Hong Kong. Jason is interested in street and fine art photography, with black and white being his preferred medium of expression. His high-aesthetic works often incorporate creative, geometric and balanced compositions. Jason has won numerous international photography awards in past years, including Shortlisted in "Sony World Photography Awards" in 2022, 2nd Place and Finalist in "LensCulture Street Photography Awards" in 2021 and 2022 respectively, 1st Place in "International Photography Awards" in 2021, 1st Place in "ND Awards" in 2021, 1st Place in "Paris Street Photo Awards" in 2021, 2nd Place in "Minimalist Photography Awards" in 2022, 2nd Place in "Fine Art Photography Awards" in 2021, 3rd Place in "MonoVisions Photography Awards" in 2022, as well as many other awards and honourable mentions.
His works have been exhibited worldwide, including in London, New York, Athens, Ghent, and Trieste. His works were also featured in the South China Morning Post (Hong Kong) and the
Guardian (UK). Jason is an artist at Blue Lotus Gallery of Hong Kong and a Fellow of the Royal Photographic Society of Great Britain. [Official Website]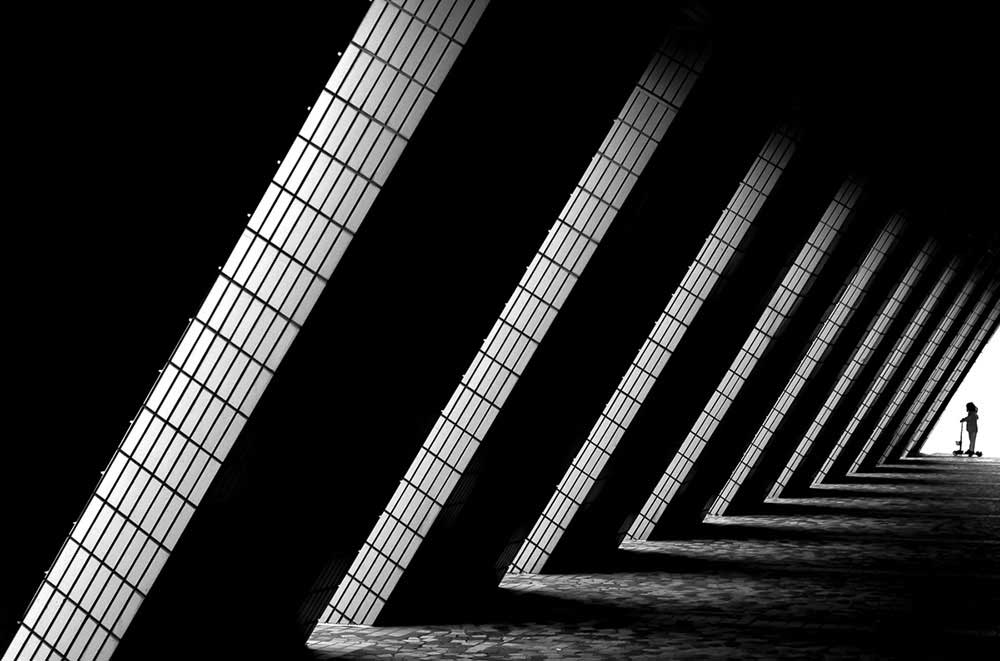 On Photography Style
Jason is always intrigued by the beauty in the mundane moments around him. He's constantly looking for extraordinary moments out of the ordinary, which he thinks are everywhere in our day-to-day life. He's especially drawn to subjects and environments that can create geometric contexts. One could easily perceive the visuality and sense of composition in his images.
On Photographic Process
About his photographic process on streets, he referred to it as the "fishermen approach". He said, "The fishermen approach requires thinking, planning and execution right at the scene. My typical shooting approach is contrary to the other grab-and-go method known as the hunter approach."
He breaks down his photographic process into four stages:-
1. Observation
Jason said the photographer needs to constantly scan for interesting subjects, environments and lighting on the streets at any time. He will keep thinking about the possible combinations out of the scene and the compositional relationship between these elements.
2. Pre-visualisation
Once Jason found subjects that had triggered his visual interest, he would pre-visualise the framing, perspective and placement of subjects within the frame that could create a good composition.
3. Framing
If he had decided to go for the shot, he would make technical adjustments to aperture, shutter speed, and metering, followed by lifting the camera to his eye and framing the scene, ready to take the shot.
4. Capture
Lastly, it's about anticipating the right moment and then releasing the shutter when the subject arrives at the right spot in the frame.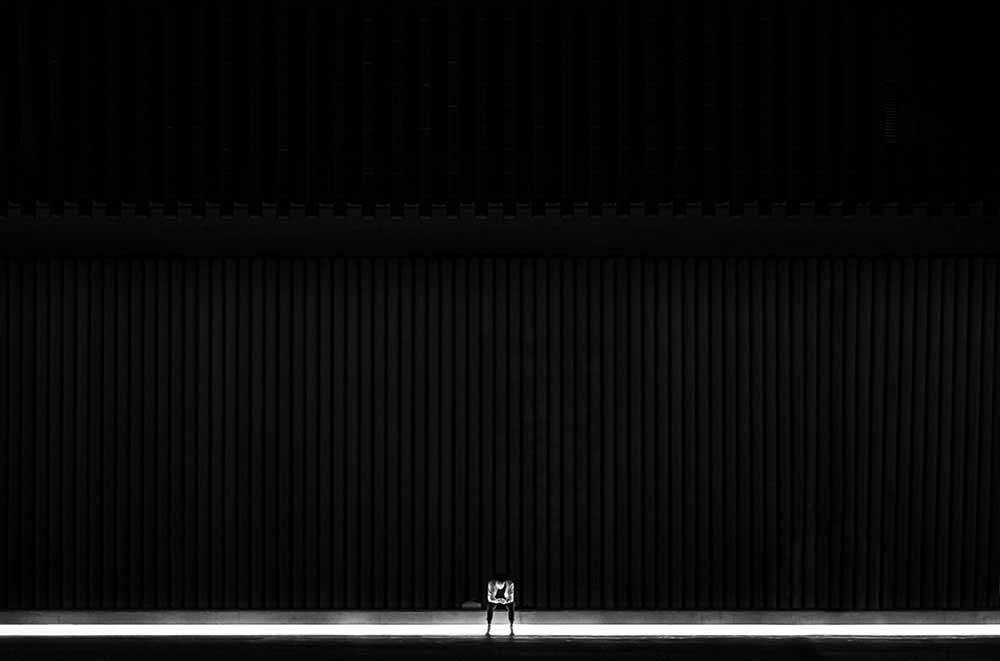 Why Black and White?
Since the beginning of Jason's photography journey, black and white has been his preferred medium of expression. He said, "Unlike other visual art forms, photography has to be based on real-life; it's a realistic art form. However, black and white has the quality of stripping away realism to a certain extent". "Black and white can be abstract and surreal at the same time." He further elaborated. "In black and white, one is not looking at the colour of the clothes people are wearing nor distracted by the colourful street signs and billboards in the background; instead, you're looking straight into the forms, gestures and soul of your photographic subjects." In his final remark, he said he's always fascinated by the mesmerising quality of black and white because it can transform reality into something dramatic and impactful.