I´m a Japanese photographer living in the northern island of Japan, Hokkaido. My photography ranges over many subjects including landscape, cityscape, nature and experimental abstracts.
My photographs have been featured in various websites and published in several photography magazines, including Asahi Camera (Japan) and Black + White Photography (UK). My photograph was chosen as finalist in the Monochrome Project of International Garden Photographer of the Year 2012. All the photographs here were taken with Hasselblad film cameras and digitalized using a film scanner.
In my area of Hokkaido, Japan, snow usually settles in the middle of December and doesn't completely melt until the middle of April. The area is buried under snow for almost four months. Snow sometimes continues for days at a time and shoveling snow off the driveway (at least a couple of times a day) is literally backbreaking work. Despite all the troubles, I can say that I like winter here just for one reason, photography. I am always fascinated to see how dramatically snow can change ordinary landscapes into almost surrealistic ones. The aim of the series of photographs shown here is capturing this surrealistic atmosphere and displaying it in a compelling way. Most of the photographs here were taken while backcountry snowshoeing. During winter in Hokkaido, landscapes change a lot faster than in other seasons.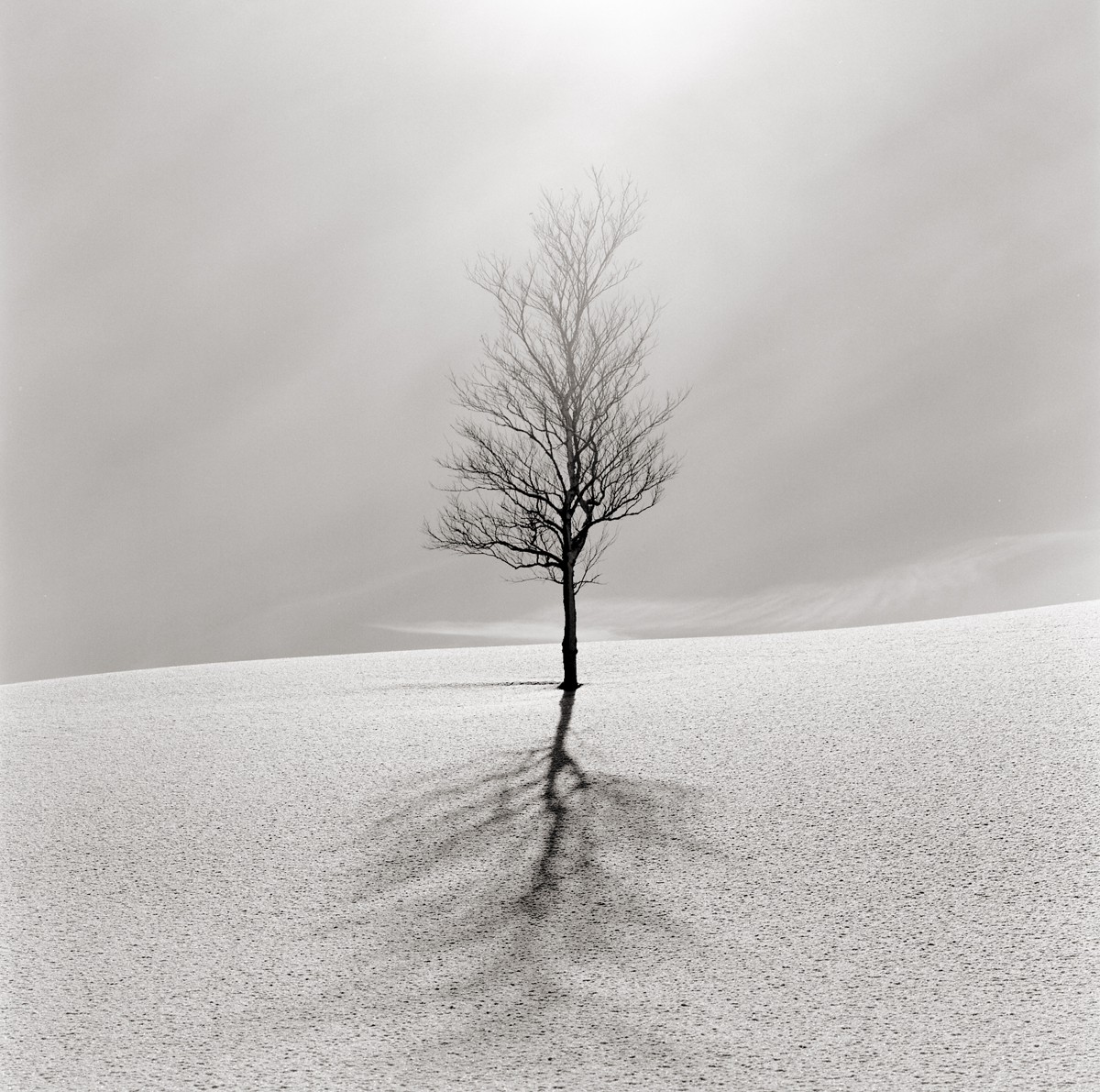 The same place looks completely different even after a couple of hours of heavy snow, so it is joy to visit the same place many times. Every time I visit, I always find something different; snow surface textures, weather conditions (which are very changeable in winter here too), animals' footprints, how trees are covered with snow. These things are never the same, and are all very important elements of my photography
Unlike normal trekking, I stop and look around very often to check I haven't missed anything interesting, and when I find something, I have to carefully choose my standpoint and decide how best to reach that place. This is extremely important in snowy landscape photography, and I learnt it through making several mistakes. For example, I once found an interesting tree, and first thought I would use a wide angle lens. However, upon getting closer to the tree, I noticed a wide angle composition wouldn't work, so retraced my steps bit by bit and finally found the best standpoint and composition. Unfortunately, while doing this, I discovered that the once pristine snow surface around the tree had been completely messed up by my snowshoes.
I always try to keep my photography as simple as possible. Like haiku, I like to present minimal elements and information to viewers, so that they have room to use their own imagination. Therefore, the feedback I receive from viewers is very different, depending on how they have interpreted my photographs, and this is very inspiring. [Official Website]