When you ask around, people answer that they no longer exist. The children of the sewers are a legend, they say. But Chris is here in front of me. He's real.
I met him 'above ground', in the park in front of Gara de Nord, Bucharest's major railway station. Chris is one of the thousands of people who still live in the underground tunnels of Bucharest, beneath the streets of the capital.
I'm in his 'home-garden', as he calls it, surrounded by low and dark clouds. He's nervous and he keeps looking around, as if he is scared that someone will see us. He takes a look at the drawings on my wrist. I try to break the ice by showing and explaining the meaning of some of my tattoos. I then ask him whether his represent anything. They are not exactly drawings. In fact, his arms are full of scars. He explains that he made them himself with pieces of glass.
"I was trying to forget the pain with a new type of pain. The simpler way to overcome the trauma of the dark past I had. But those wounds, however, disappeared quickly with time, letting that deep pain came back to visit me again".
At regular intervals, he inhales deeply from the bag he holds in his hand, which swells like a big balloon. He's addicted to Aurolac, a powerful solvent that stuns and kills. A metallic glue-paint that is inhaled after heating it and placed in plastic bags. It is the most widely used drug because of its price. It suppresses the symptoms of cold and hunger, giving a strong sense of high. However, it has devastating effects on the brain causing irreversible damage.
"When I sniff this stuff everything makes sense tome. Objects move slower, things turn from grey to bright colors, noises become music. I go into a world where I find myself more at ease and where I'm not scared anymore". 
Chris had a troubled and unstable childhood. His physical and mental healthwere in a terrible state and he faced several surgical operations. He doesn't remember much about his childhood, or perhaps he doesn't want to talk about the people who left him alone forever in the world.
And maybe he doesn't even need to say anything. His eyes tell already what he cannot express with words. Since then, after four years of living rough, in and out of crowded orphanages, he ended upbeing homeless on the streets. He, along with thousands of others, is an orphan to a family who could not afford to keep him. The legacy of a policy that aimed to increase the country's workforce and reverse the low birth and fertility rates. An economic momentum to support this sudden population growth that never materialized.
Many of them, not knowing where else to go, took refuge in the disused sewers of the city, where they could keep relatively warm using the heat coming from the pipelines. A sort of shadow kingdom, defined by rules and laws that are valid only there. Taking care of them, almost exclusively, are volunteers from a few NGOs that provide them with assistance, food and school supplies and school placement programs. Among them is Parada, on the front line, that since 1996 has assisted almost two thousand street children, less than half compared to the 90's. Chris lives down here. In the sewers, to be exact. It is one of the few sewage channels that have remained in the central area. The majority of the homeless have been forced to move out into the suburbs, making the invisible even less visible.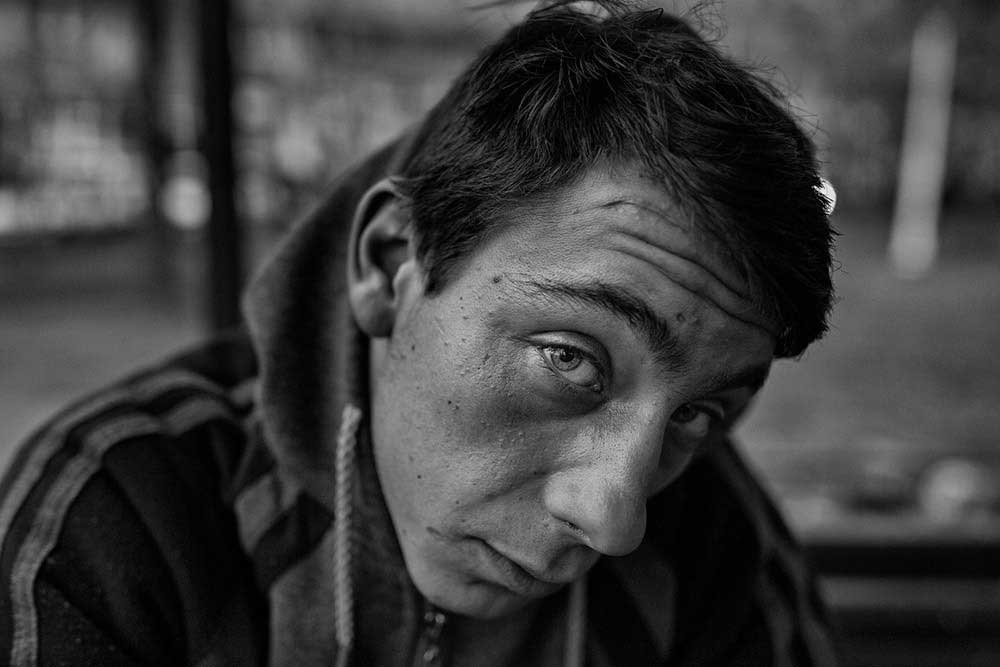 About Mauro de Bettio
Born and raised in a little village in the Italian Alps, now based in Barcelona, Mauro already felt from young age the desire to tell. He discovered that the camera was the right tool for him, the eye through which he could speak to the world. An instrument that began to walk by his side towards a long journey of discovery. Definitely, to grow by himself, without the influence of schools, courses and lessons has slowed down the process of technical knowledge, but because of this he learned his own way of seeing and been formed and shaped by the environment and the people who surrounded him in his long travels.
Although it is difficult to express, I think that the photograph represents my way of speaking and what I try to do through my language is to capture the sense of what I breathe and touch with my hands. Not only in appearance but also, and especially, in the essence; trying to express nuances and subtleties contained in a single frame. I think that's part of my personality and my work fully expresses what I am. My story, my soul.
As a photographer, the only powerful medium to express and communicate he possess, then, is his camera. A tool that offers an infinite range of perception and interpretation, creating images that stimulate and provoke thoughts. Mauro spent over a year working on several project regarding social and human rights issues in India and Bangladesh. This curiosity for such different cultures and ways of living led him to the country's most hidden corners to capture the emotion and trauma of suffering humanity of several individuals and their unique histories. He explored the fragile balance between those people and their environment in realities like ship breaking yards, leather and bricks factories, transgender community and acid attacks survivors.
During my long trips I had the good fortune to meet great people and from each one of them I absorbed something: happiness, joy, passions, and sometimes even anger, sadness and shame. Emotions that sometimes were like punches in the stomach that took my breath away. I always feel a huge responsibility in finding the correct approach with people, to be able to properly explain with the images what they experience to others that are not aware of it. Communication is always the first move to learn each other's values but sometime even that is not necessary. Sometime smiles and glances are enough to gradually build a mutual trust and soon the mental and emotional barrier between me and the people I meet brakes almost immediately. Despite often the conditions and situations in which I am are not easy, I always do my best to capture those smiles and joy. It's extremely important for me to show those particular emotions because they represent their strength and resilience. I am convinced It's a source of inspiration for all of us because it shows that anything is possible when you face something with the hearth and the courage from within. The determination they show in the images I take is an extraordinary example of how every challenge can be converted into opportunity.
Reproduce all these different moods into images is to evoke an emotion in someone else. Draw public attention to real-life situations. Stop people and make them think. His pictures are a visual story able to highlight unseen or ignored realities. A vital tool that can help bring about social changes. [Official Website]
"Photography is a fantastic storytelling medium. Just ask yourself what story you want to tell and photography can bring you there".