A photographic project to discover the deep north and the people who have inhabited these hostile territories for millennia, once uncontaminated and which today face new challenges.
The thousand shades of white told through the inspiration generated by a trip to Yamal, the icy Siberian peninsula in the far north of the Russian Federation. This land is inhabited by the Nenets people, nomadic herders who, guided by the seasonal cycles and the needs of their herds, migrate incessantly in an infinite circle of movements between ice, frozen rivers and perpetual winds, in search of new pastures in the most remote tundra. The hostile environment did not stop their innate adaptability and gave them prosperity for millennia.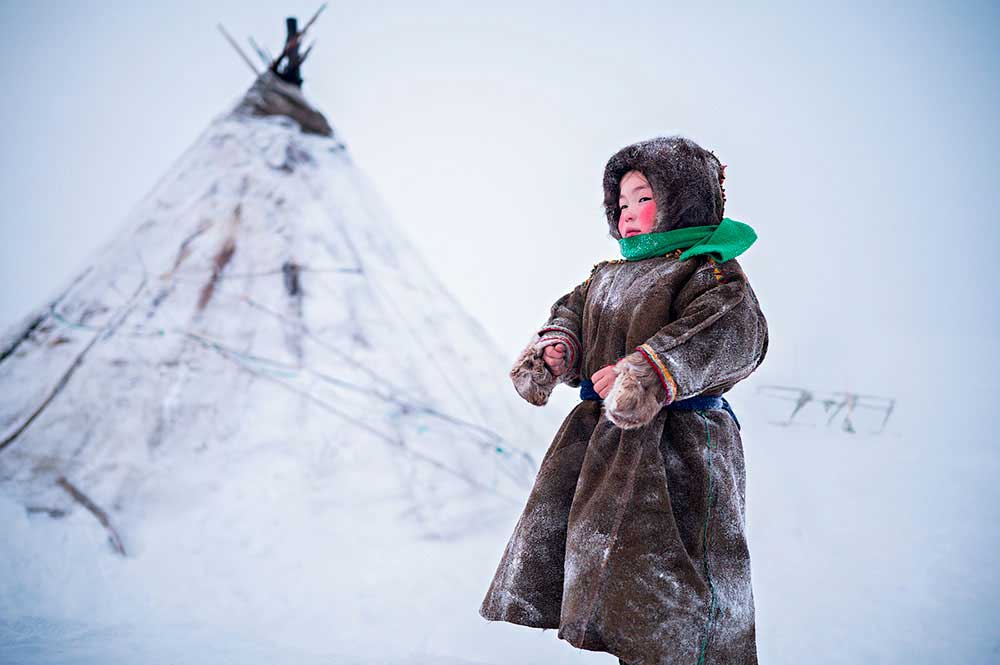 As guests of some Nenets families, we spent ten days with them discovering their way of life. Not without some initial diffidence they then welcomed us and made us participate in a small slice of their life and their millenary traditions. Traditions sometimes untold but only 'intuited'.
The Nenets are an ethnic group that is particularly interdependent on the environment, a condition that has favored the development of animism as a cult of the spirituality inherent in the natural elements and the practice of shamanism.
Its symbols are represented by small objects, amulets, tiny idols made of carved wood and bone. Precious objects preserved in the bizarre altars present in every Nenet's home.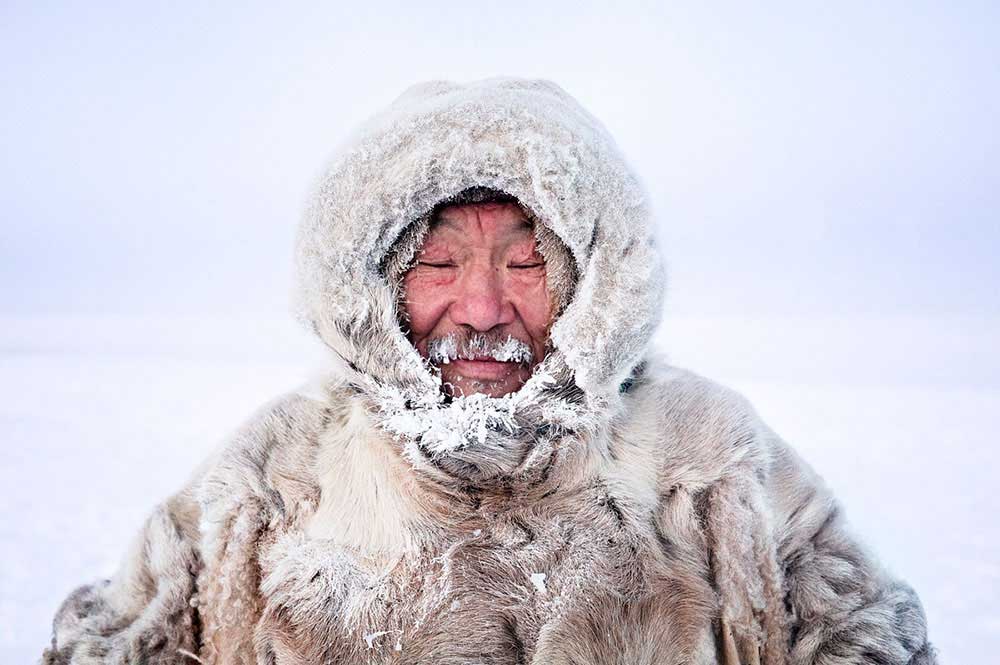 The shaman is the intermediary who connects the community to the mysterious forces of nature, interprets their signs and channels their energies with enigmatic practices that for us 'strangers' represent a incredible experience.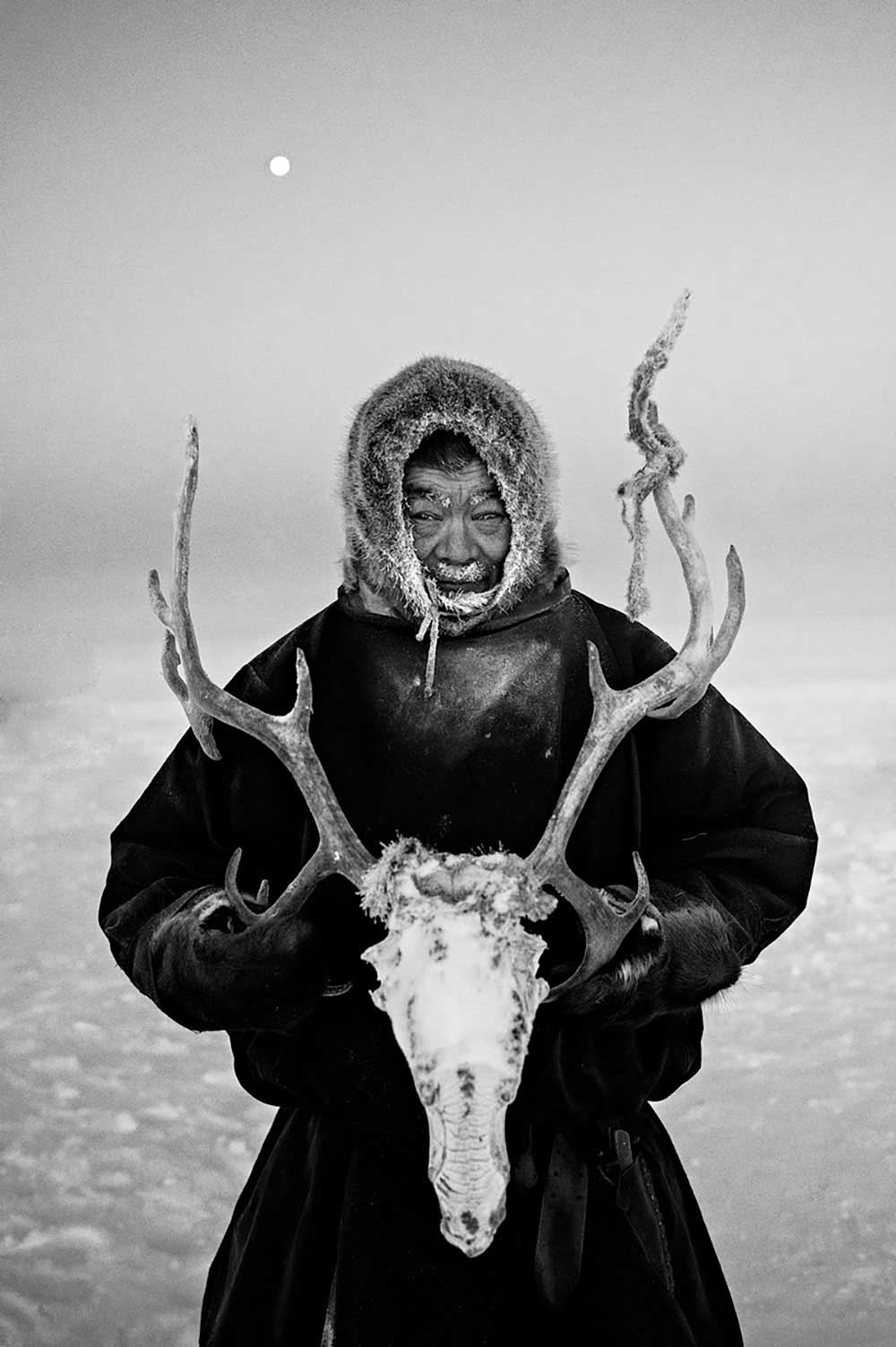 The nenets are therefore an animist population that inhabits the Siberian tundra. Their language is of Samoyedic origin, incomprehensible, primordial and fascinating. It is difficult to imagine how they express their thoughts, the existence they have is linked to nature, the Arctic land, seasonal cycles and their wealth represented by the flocks. The language they use is therefore very essential but also extraordinarily refined. They speak very little but use dozens of different words to describe the white color and the many shades that their eyes can grasp in the blanket of ice and snow that envelops their existence.
They also have another great secret, each Nenet has a second name that no one should know and that cannot be revealed. The name is used by the shaman only in case of extreme danger and to cure diseases, knowing their real name is a mystery, you cannot ask for it and you cannot pronounce it.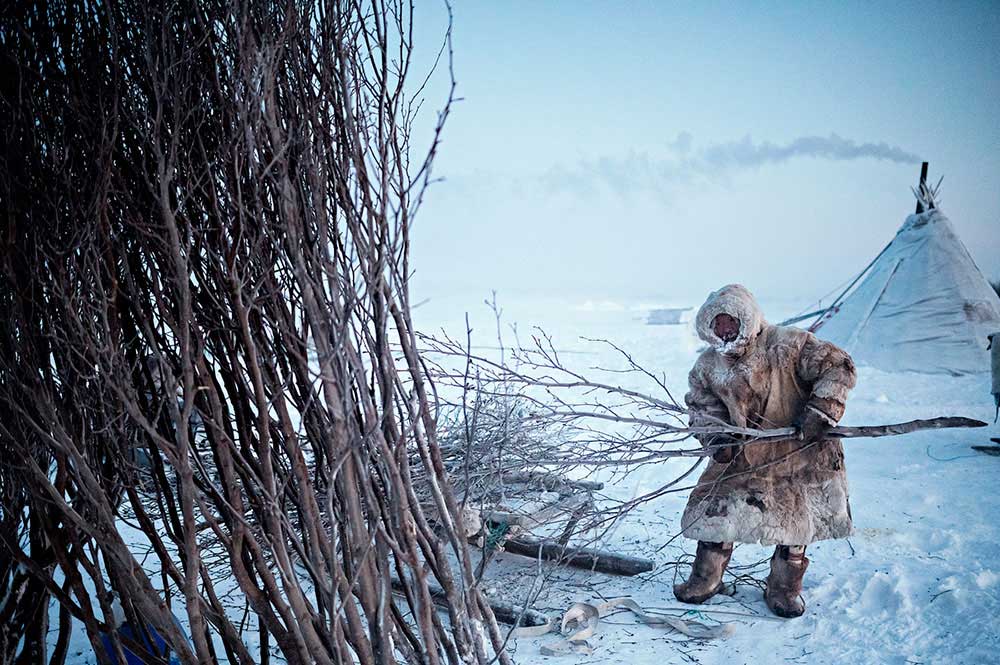 The main occupation of the Nenets is herding and when their reindeer decide to move to find other pastures, the family must follow them, the chum (the typical Arctic tents) must be dismantled and loaded onto the sleds. The path to follow has been the same for hundreds of years, every family knows when and how to move across the boundless polar tundra. Migration day is ideal for spending time and watching how laboriously they tidy up their things. It is interesting to study their movements made repeatedly at each change of outpost, they are figures wrapped up to withstand extreme temperatures, their cheeks are red like ripe apples, their movements made clumsy by the thick layer of fur. It is incredible to observe and share this day with them as the thermometer marks impossible temperatures.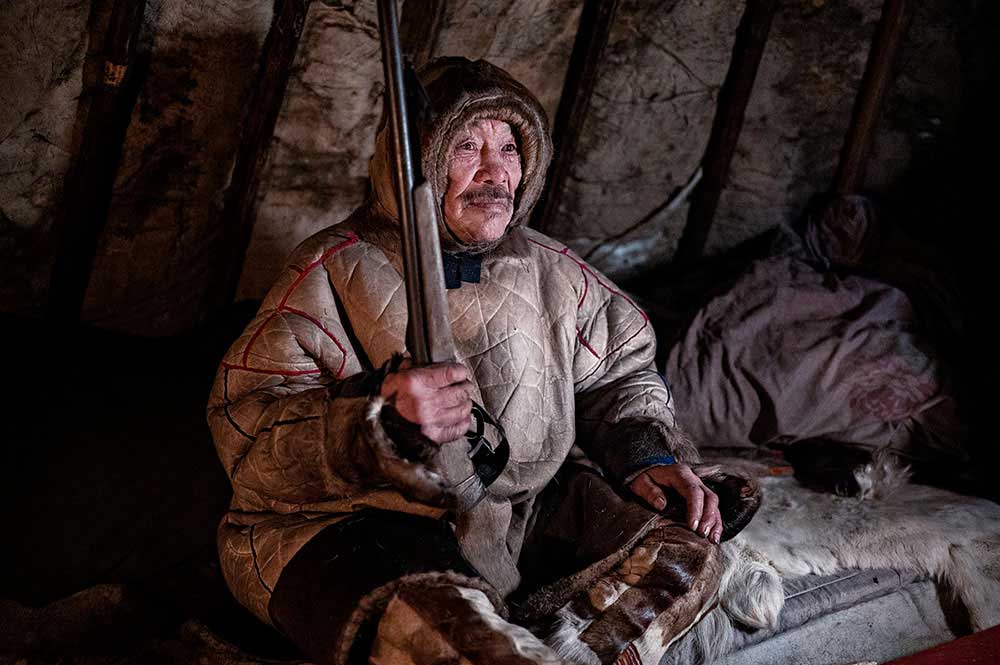 Over the millennia, the Nenets have selected a special breed of dogs, robust, suitable for pulling sleds, distinctly predisposed to the cold, excellent as an animal shepherd and which we know today as the Samoyedo breed.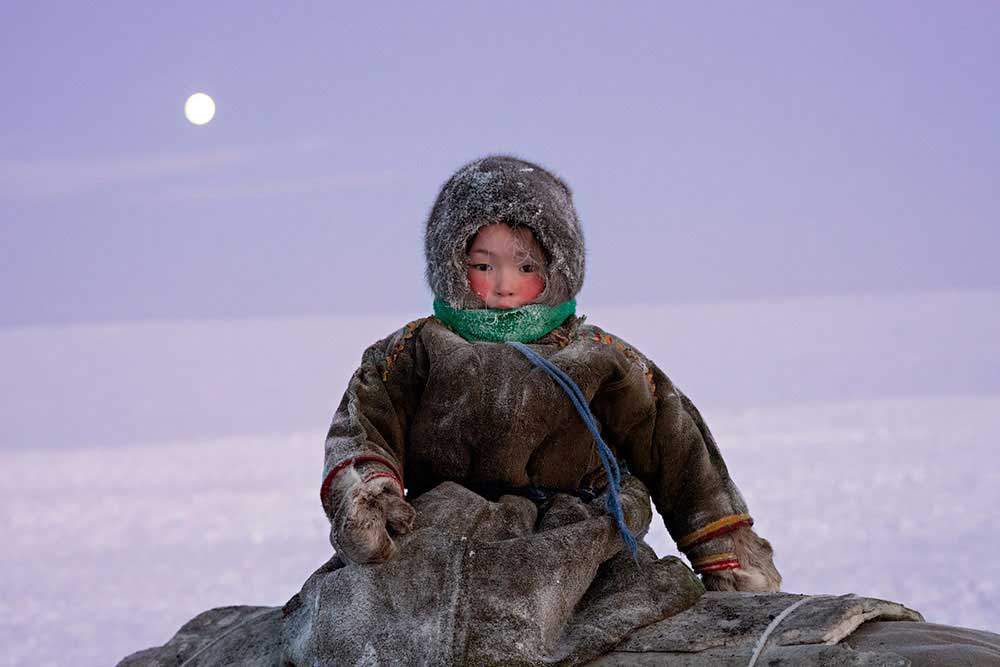 Samoyedos are protective dogs but also very tame with strangers. Each family has at least four or five, they sleep outdoors guarding the sleds and food. They are very precious animals but also very loved, when the night temperatures are particularly rigid, the dogs that are considered an integral part of the family, are sheltered inside the tent where in a polite and sometimes funny way they lean on humans to warm themselves or more you can often see them happily gnawing on some fish bones in a warm corner of the Chum.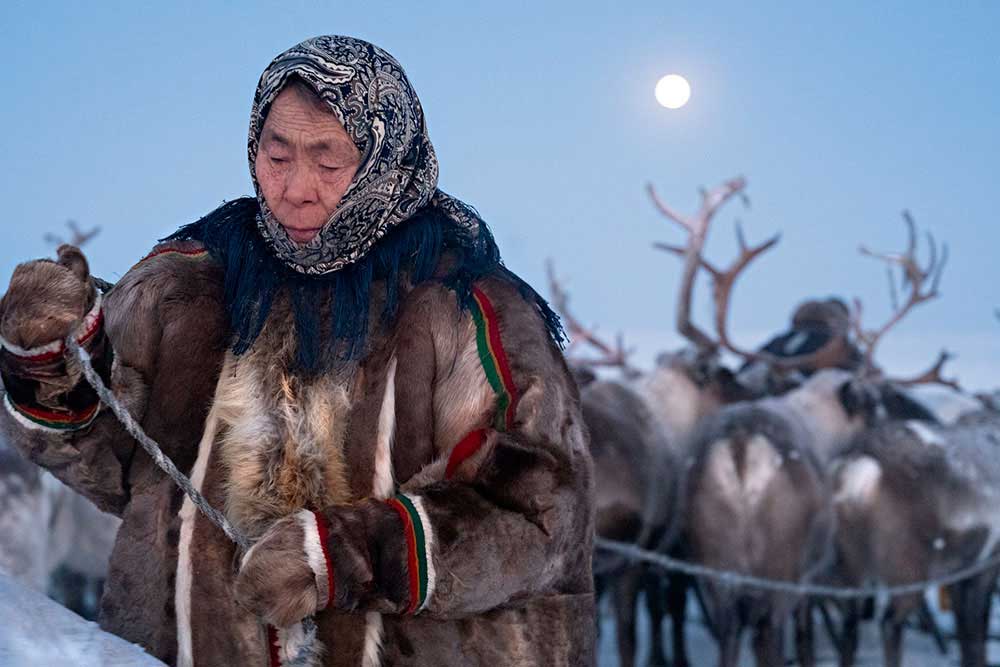 The use of clothing created with animal skins is typical of Arctic populations. Here everything that nature offers is not wasted in any way. The furs are dried in the wind for days and skillfully sewn by women during the long cold season. It takes many layers to cover yourself adequately, in winter it can easily reach minus fifty degrees and when the wind is very strong, the three layers of reindeer fur that cover the small Nenets tents, are barely enough to make it through the night.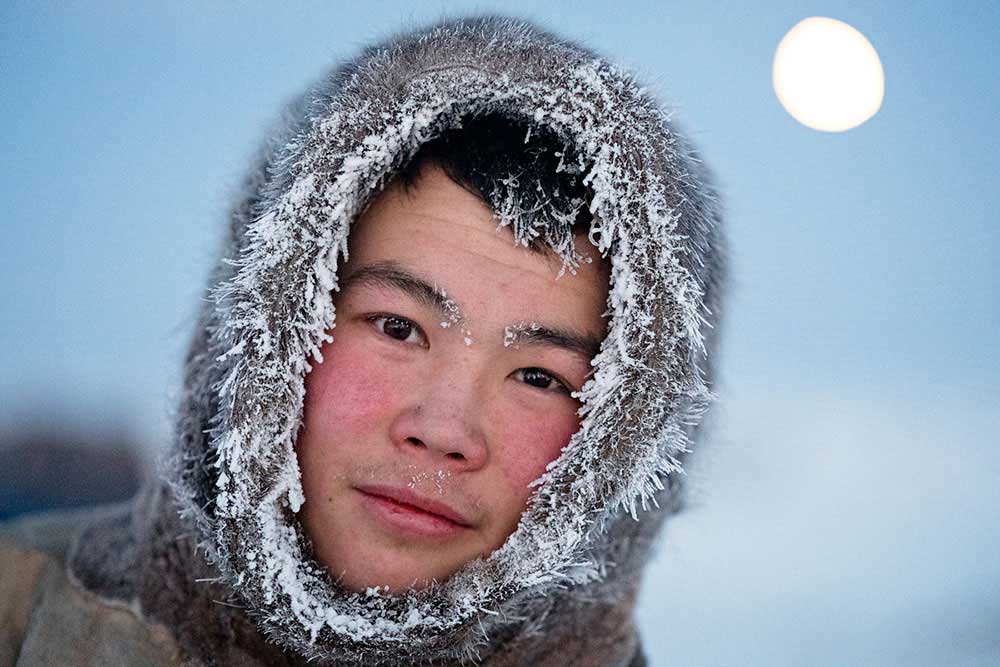 Men and boys wear a wide, completely closed hood that slips from the head. It is called Malitsa or Parka, it is made of at least a double layer of fur, incorporates hood and mittens and reaches just above the ankles. It is from this very crude word that our winter coat takes its name. The woman instead uses a more elaborate and long fur, open on the front, whose name has a strong sound like the skins she is made of: it is the Yagushka. It is resistant and very practical, often decorated with colorful motifs or with bells and small metal plates. Ropes and rattles that help not to get lost in the storm. If necessary, it also becomes a large blanket.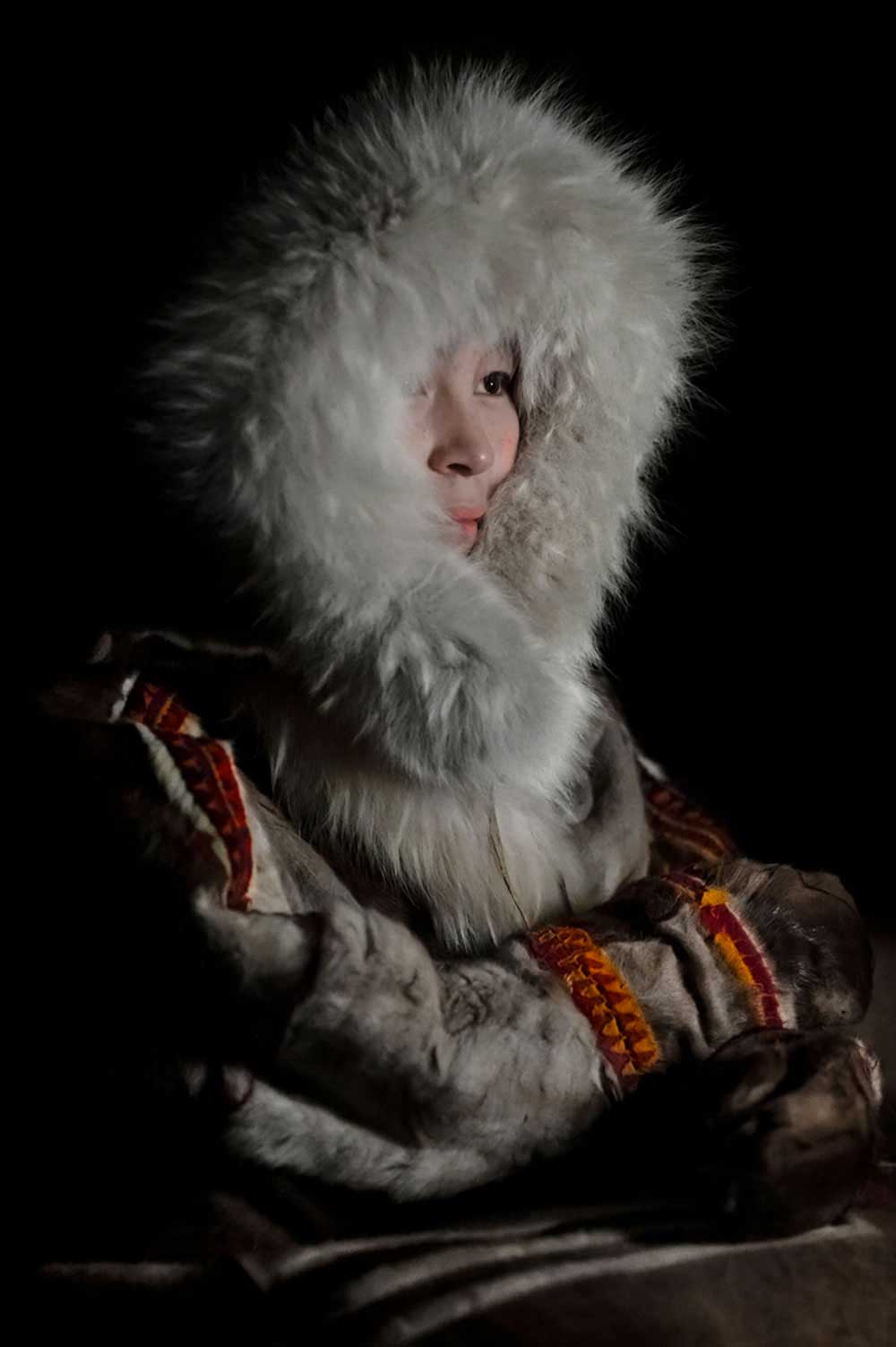 The Yamal, although not crossed by the legendary Trans-Siberian railway, is the area where an equally fascinating train is the only way to overcome the ice and reach, not without difficulty, the northernmost lands in the world. Slow and silent it appears. It disturbs the perfect line of the horizon, first as a ripple in the air, then it reaches us with all its noisy majesty. Indispensable means for supplies and relief, it is welcomed by the Nenets as a carrier of goods and provisions to be exchanged. Like the train, the Nenets never lose their way, they move on imaginary tracks that only they recognize. They disappear by walking towards an indefinite point and then re-emerge elsewhere. In silence, orienting oneself with instinct, recognizing invisible traces. At sunset I watch them return from an unexpected direction, followed by a trail not of smoke but of steam of breathlessness. Their soft fur shoes leave no footprints, only an imperceptible shadow on the snow.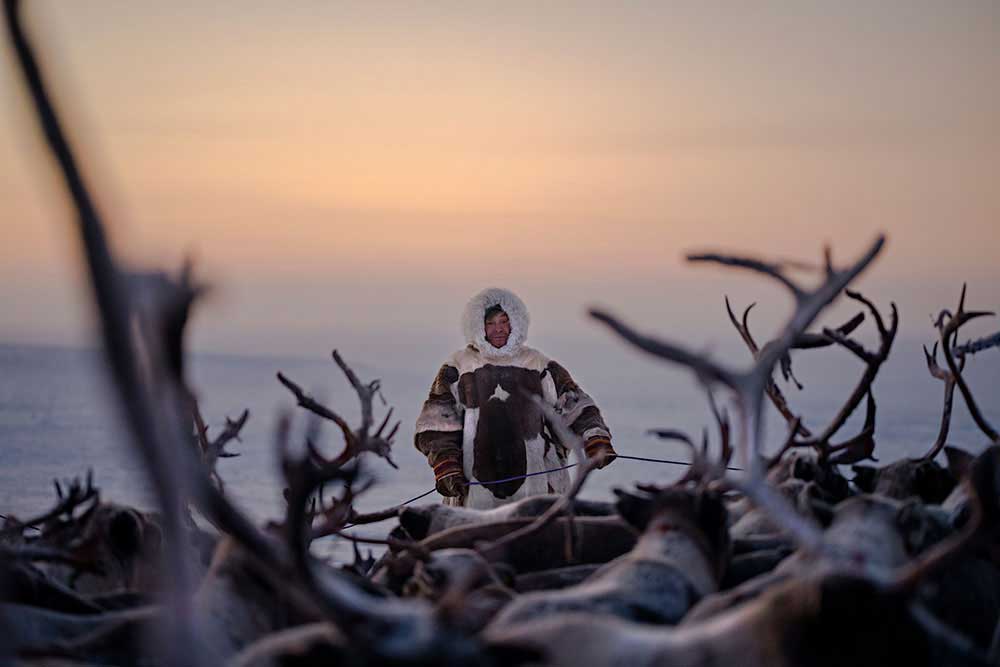 I met Rodion one of the many guys who represents the new Nenets generations. Linked to family and traditions, he is one of the lucky ones who have had the opportunity to study and start university. As a member of a minority, his transfer to the city was certainly not easy, the ability to include some environments is a very complex matter. Unlike many young people who return permanently to traditional life in the tundra after school, or those who never set foot in the tundra, he continues his more advanced studies and maintains a strong bond with his family and with his roots. A couple of times a year he spends a few weeks here in the ice at home, following and helping his parents in Arctic migrations. He is part of that small 'minority of a minority' who may be able to change the future of his people for the better who today, thanks to the race for energy hoarding, climate change and the out-of-control exploitation of the subsoil, are threatened in a way tragic especially here in the Yamal peninsula, a veritable energy treasure chest of the Arctic.
Among the new, more educated Siberian generations, non-violent environmental and cultural activism is growing, which is linked to the long wave of protests that continue to involve young people from all over the world.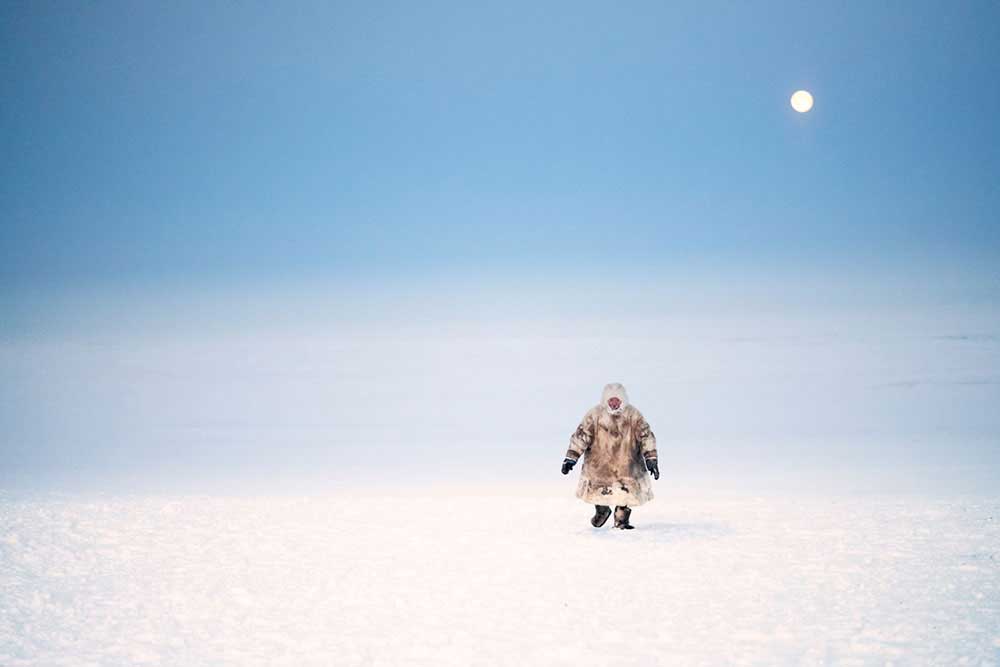 Guys like Rodion who embody tradition and modern awareness, can make a difference and increase the chances that the Nenets, like many other peoples threatened by an unsustainable economic system, will be able to channel their efforts to influence public opinion.
Living here for millennia has certainly not been a game, despite all the man's ability to adapt has prevailed over the hostile environment. Living with them for a few days was a great privilege, being able to tell through pictures was a great emotion. Being able to observe how the territory and their lifestyle is changing, seeing strength but also resignation in their eyes, makes it clear that the greatest challenge for the Nenets people is happening right now. A storm that is shaking their tents much more violently than any Siberian storm encountered so far.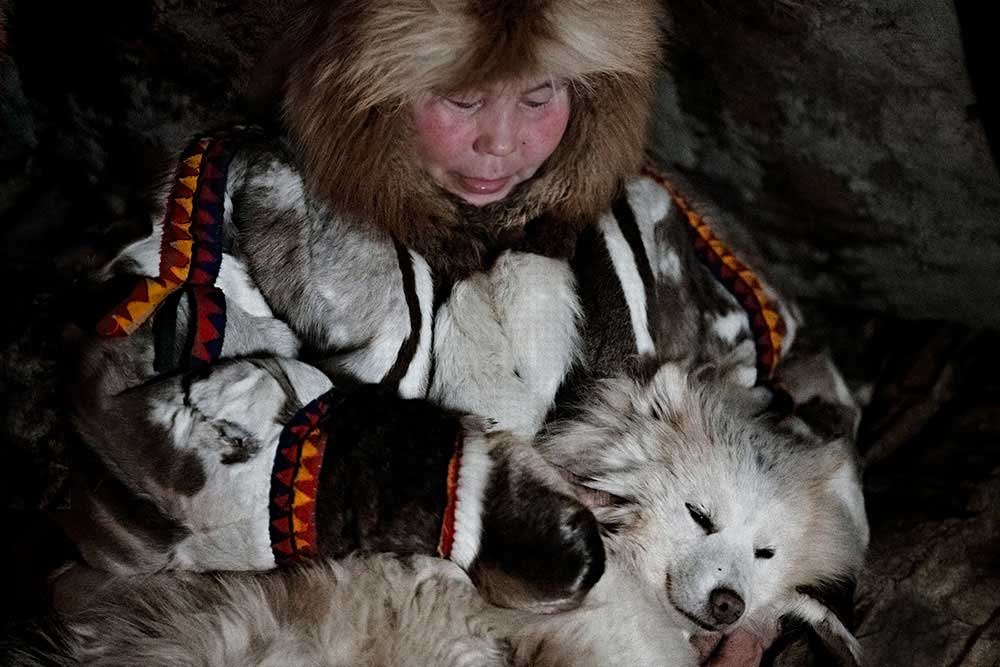 About Nicola Ducati
Nicola is an Italian photographer, he lives in the mountains of northern Italy and he landed in the world of photography like many other enthusiasts by chance. As a child he used to play with an old camera found who knows where, the object fascinated him and from that moment photography has never abandoned he. He has experimented with various photographic approaches and he has chosen to dedicate himself to travel photography.
Many photographers have inspired him and encouraged him to seek a personal way of 'seeing' things. Famous photographers capable of unattainable suggestions together with less known but talented photographers with a unique and poetic style. With some of them he traveled, studied, learned and established a relationship of friendship and respect. The photographic language evolves with experience and "contamination" becomes essential for growth.
His work is inspired by the passage of time and the desire to preserve the memories of those places and those peoples and traditions that will soon give way to modernity. With his work he would like to tell stories of unknown people, physically remote but humanly close, creating empathy between the viewer and the subject, enhancing their elegance and authenticity. Today he especially likes photography that tells but also lets us imagine, that excites and suggests reflections.
A narrative photography.
The most recurring theme in his photographic style is 'Conservation of Memory' , he uses photography as a tool to preserve unique and unrepeatable moments of time. Not intended in the classic sense, he does not seek the exotic memento or the memory of a face marked by the difficulties of life, he seeks a way to give continuity to the emotion that that elusive moment or that person has conveyed. With great generosity unknown men and women allowed themselves to be photographed, he believes it is a gift and a privilege that must be honored and shared.
That particular reflection in the eyes, that inquiring and spontaneous gaze, that dim light, that deep wrinkle, those hands ruined by work, the intimacy of a smoky house, are all fragments of poetry to be treated as richness and uniqueness. With his work he seeks the beauty of the world through the diversity of peoples, his style is characterized by a storytelling in harmony with the picture that increases its aesthetic and artistic significance. [Official Website]