Babu Ghat or Baboo Ghat formally known as Baboo Raj Chandra Ghat, one of the famous place in Kolkata for many reasons.
Babu or Baboo means "The Gentleman" It's situated on the bank of Hooghly River. It was built by Babu Raj Chandra Das husband of Rani Rashmoni in 1830. A prominent Greek Style architecture.
Babu Ghat evolved with time, it changed its colour and face. Now only known for its river side view and Ferry transport to other side of the river. But still one of the oldest and famous practice is attached to it, the famous open air oil massage. Still the masseurs are using the same old method and techniques for the practice, still those old wooden massage beds. In old past days, it was the favourite place for the high-class people for their regular massage therapy followed by quick bath in river Hooghly. Many people use to come here to relieve their fatigue. With the knee pull the spine whom we called "Hantu Malish" it is a special technique of Babughat Massage. It has been taught generation to generation. How a man can give pleasure to a other man with his hand, feet, legs, elbows and knee it cannot be believed if you not come at Babughat.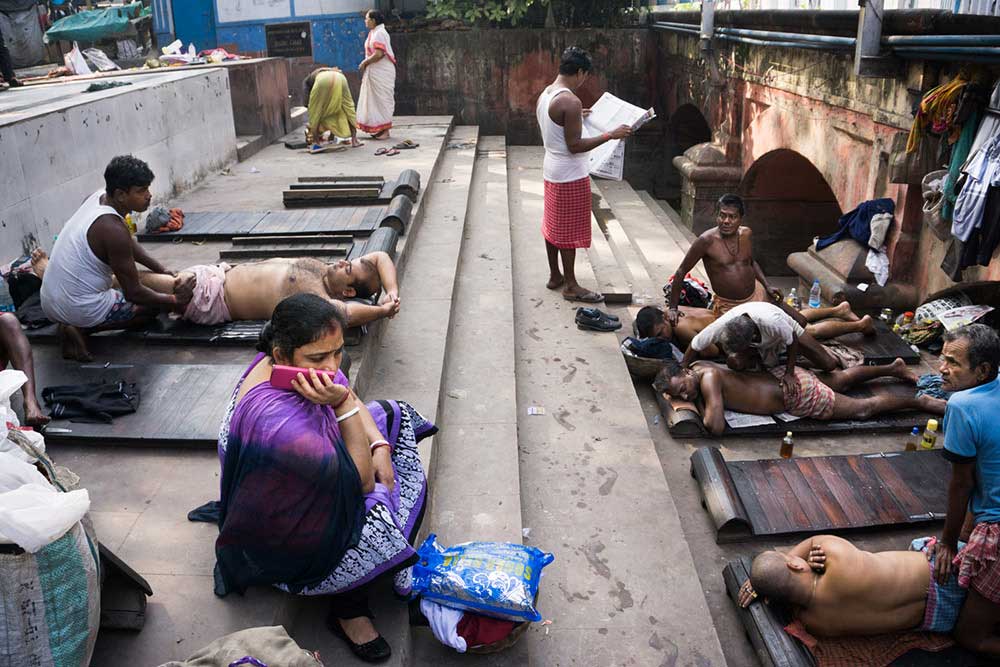 This tradition has been continuing  since two hundred years at bank of river Hoogly. Although it is backdated at the era of modernity but its amusement still maintain the same way. This masseurs came from Orissa, neighbour state and took this work as their livelihood and it continues generation wise. Before it could be enjoyed by a few coins but day by day the remuneration has increased, now a days they charge Rupees 250 for one hour massage. However, for those who come here regularly for them has discount offer also. A masseur, whose name Ramakanto, told that he is the third number of his generation who involved in this occupation.
But with time Babu Ghat lost its colour and charm. Most of the massage beds are vacant, beds are reduced and the masseurs also got reduced by number, since most of them are now moved to other profession. There is 15 to 17 people associated with this traditional work. They try to compete with modern spa and massage Parlour, before they used mastered oil for the massage but according to the customer needs, they use Olive Oil also.  Old Ayurvedic homemade massage oils are now replaced by national and international brands. Even the masseurs are also losing the old skills. There are handfuls of people who still avail this two hundred years old therapy. Oil Massage in Babughat is getting faded day by day in present life style and getting prominent in the history of Kolkata.
Ramakanto said he cannot be proficient in any other work . He wants to continue this work like this way.
"I am giving a photo series, through this series I have tried to capture the whole environment, Pleasure of massage and their technique. Hope you all will enjoy it."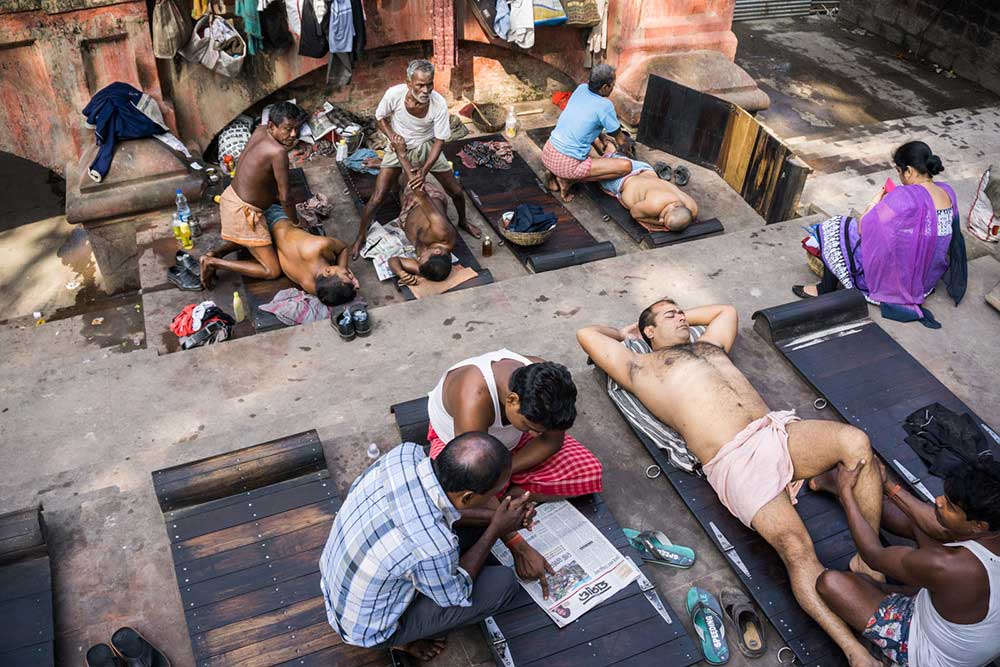 ABOUT ARUP BISWAS
Arup Biswas a Passionate Street and Travel Photographer from Siliguri , West Bengal, India A Computer Teacher by profession. His interest in photography developed at very small age while toying around with a small film camera and Compact Digital Camera. He bought his First DSLR  Camera in 2010 and started taking picture  on street and different type of Landscape. Unaware of the concept of photography. He is a self taught photographer.He worked on his skills through images of famous photographers in street and travel photography genre.
He strongly believes that an image is a success when the viewer can connect with the subject in the photograph.He like capturing people in their natural behaviour and surrounding  beauty and thinks that every situation has a story to tell. He is to show reality on his image as well as beauty of Nature.
Some of his memorable achievements was winning the POTD in Fotoflock, some publications in Smart Photography Magazine, Asian Photography, He has also received good placements and reviews in some competitions and his work has been published in various print and online magazines and blogs. He is also a contributor to Getty Images. But as a great success he considers recognition of people in social networks that follow and appreciate his work regular. Though a teacher by profession, he will always be a student when it comes to photography.