Bangladesh became the first country to regulate disposable bag use when the government banned single-use plastic bags in 2002.
At that time environmental groups estimated that about 9.3 million plastic bags were dumped in the Dhaka city alone every day, with only 10-15% being put in dustbins. Despite an awareness program warning of a steep fine and six months of imprisonment, after about a year the plastic bags began to excess the market again due to a lack of enforcement.
One of the major impacts of plastic bags in Bangladesh is their impact on the storm water drainage system. Plastic bags block drains and waterways, threatening urban environments and creating severe safety hazards.This accumulation of plastic bags on the environment cause deterioration of the landscapes, agriculture soils and it is associated to the death of domestic and wild animals. Landfills or burned each solution is very harmful for the environment. Burning plastic bags emit toxic gases that harm the atmosphere and increase the level of VOCs in the air while landfills hold them indefinitely as part of the plastic waste problem throughout the globe.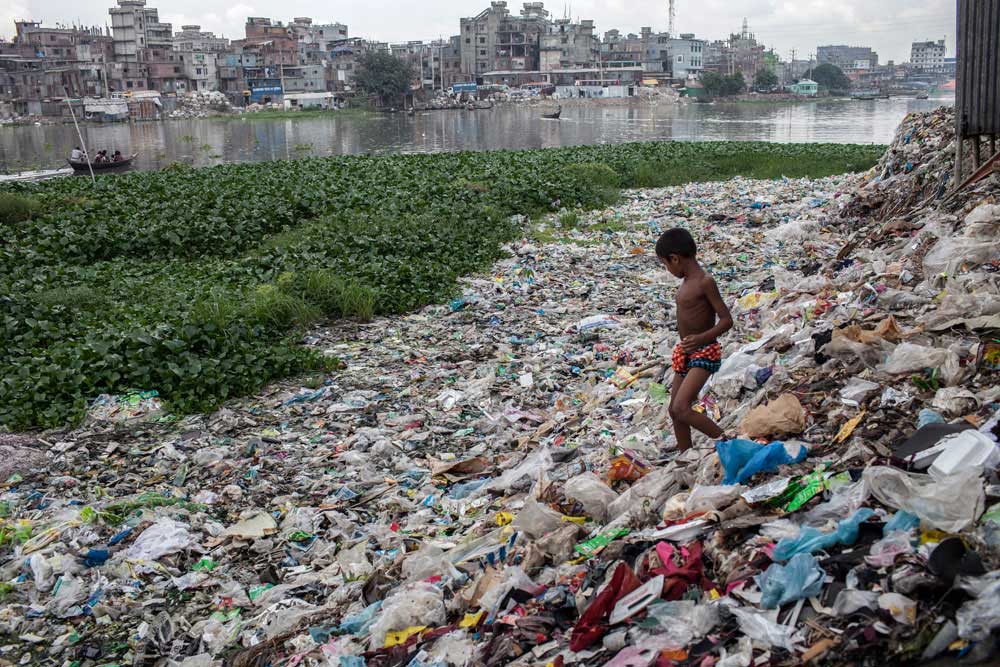 About Probal Rashid
Probal Rashid is a documentary photographer and photojournalist working in Bangladesh, represented by Zuma Press, USA. He has a Post Graduate Diploma in Photojournalism from Konrad Adenauer Asian Center for Journalism (ACFJ) at Ateneo De Manila University, Philippines funded by World Press Photo. Probal also holds an MBA. His works have been published in many national and international newspapers and magazines such as the Los Angeles Times, Huffington Post, Newsweek, Wired, Forbes, GEO, National Geographic, Days Japan, Paris Match, Wall Street Journal, Stern, Telegraph, Focus magazine and the Guardian. Moreover, his photographs have been exhibited in Bangladesh, Germany, Japan, Thailand, Malaysia, UK, USA and some of his works selected by the Kiyosato Museum of Photographic Arts for their permanent collection.Probal is the recipient of numerous awards for his work including the Pictures Of the Year International (POYi), Days Japan Photojournalism Award, China International Press Photo Award (CHIPP), NPPA's Best of Photojournalism Awards, Yonhap International Press Photo Awards, KL International Photo award, FCCT/OnAsia Photojournalism, "Zoom-in on Poverty" Global Photo Award, CGAP microfinance photo award, WPGA Annual Pollux Awards in U.K, International Year of Biodiversity Award and the Atlanta Photojournalism Seminar Contest. [Official Website]