The aim of portrait series "Summer Contrasts" was to create a series of portraits with quite abstract mood; to give a viewer a peek into a bit unexplained reality, joyful atmosphere, a bit mysterious, surrealistic but not distressing.
Visually interesting, to evoke in the viewer inner child's curiosity, mood of some tale. Affect the wiever positively by using colours.
I wanted to gain this impression by mixing two ways of work together:
First way: creating a bit abstract objects of set design, objects that will make an impression
of different reality, more like art forms/objects/paper sculptures – not refering to typical fashion and clothing pieces like we know them in everyday life. So that the viewer's eye could focus
on different levels of the picture – their composition and used shapes, colours; Which should affect the viewers mind, without refering to associations with popculture and lifestyle. I created manually headpieces: Yellow and Red one, silver earrings and silver foil costume, and blue background elements in Yellow-Blue part of series.
Second way: play with the shapes and colours as a theme, create satisfying compositions. I treated pieces of the composition an assemblage of colour patches; like it is used in fine arts, to compose a visually satysfying painting. Basing on the knowledge about human eyesight perception and psyche, I assume that colour, in itself, can be an important factor used in any form of art.
A factor/tool which can cause pleasent and satysfying feeling for the eye and hence for the brain of person watching a work of art. This is why I wanted to create a project, which would use colour itself and relations between colours.
Main assumptions were to use the knowledge of complementary colours and play with it. I wanted to use specified group of colours in different parts of the series. The series consists of several different colouristic parts, with a little bit different styling and different model role in each part, completing the mood.
-In first part You can see blue and yellow. These ones are popular in colour cinematography, because these colours are organically close to the human, they always appeared in the nature around us, as they refer to the colours of sky & sunlight. Modelis is engaging wiever attention.
-Second part is basing on pastel bright colours, using elemnts of nature – juicy yellow fruits, which give a nice atmosphere of summer days, holidays, pleasure, warmth. It's also some kind of play with objects – using lemon slices as an atribute of styling. Model is confident and playful.
– Blue – green part with silver and red accents – most abstract stylistically; model seems to be looking for something, wondering and wandering.
– Orange/pink – green part refers to my general interest in human relation with nature. Model
is thoughtful and emotive, engaged in connection with flora.
Important thing in the series was the light and colours of the light. In my photography I use lot
of reflected light, using colorful surfaces. Also huge and important inspiration for me to portray my model in a best way, was "old hollywood movie style" light – I tried to refer to it in Blue-Yellow part of "Summer Contrasts" series. My model was Michalina Głogowska, the model and a wonderful soul, that I've already did several great projects with. [Model Page] [Instragram]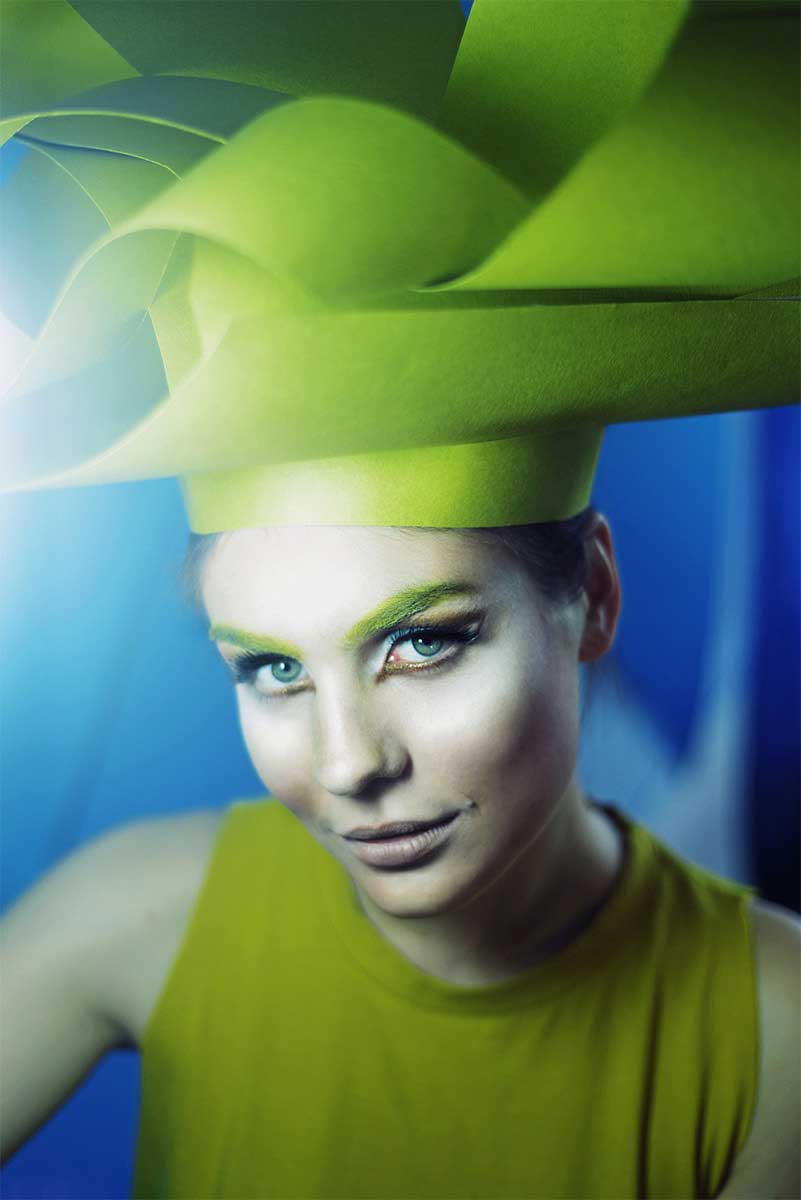 About Agnieszka Sokołowska
My name is Agnieszka Sokołowska. I was born, raised and educated in Gdansk, Poland.
I have been evolving and transforming as a photographer since the young age of 14. Now I am 25.
I am in general curious about the world, travels, culture and art and interested in knowing the world better every day. I strongly appreciate nature: loving all the nice things mother nature has given
to us – landscapes, plants, animals, colors and lights. As a creative and photographer I am very sensitive to all impulses all around me, like colors, shapes, changes of the light color during the day, and the way it affects what and how we see. I like to observe the world.
I am a certified MA in Industrial Design at Academy Of Fine Arts in Gdansk. In a shortcut – I move in the fields of design and fine arts; knowledge and consciousness of art history, put together with
a multitasking, comprehensive mind of designer, who, while designing a useful object, must be aware about many factors, be versatile and all-embracing. And, not hard to guess, I treat photography the same way – I think about every photoshoot as a interdisciplinary project, that includes many different merging and interlacing factors, that must be combined together in a fine way.
I love all of the creation process provided in designing/organising the photoshoot. From the storyboard, mood concept to set design and styling. I treat photography as a holistic, complex work. I enjoy working with interesting people, especially form different fields of art, because of the possibility of evoking interesting discussion and boarding mind with the observations of others sensitives minds.
What I am interested most in photography is a mix of portraiture + fashion/conceptual photography + a bit film inspired – film understood as a artistic picture full of consider composition that gives meaning and mood. I also started learning to make movies. I try making short backstage movies and short video lookbooks. I focus on short forms of film now, but definitely will try to create some longer movie in the future.
I focus strongly on analysing my works, for technical improvement, composition, light, color and performance. Every next photoshoot that I am planning, I treat it as a challenge to improve something. My main aim is to push my photography to the next level where they will show created reality in the way more like film and paintings do. Now I am also involved in a social action in promoting animal adoption by publishing the works of mine, based on the photography of models and pupils form Animal Shelter in Sopot, Poland. It is a different field in which I would like to take action – promote good ideas and change social attitude using my works. [Official Website] [Facebook][Instagram]