I have been traveling the globe capturing images from amazing countries for as long as I can remember...but it is the beauty of Burma, also known as Myanmar, that stands out more than anywhere else to me.
Southeast Asia has always been my home away from home but the jewel of this region at least for me is the eye candy of Burma, which has something for every kind of photographer. Since 2001, I have made numerous pilgrimages, including several photography workshops to this special place and I am so happy to have my new book, Passage to Burma, coming out this October. This is really a photographers paradise but capturing this one of a kind country requires more than just a little luck to be in the right place at the right time. A guide is a must who knows the country well and a good guide will know where you should be to capture the once in a lifetime images that abound all over. Getting up well before sunrise and knowing where great photo ops will be is key for Burma but knowing how to interact with the people is also just as important, at least for me. Being a stock photographer, I need images of so many things from all over the world and the diversity of this magnificent country is just what the doctor ordered for almost anyone that loves photography.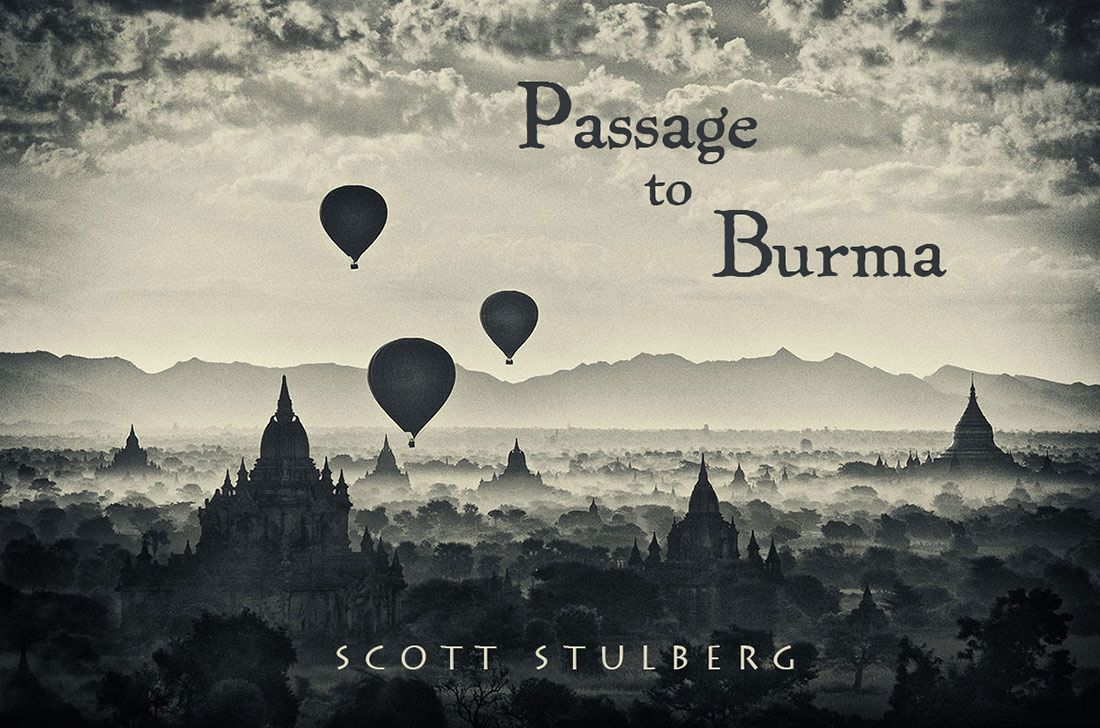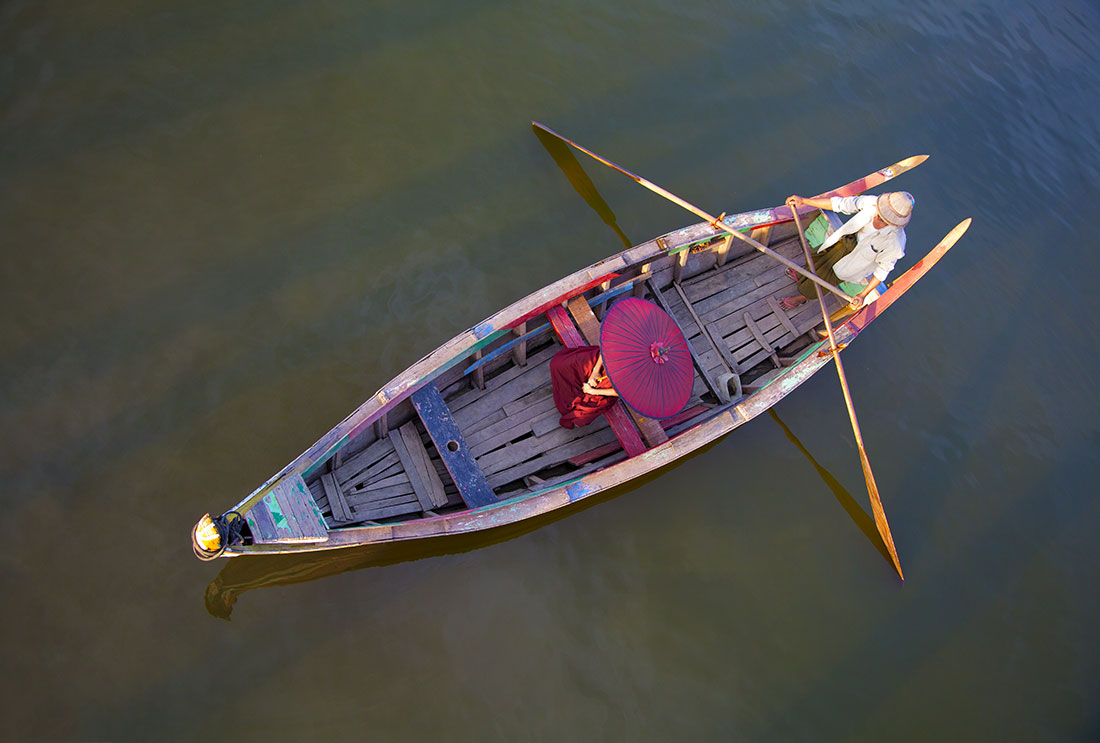 You really need at least two weeks to see even a modest amount of Burma and for your gear arsenal, everything from wide angle to at least a 300mm is a must. Photo ops seem to turn up around every corner, from street scenes in the hustling city of Mandalay to fish markets at dawn in the capital of Yangon. Then of course there are the temples that abound and the incredible monasteries that really seem to take your breath away. In the village like city of Bagan, there are over 2,000 one of a kind temples in every direction and a feast for the eyes. Sunrise or sunset will get you images that you always dreamed of from atop a temple or even inside a massive hot air balloon, that glides along above the slow paced atmosphere below. But the faces of the people, especially the children are what draws me the most as the smiles seem to be non stop. The people just seem to be happy as they know nothing else but a simple life with just the bare essentials.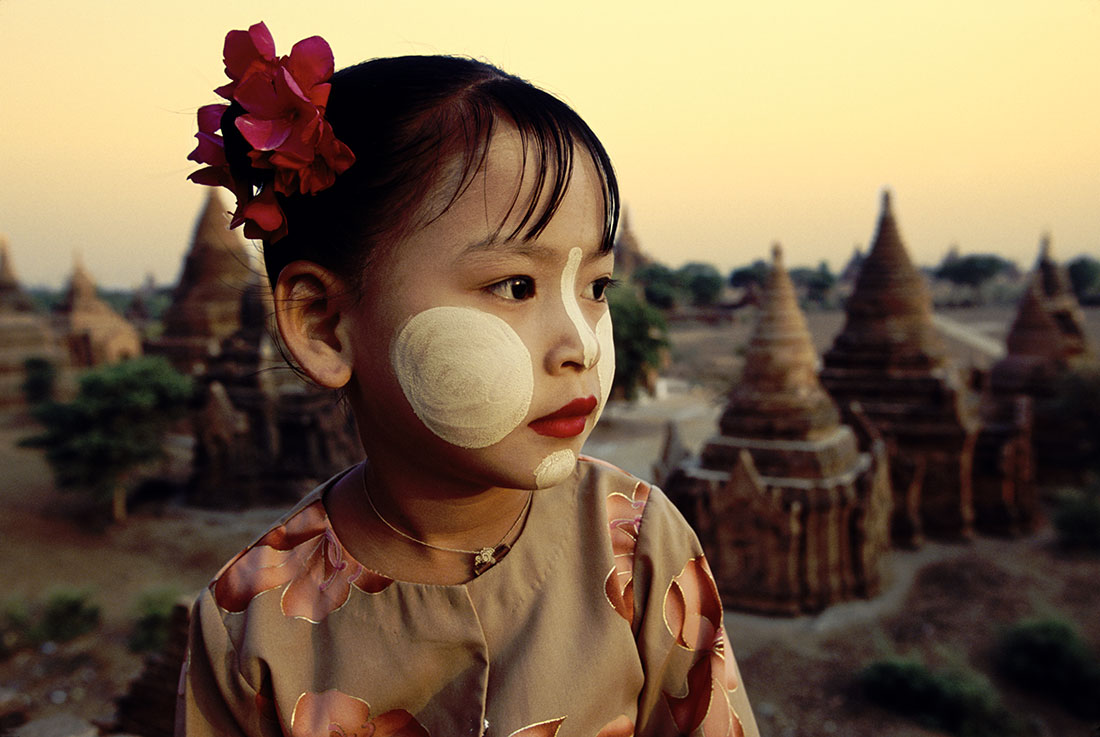 Photographing the faces of Burma is addicting and my favorite part of the women and children is the Thanaka face paint that they put on every day. Part of their culture, Thanaka face paint, which is a combination of sun block and make up, looks different on every face and makes for powerful images in every corner of the country. On little San San above, who I shot long ago, I wanted to get what I call close focus/wide angle images and using my 16-35mm, I shot her from above on one of my favorite temples at sunrise and shot very wide but also very close to her. This enabled me to put her in her surroundings using the wide angle but also gave me no distortion from shooting so wide. Not a typical portrait lens but thinking outside of the box is what will get you noticed and separate you from the next shooter. Often, I use my 50mm to get in tight to capture the faces of Burma and that is one of the things I talk about in my class here at PPSOP called Eye to Eye: Capturing the Face. Using a 50mm allows me to get in tight and really have a up close and personal feeling and I love the interaction it can give you, similar to the close focus wide angle feeling from my wide angle shooting. Shooting with just a telephoto for faces keeps you at a "safe" distance, which is more of a comfort zone for so many people but it can limit you, although there are shots with long lenses that can give you an image like nothing else. The following image of the monk was shot with my Canon 24-105 zoomed all the way to 105mm. This is a great zoom lens for so many types of shooting all over Burma but I also love my 70-200 f/2.8 for so many things as it has always been my favorite portrait lens by far.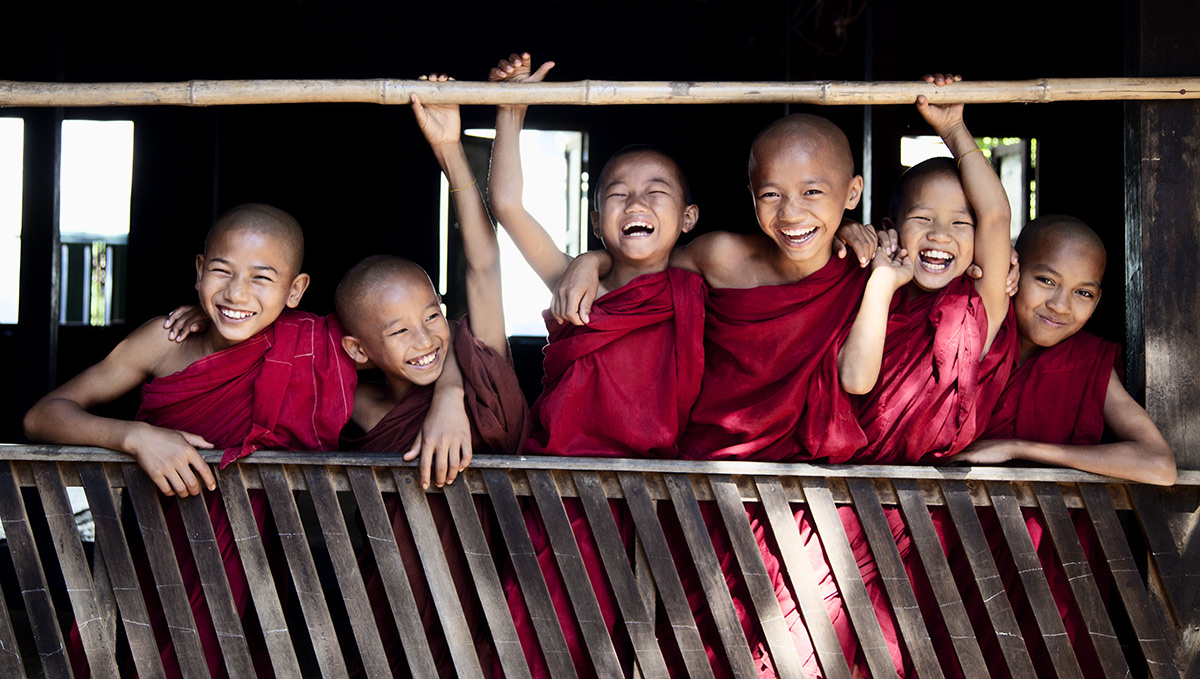 A tripod is one piece of gear that is really a must and is so often left at home on far away trips like this and this is one thing that goes with me to every corner of the planet. Using a tripod helps so much with not just composition and sharpness but so much more. This is why you see so many professionals using them as this is the one piece of gear that so many cannot live without. Tripods really make you concentrate much more on each shot and you start to lose the "point and shoot" approach and your images just start to look and feel better. For the image above of the lone monk and both images below, a tripod was a must for me. It is the one piece of gear that I want everyone to use as much as possible on every workshop I do and every class I teach. It will help to to push your photography probably more than anything else and something that should be with you as much as possible.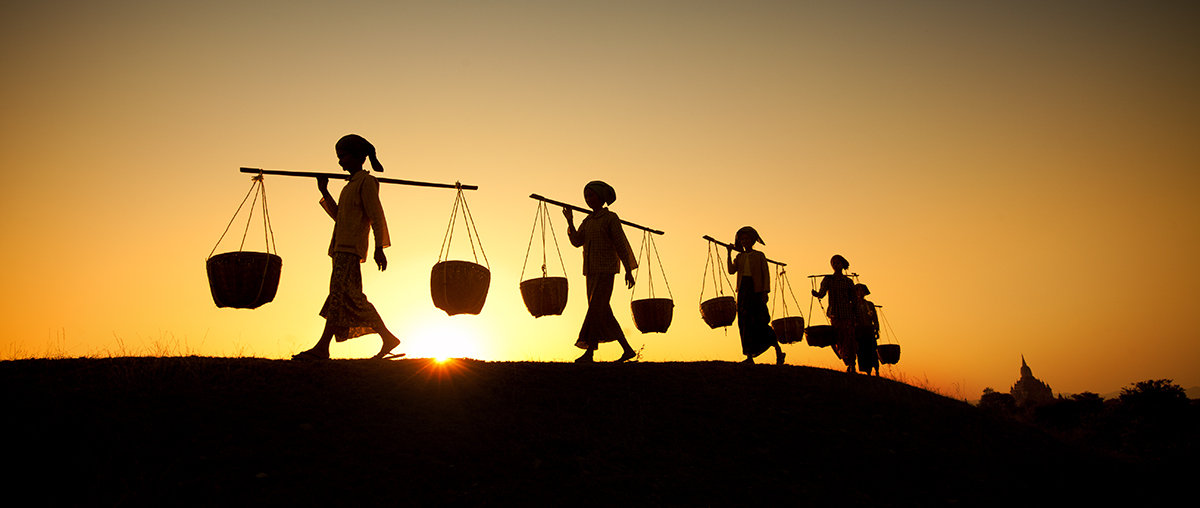 Travel photography is probably one of the most rewarding ways to use your camera but it also can be one of the most hectic and problematic ways to photograph also. You can sometimes be in the middle of nowhere when your gear breaks or a hard drive fills up. With digital, we gave up the hassles of film but were given a whole new set of challenges like running out of batteries at the wrong time. So many things can mess you up and you have to just suck it up!  I have probably encountered just about every kind of problem out there from my backpack falling from atop an elephant in India, breaking 3 lenses to flooding my only camera in the Galapagos Islands, where I was leading a workshop. And when you are far away from a good camera store or repair place, life as a photographer can be pretty tough. But when it goes smoothly…. photographs from far away places are like nothing else. And for a far away place like Burma, where democracy is finally taking a foot hold after years of military rule, traveling here with a camera is about as good as it gets! Everyone I know that has been to this magnificent place is forever touched.