Architectural photography got James interested in photography in the first place. Buildings and their intricacies – the lines, shapes and patterns.
Capturing them in black and white really brings out the building's essence. His past work consists mainly of BW works and lots of post-editing done on computer. While it's still crucial to get in right in camera, most of the works were done in Photoshop to achieve the final vision and look. But he wanted something more out of it; especially during the process of capturing it on camera. 2 years ago, he decided to go back to shooting film.
He is limited to only 36 shots on a 35mm or a mere 15 on a medium format camera. However, the limitation slows him down for a good cause. It allows him to observe more and to explore the different angles of the building before committing it to frame. Since he is unable to view the shot immediately, he has to know what he is doing. He made mistakes before and from there he learns. It also hurts when he waited a few days only to see unusable frames. Shooting film makes photography come alive; from the changing of settings right from the metal mechanical dials to the winding of film after each shot, it renewed his love and appreciation for the craft.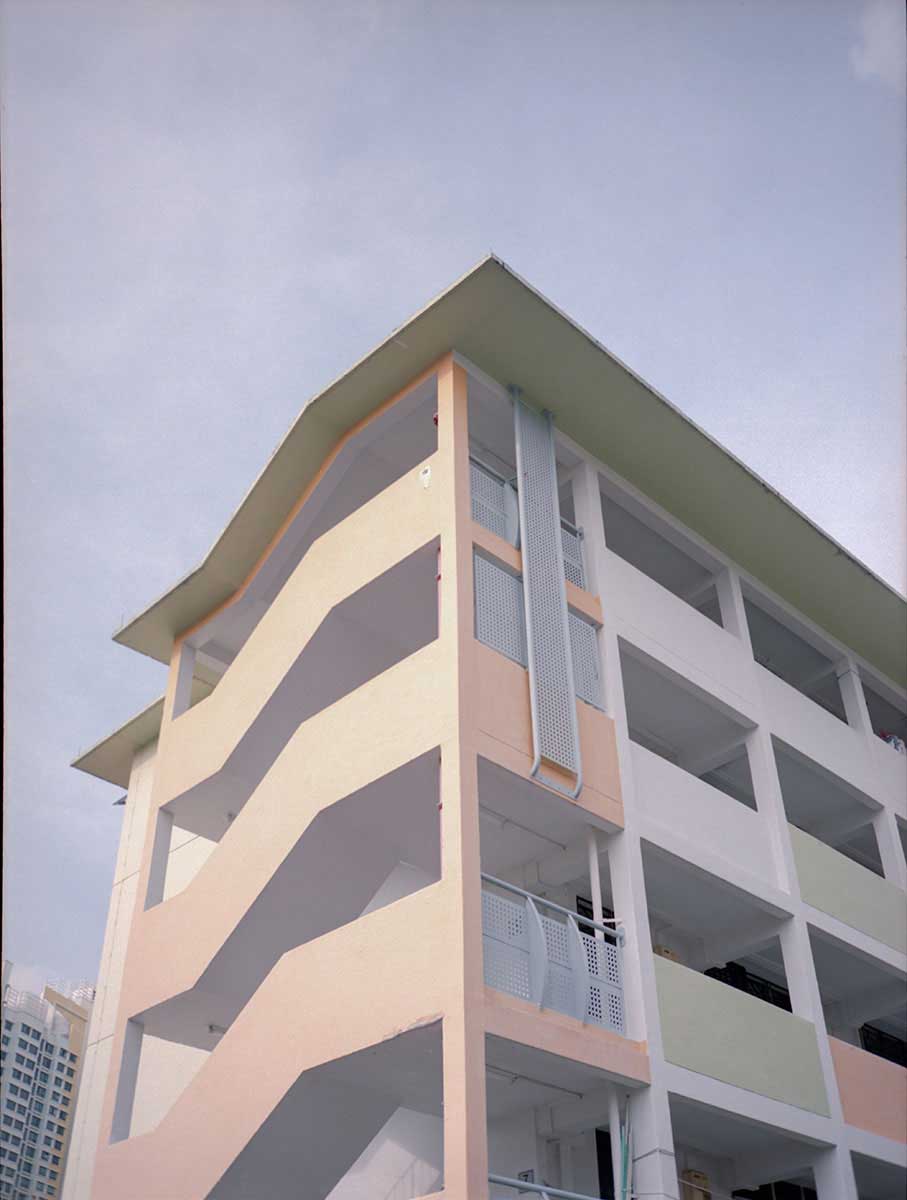 He is currently putting together a project of some of the oldest housing estates in Singapore. As Singapore modernizes rapidly, some of these old buildings were demolished to make room for newer and taller residential housings. He hopes to be able to capture these old existing buildings before they are gone forever. Some of them have already been demolished before he had the chance to photograph them. James grew up in one of these estates himself when he was a child. As such, photographing these buildings also brought back a sense of nostalgia for him. 
When people think of Singapore, what comes to mind first is Marina Bay Sands (MBS), the modernist buildings and of course the Merlion. But there are a lot of other charming places all around Singapore that visitors might not know of. In his opinion, the old housing estates are an example of such places. Some of these estates may look old, wore-out and wouldn't reflect the 1st world country status or facade that Singapore is well-known for. However, some of the older generations, the ones who built Singapore into what is it today, continue to live or have lived in one of those estates before. 
The government is aggressively carrying out constructions of new housing estates for the population, which is a good thing. Sadly, he feels that these new buildings would never have the charm of the older buildings before it. 
These old estates bring out the characteristics of rigidity, uniformity and order. One can tell from the design and style, and an emphasis on functionality over looks. Perhaps back in the 70s, there was an urgency to quickly develop public housing for the population, thus the no nonsense or whimsical approach when it comes to designing and building them. 
He thinks the most appropriate medium to shoot this project is on film. Using film to capture these old estates is a good combination. He hopes to be able to bring back some nostalgic memories to the viewers. It is also a trip down memory lane for him when he visits these old estates. 
Some may ask, why does he use color films for something old to begin with? He chose color films for some of the older estates because of the building's exterior. Some of these buildings have interesting paint jobs that set them apart from buildings in other estates. While he is still in the midst of capturing some of these old estates, he hopes he'll be able to put up a show for this in the future. [Official Website]