Dwarfs, with a deformed or child-like body, dressed up and made up to frighten audiences in a Ghost House, and it instantly brings to mind old freaks shows. It shocks immediately, as a terrible step backwards in terms of human rights, a disabilities.
Our revulsion may be somewhat toned down when faced with the current context of a developing country such as Cambodia, where having a disability still excludes you and gives you little to no access to work. The Ghost House of Phnom Penh is one of the main attractions of Dreamland amusement park. In this country of superstitions, the little ghosts know how to play with the ambiguity of their appearance, a disability that becomes an asset for their performance. They also found a new family here into which they are completely integrated. "Tall" and "little" combined, we discover an ordinary youth full of life, between selfies, flirting and social media networks, indeed far from the prejudices.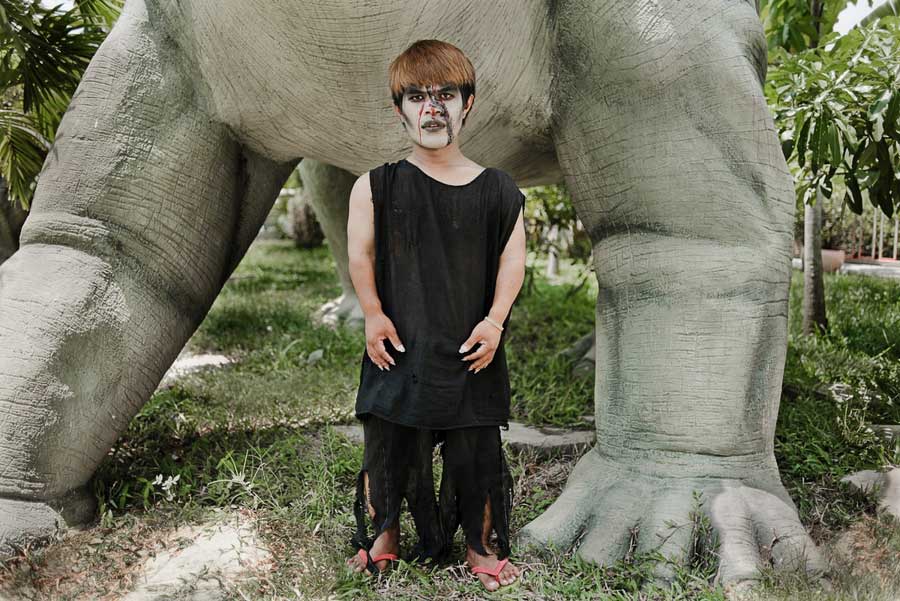 About Emilie Arfeuil
Born in Clermont-Ferrand in 1983, Emilie Arfeuil lives and works in Paris between two travels. After Cinema and Arts studies in the Sorbonne University in Paris, she worked on both documentary projects and fashion shootings. Her work is based on atmospheres and the feeling central in her work, with an intimate and social dimension always present.
In 2014, she shared with director Alexandre Liebert three Best Documentary Awards, a Best Photography Award, and a Best Cinematography Nomination for the documentary film Scars of Cambodia. Her work as been exhibited in Art Fairs, Photo Festivals and galleries in France (Salon de la photo, MAP Festival, Vichy Portraits Festival, etc.), in Berlin at Egbert Baqué Gallery and in the Bophana Center in Phnom Penh.
In 2013, she won the Public Prize of Vichy Portrait Festival, and was finalist of the Bourse du Talent Reportage. In 2012, she was a recipient of 30 to 30 women photographers and Coup de Coeur Bourse du Talent Reportage.In 2011, she was a laureate of SFR Jeunes Talents and her awarded worked was exhibited in the Forum des Halles and next to Robert Doisneau in Paris City Hall. [Official Website]