Karen Knorr lived in Belgravia, London for a short period in the 1970's her parent's maisonette in Lowndes Square returning to photograph their friends for the series Belgravia (1979-1981).
She recently returned to the neighbourhood to complete an editorial commission for Departures (2015) producing a series of photographs in a luxury hotel situated in a very exclusive part of town within a stone's throw from Harrods and Harvey Nichols.
The Lanesborough (once a hospital closed in the 1990's) is one of the most expensive hotels in the world where the wealthy 1% strive to live the celebrity lifestyle . Rooms come with butlers and the hotel is a themed fantasy palace where the special few can find happiness and fulfil all their desires of a perfect weekend in London.The taxidermized animals here are undressed to kill and are all very willing subjects for Knorr's camera. They pose, fly, flaunt their jewelry to their royal connections who live down Buckingham Palace Road .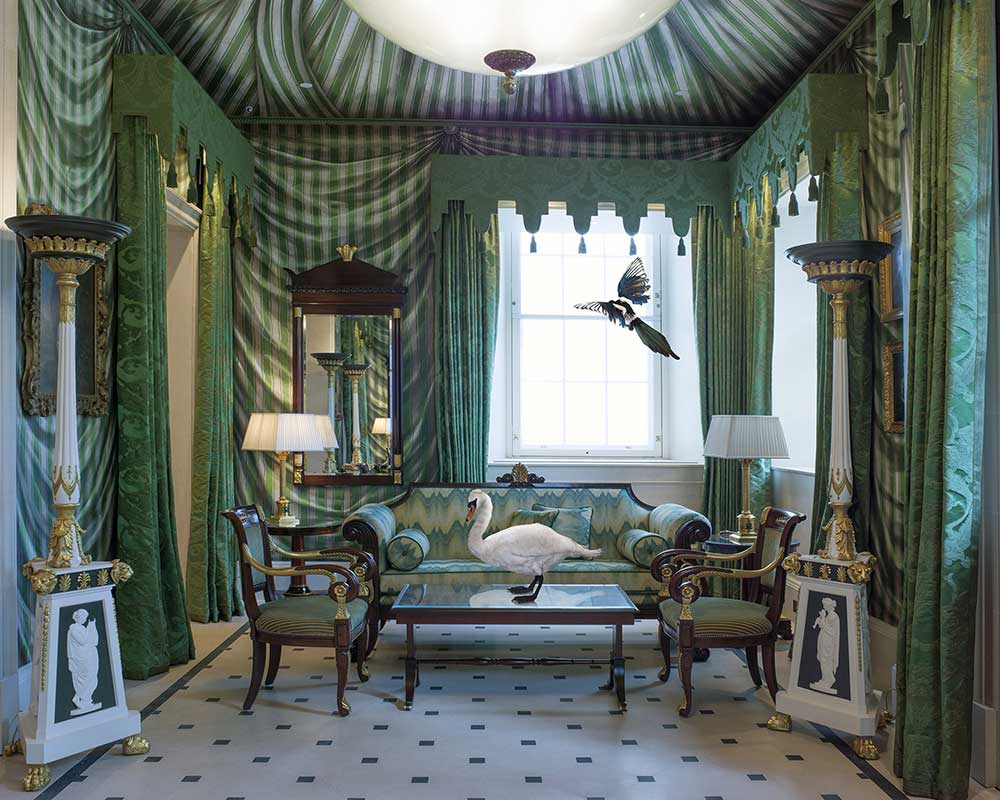 About Karen Knorr
Karen Knorr (b. Frankfurt am Main, Germany, 1954) was raised in San Juan, Puerto Rico in the 1960s and studied in both Paris and London. Since the 1970s when Knorr settled in England, she began creating works that emerged out of debates in cultural studies that were current in the 1970s about the politics of representation.
Knorr explored themes that ranged from investigating the aspirations and lifestyles of a privileged minority living in one of the most affluent parts of London, Belgravia, 1979-1981, to work in India India Song, (2008-15) and work in Japan Monogatari ( 2012- 2015) work that highlighted the role of animals and their representations within art.
Her photography developed a critical and playful dialogue with documentary photography using different visual and textual strategies to explore her chosen subject matter – these range from the family and lifestyle to the animal and its representation in the museum context.
Knorr's work has been exhibited widely and is held in both private and public collections throughout the world occulting Tate, London and Georges Pompidou, Paris. She has produced several monographs and is currently working a new book with Stanley Barker Editions in London She is a Professor in Photography at the University for Creative Arts in Farnham, Surrey. [Official Website]