My name is Dragos Ioneanu and I am a fine art photographer based in Copenhagen, Denmark. If last time when I was featured in dodho magazine I could say about myself that I am specialised in B&W photography, since then I took a fresh step towards colours and my portfolio does not feature entirely monochrome work anymore.
As I enjoy a lot spending time in nature, especially around sea or ocean, I continued to travel in the last few years and the two projects I am presenting here are the result of this work.
For most of the non-British people, UK means mostly London, Liverpool and maybe a bit of Scotland. However there is much more about UK than this, and you can use as testimony the multitude of landscape photographers based in British Islands. South UK is blessed with a lot of beauty but it is not a renowned landscape destination as Iceland or Norway which are always in the top of the wish lists of photographers from around the world. UK coastline project was focused mostly on three locations, three seaside resorts from different regions in the south UK: Weston-super-mare, Torquay and Eastbourne and other small cities in their proximity. All three of them used to be popular touristic destination for the British people but fell behind during the last decades when more cheaper and exotic locations took the front seat of the holiday preferences. Those places seems to be somehow locked in time, with their historic and charming piers and lighthouses. We chose as period the end of March and beginning of April as the resorts are not very populated and the weather is moody and changing, giving the opportunity to experience various conditions.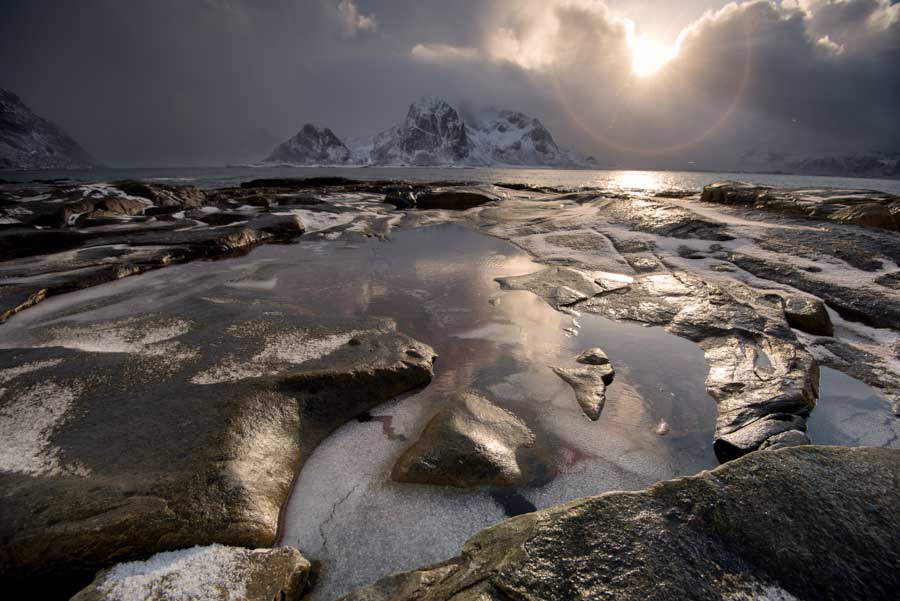 The second project presented in this article is not exactly a matured project, but more a selection of the images taken in my spring trip to Lofoten islands, an archipelago belonging to Norway and located above arctic pole. We decided to go in the middle of March, for a milder temperature, quite large day time and of course high chances of aurora due to the equinox. Lofoten is a place were nature is still in full control and only those people that accepted this fact are welcomed there. And nature was really showing us her full strength: sunny days, strong winds, rain, snow showers, hail and beautiful aurora in many nights of our trip. Green arches over the sky, followed by the dance of patterns and colours and finally a child dream came true for both my wife and myself. And we also got some kind of addiction, a strong wish to meet with her again, that made us starting to arrange a trip in Iceland for next year, in almost same period. We also have this idea of visiting few similar locations in the future and putting together a project that will show the beauty of the nordic landscape. [Official Website]
Legal Note: The photographer attest that have full authorization to give consent to the publication of these photos or project and have the authorization and permissions of third parties. Guarantees that you have all the necessary communications of property and you have obtained all the necessary authorizations for any property, buildings, architecture, structures or sculptures appearing in your photographs.