Rohan Reilly is a self-learned photographer and gallery owner based in Kinsale, Ireland. Formerly a record label owner, producer, and DJ, Rohan lived in Barcelona, Spain for several years.
Inspired by the historic art and architectural scenes, he developed a fascination for the works of Calatrava and Gaudi and soon after took to his craft.
Rohan's initial work focused on the architecture of the city, but he quickly began to focus on the abstract landscape of the Catalonian coast. He was Influenced by the work of photographers Michael Kenna and Hiroshi Sugimoto, artists such as Salvador Dali and Joan Miro and Catalan architects Antoni Gaudi and Santiago Calatrava. Reilly was also inspired by the music he produced and created as a DJ. Music was a catalyst for his work with images that reflect the control of a composer who creates simple uncluttered compositions, reducing a scene to the essential elements and drawing the viewer in to the textures, tones, and composition. His themes concentrate on the connection between physical open spaces and light, which he captures and often abstracts. Reilly often uses long exposures to draw out the essential elements of a scene.  His images are enigmatic and compelling, inviting us into a monochromatic world of clean lines and powerful shapes.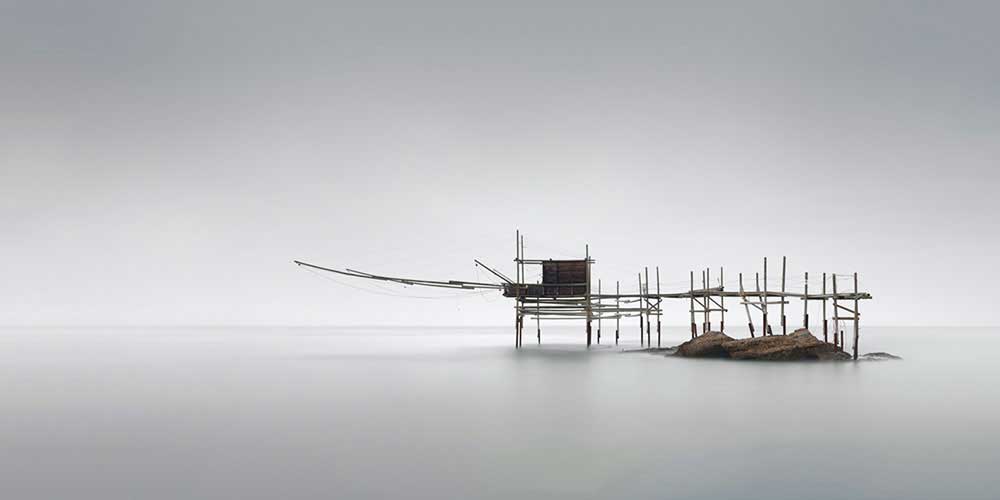 In 2013 Rohan travelled to Japan to photograph the unique and minimalist images of the Japanese countryside. He also developed an appreciation for Zen philosophy and the aesthetics of Wabi Sabi. His work became more minimal and abstract as he discovered Japanese influences while utilizing the form, shapes, and lines that he had observed in the architecture in Barcelona. His early work was made exclusively in monochrome, but after repeated visits to Venice he started to see that the architecture and fishing huts could be presented in a completely different way in colour. Slowly, he developed techniques to retain the colour in his subjects, whilst also managing to present the work harmoniously alongside his monochromatic images.
The first colour image he presented in his gallery was an exciting day, he was very interested to see how visitors would react to it. It was the piece Storm Light which is included here. It felt very much at home and was received very well, slowly but surely more pieces were added. His colour adventures have opened new avenues for him photographically.Earlier this year he went to Hokkaido with the intention of shooting exclusively in black and white, he hadn't thought of how the minimal colour subjects would express themselves against the white snow but was enthralled by the new landscape and the opportunities it presented.
His colour work is predominantly shot on overcast or misty days where the background already has a monochromatic feel and the colours of his subjects stand out. This works well with the minimal compositions. Shooting in Venice and Hokkaido have been particularly rewarding as there are lots of foggy days and white canvases. He uses water and snow to minimise the scenes he shoots and create large areas of thought provoking spaces. Over the next year Rohan will revisit Hokkaido, exploring the island further along with trips to central Japan, Italy and Spain and of course new adventures in Ireland, where he hopes to search out new subjects and scenes that will add to his portfolio. [Official Website]