I'm Claudio Beffa, an italian guy born and grown up in the heart of the millennial city of Rome. As far back as I can remember I've ever been fascinated by photography and by the dreams of distant places.
These passions remained in an ethereal form at the time of my education, that ended with a university degree in Industrial Design and during which I had the lucky chance to follow the lessons of professor Augusto Pieroni (an italian Contemporary Art historian and critic of the Photographic Arts). At that time I've also started to learn the basics of digital postprocessing.
Then, after the university, a life-changing event happened: I met Sara, the girl I love and with whom I share my passions and dreams. We have decided to set off and begin a journey to know the world we're living, starting from the land we are more in love with: Japan. So I started to put in practice all the previously acquired notions about photography. In the last three years we've discovered many of the wonders of Honshu island, from the natural beauties of Kamikochi and Kumano Kodo, to the artistic treasures of Kyoto, Tottori-ken and Hyogo-ken, not leaving ignored the technology and lifestyle of Tokyo and Osaka. We've also learned the japanese language, that helped us a lot in understanding the culture and character of the people.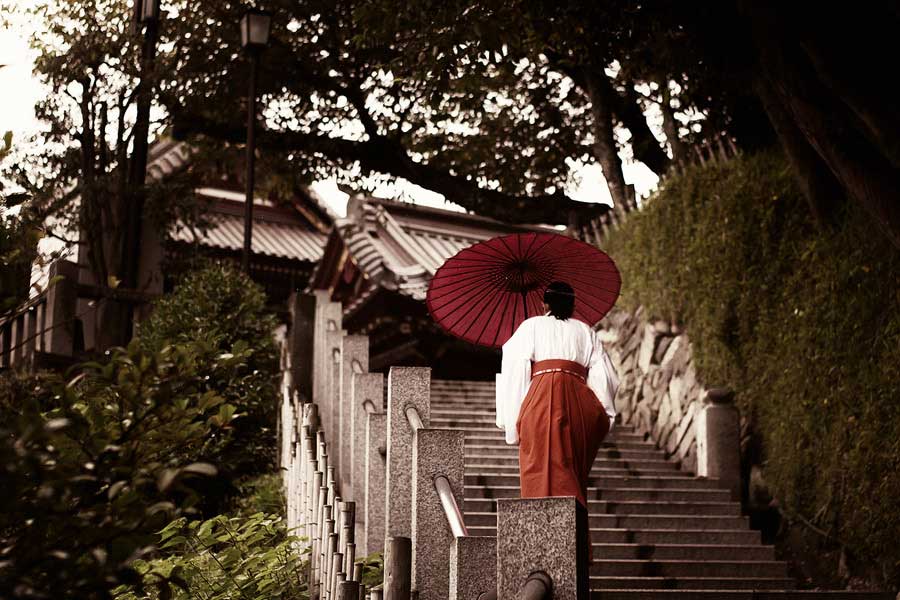 Currently I'm working of some projects about Japan: the first is about Yabusame, the japanese ancient discipline of horse-mounted archery, publicly exhibited in Rome in December 2014, and whose shots have earned a bronze medal in the 2014 edition of the PX3 – Prix de la Photographie ( http://j.mp/PX3Yabusame ). Although still in an early stage, my following works are going to widen the view on culture and places  of this amazing country. But the biggest project, in constant evolution, is about landscapes: my aim is to find the spirit of the places that I discover, and to make it visible in the form of photography.
I'm deeply committed to show the beauty of our planet because I'm truly convinced that people need to fall in love with it to take care of nature. If photography has the power to arouse positive emotions and to awaken the consciousness of being part of our world, I want to use that power as best as I can: I hope that the people who linger to look my shots wish to visit the places I've captured, not to say just "I've been there", but to live my same experience and to feel the emotions that lead to understand those places. I actually do the very same thing when I stumble upon inspiring images: my curiosity drives me to undertake "discovery travels", to learn the history and establish a spiritual bond with the lands I visit. For me this is one of the most enriching things and it represents the catalyst of my passions.
My shooting style and the following digital manipulation don't follow a specific style: I tend to adapt them depending on the specific situation, so my portfolio is a mix of realistic HDR blends, long exposures, B&Ws… I know, a stylish and homogeneus gallery full of B&Ws is very appealing, but I'm not able to confine emotions in a single category and this leads me experimenting many techniques. Recently I've added to my workflow the "luminosity masking" technique, that lets me create photorealistic HDR images, which I prefer by far over the punchy supersaturated HDRs that infest the internet.
Talking about gear, my choice has fallen on Pentax D-SLR: I've started with the K-5 and now I'm using the successor K-3: they are amazingly well built tools, fully ruggedized and compact at the same time. I can bring them in the most extreme climates and they will work flawlessly without batting an eyelash. Sometimes I dream of shooting my landscapes with the 51Mpixel 645Z medium format camera, but then I come back on Earth, choosing of pulling out the best from my gear and trying to improve my skills. [Official Website]

Legal Note: The photographer attest that have full authorization to give consent to the publication of these photos or project and have the authorization and permissions of third parties. Guarantees that you have all the necessary communications of property and you have obtained all the necessary authorizations for any property, buildings, architecture, structures or sculptures appearing in your photographs.