Born in Rome on October 6th 1972. Sandro studied set design at the "Istituto per la Cinematografia e la Televisione Roberto Rossellini" in Rome.
Immediately after graduating he began working as a light and sound engineer in Roman theatres. In 1993, he studied acting in one of Rome's best private schools and the following year he began his professional career as an actor with directors such as Luciano Melchionna and Giancarlo Cobelli on stage and Dario Argento, Davide Marengo, Carlo Verdone and again Melchionna on film. Since October 2013, Sandro has been entirely devoted to the photographic project IN EXTREMIS (bodies with no regret). [Official Website] [Print Version] [Digital Version]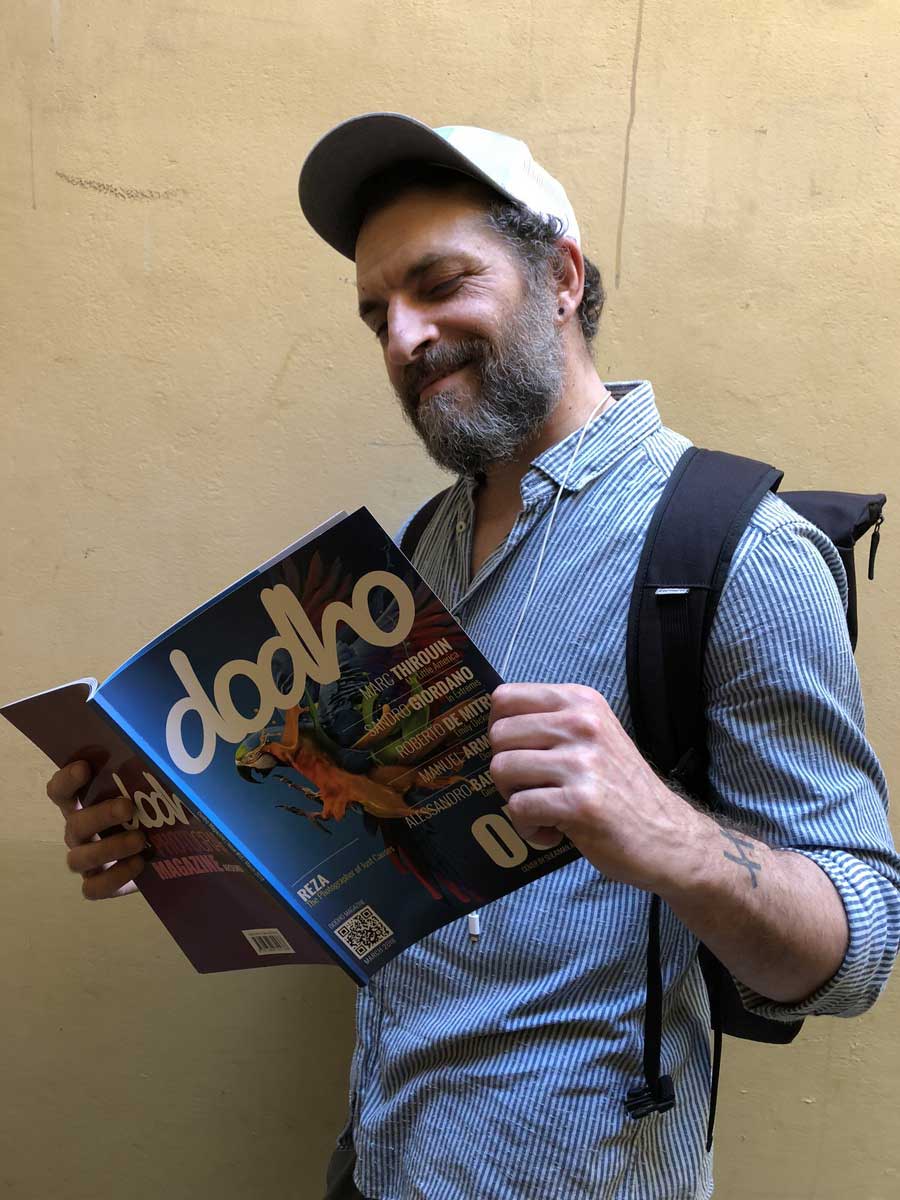 Can you tell a little about yourself?
I am Italian, born in Rome. Now I am in Barcelona, a city that I love and where I often live long periods of the year. I'm here to make new photos of IN EXTREMIS (bodies with no regret), the photographic project I've been working on since 2013. Before that, I was an actor for twenty years.
How did you get interested in photography?
It all started with IN EXTREMIS, I never studied photography. I always liked taking pictures, but I never imagined it would become my new job.
By the way, my project was born using an iPhone5. Its most iconic photos were taken with a smartphone. After some time, I felt the need to improve the quality of the photos and I bought a Nikon D810, a truly incredible camera.
What inspired you take your In Extremis project?
A bad accident I had with my bike just a few months before the project started. I did not see a deep hole and I was thrown forward about three meters. During the fall I did not let go the protein bar I was holding in my hand. Something similar happened a couple of weeks later to a friend of mine. So, I began to think about how risky it was for our lives, this big greed we have towards material things. Some time later I decided to tell this neurotic side of Western society through the tragicomic effect of the fall.
How would you define your general style photography?
Absolutely POP! Intended as a very popular and accessible language to all people. I believe the big success of IN EXTREMIS is due precisely to that. Inside it, there are the right elements to please ordinary people: a clear and simple message, a great riot of color and the irony of the fall, which is not always so easy to bring out.
Could you please tell us anything about your technique and creating process?
The creative and technical process often changes, it's never the same. It depends on the photo I want to do. Sometimes a story comes to mind and then I search for the right place to make it happen. Other times it's the place that suggests a photo that I had not even thought about. I spend a lot of time wandering around the places and streets of the cities. Yesterday, for example, I spent all day in Sitges, near Barcelona, to make site inspection.
When the story and place are confirmed, I start looking for the props I use to build the identity of the character, its background. Then it's the time of clothing, and that determines the color balance of the photo. According on the colors of the dress and shoes, I decide the color of the surrounding objects. When the day comes, I set up the scene and within four or five hours I take the picture home. For many hours I don't want to see the shots made, I have a kind of rejection to the picture and I take this time to decompress me from the set. But in the meantime I feel the butterflies in my stomach and slowly I want to see my new creation. When I download shots on my Mac, I'm always very excited, and also a little scared. Will it be as I wished?
In your opinion,what makes a good portrait Photography
I believe it's the combination of many things to make a beautiful picture. In my case, the message I want to communicate must be clear, even the position and the limbs of the model must seem disturbing, the colors, the place. When all these elements go in one direction, I have a winning picture. The photos in which I put "too much" information, are less successful. Because they require more attention, more time to be understood.
How much preparation do you put into taking a photography?
This also depends on the photos. Sometimes I can create a picture in a couple of weeks, but this rarely happens. Most of the time, I need about two or three weeks for pre- production, which means creating the story in my mind, finding the location, the objects, etc. One day goes away for the shooting and then there is the post production, the most delicate step. I have to find the perfect shot and then, together with my graphic designer, we make small corrections with Photoshop.
What do you think makes a memorable project?
The idea! The idea is God for a photographer. Having never studied photography, then with a lower technical knowledge than professional photographers, if my idea had not been a winner, IN EXTREMIS would not have had the success it has. I believe everything depends on that.
How do you know you got the shot you wanted?
As I said before, when the combination of body, geometric lines and color is perfect. Obviously, the most important element among these, is the body's model. That one is the first thing that immediately stands out in my eyes.
Your idea of the perfect composition?
Body in the center of the photo and the props around. That's the perfect composition, but even if it does not seems, the most difficult. To have the body clearly visible, I have to get close, and this means reducing the space surrounding it. More space is reduced, more difficult it will be to find the right props and their position to tell the character's background and what caused the fall. Every new photo is a big challenge for me.
What would iI find in your Camera Bag?
Currently, my Nikon D810, a 24mm lens, the battery charger – I always have an extra battery, you never know. Then, a cloth to clean the lens, and a lucky charm amulet given by my mother that I always carry with me. As a good Italian, she is very superstitious.
How important is an awesome website for your business and how has social media played a role in your photography?
A good website must be easy to visit, so the audience can move inside of it without thinking too much about how to find the things they are looking for. About the importance of social networks, I have to thank Instagram for allowing me to divulge my photos all over the world. Probably without it I would not have had so much chance. Currently the social network is the most effective promotional vehicle, but you have to pay close attention how to use it. It's important to understand how to introduce the post, what is the best time and day for publication. That's hard work too.
What future plans do you have? What projects would you like to accomplish?
Last year I shot a series of documentaries for Italian TV, on some ghost towns around the world. I went there to tell the story of these abandoned cities, it was an incredible experience. I'm waiting to know when we will make the second season.
In the meantime, I started taking new photos for the fifth year of IN EXTREMIS (bodies with no regret). Because of the TV series, I had to stop for several months and I cannot wait to go back. I have already made nine photos in Italy that are now in post production. I arrived in Barcelona a few days ago just to continue my work here.
Among other things, I received several proposals to debut as a director of music videos. But I think I don't do it for now, the management of IN EXTREMIS really takes a lot of time and I cannot get more than two days off to allow me to go on vacation. I work day and night.
Finally, one las question. What opinion do you have of our print edition?
I already have a good opinion of Dodho Magazine for the web, but I have to say that the printed version is really really beautiful. It is a very elegant magazine and always full of good contents. You are the best, and I thank you for this beautiful collaboration.