Riccardo Magherini is a photographer and visual artist.
 

By approaching his medium in innovative ways, Riccardo often challenges human perception, condition and context.

 

Riccardo found his artistic voice during a journey in Japan. From that experience he developed a way to tell stories merging different times and spaces, taking pictures as fragments all around the subject, composing and tuning them as instruments in a score.  

Hong Kong, New York, Tokyo, Lisbon, Bangkok, Hanoi: his works, shot in the great metropolises of the world, sublime street life, recreating sensations through the time and space overlapping. Riccardo's personal aesthetics continue to evolve alongside his continuously expanding artistic practice. 

His fine art photography is represented by galleries in Paris, in London and in New York. He has collected awards and recognitions from international contests such as the International Photography Awards, Prix de la Photographie Paris, International Aperture Awards, and the London International Creative Competition. [Official Website][Printed Edition][Digital Edition]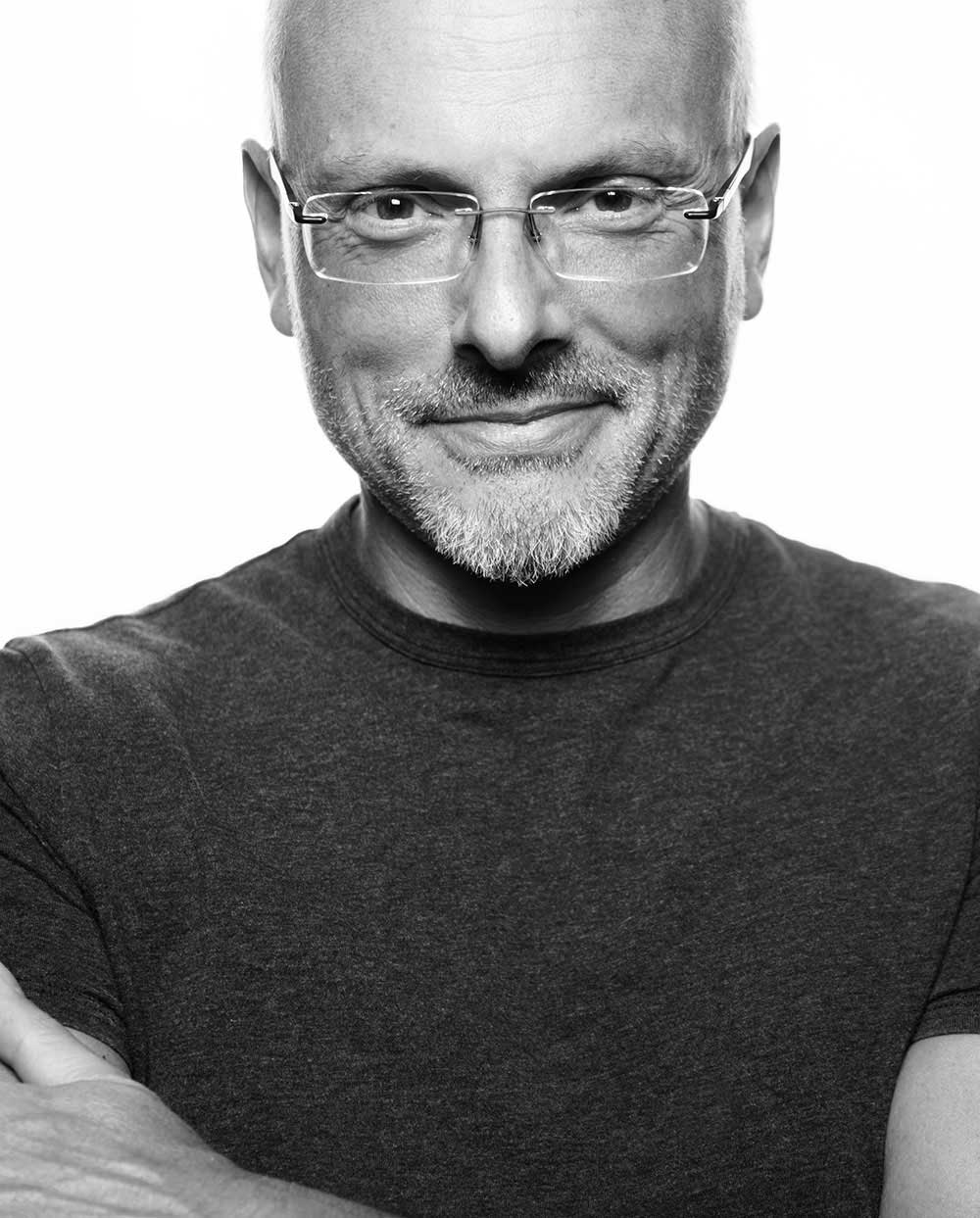 Photographing on the street is clearly a very important part of your practice. A you mention it makes you feel not at home… Being disconnected to the idea of a 'home', a place that makes you feel safe and easy is a feeling witch many individuals seem to avoid. We all seem to want to feel at home, yet this project seems to be more about the individuality of a nation and its people and not about how you fit into this environment. What I like about this project is that it is simply about exploration, the need to be curious and explore more. Tell us a little bit about how you came to the decision to photograph in the city of Hanoi and some of the experiences you may have had while photographing?
For me street photography and photography in general, is actually the necessity to observe and be amazed by the things I meet through the journey. So it's a natural thing, it's spontaneous, to explore, to wander, to watch.
Hanoi belongs to a part of my imagination, just like all the Asia, that includes a strong fascination with the 'other than me'. It was a matter of curiosity and fascination.  I mean, Vietnam. We all have the green mountain rice paddies image in our imagination, a shrine in the background and peaceful sunset on the horizon. At least I have. But I was interested in chaos.  Hanoi is a layered big urban agglomerate. You can see the layers of centuries, everywhere, even in people.
I wanted to walk through that, confront it, feel the diffidence of the elders and smile at the smiles of the youngers. Live the alleys, the decadence of the french concession, the heat of the wet market, smell the scent of the food cooked in the street, the noise of the traffic, meet the people that live and work on the sidewalks. As you said, be not at 'home'.  And feel good.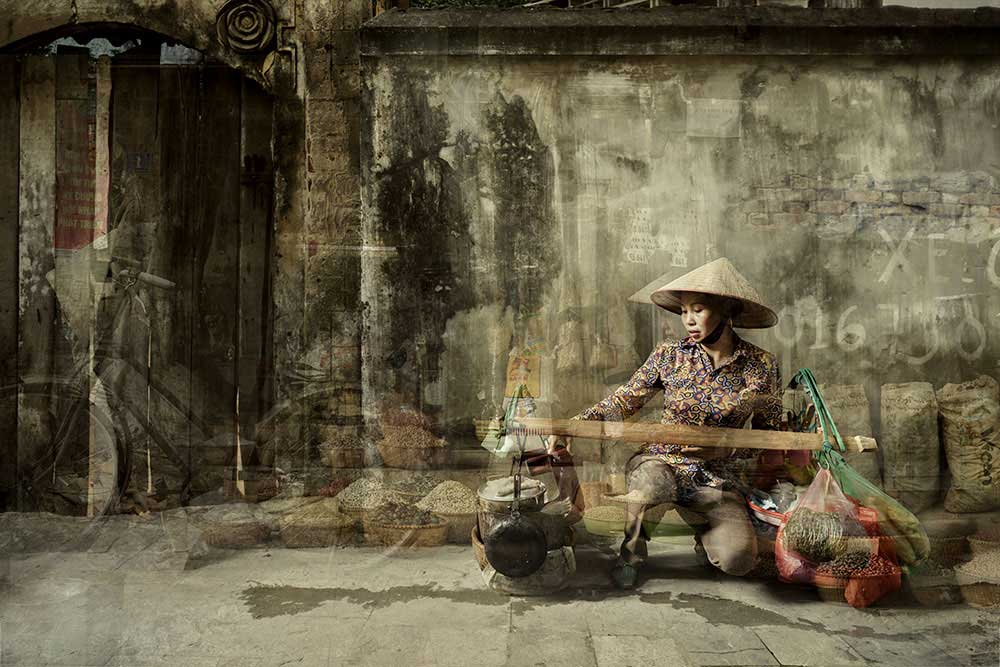 I would like to discuss something which I believe is a fundamental part of this project and what I feel separates this from other street photos. That is the use of multiple images. I really like the idea that I can spend a lot of time looking at one photo, picking out new details as I go along. What made you come to this stylistic decision in the first place? And would you say this this body of work is a kind of controlled chaos, your attempt of making sense at the multitude and grandness of each corner of the city?
Spending time looking at it. In it. It's exactly that.
It's the ambition to place in one image a world of things and moments, harvesting moments scattered all around, putting the time in still pictures. To gather all that fragments and lay them on the 'surface' and beneath it, putting them together following just the way you've seen it. To play with the hollows and the pauses, giving rhythm and dynamic balance, choosing the paths to tell the story. This is the push for me, and it was in the first place in 2011, during a stay in Tokyo. Since then I'm chasing this vision.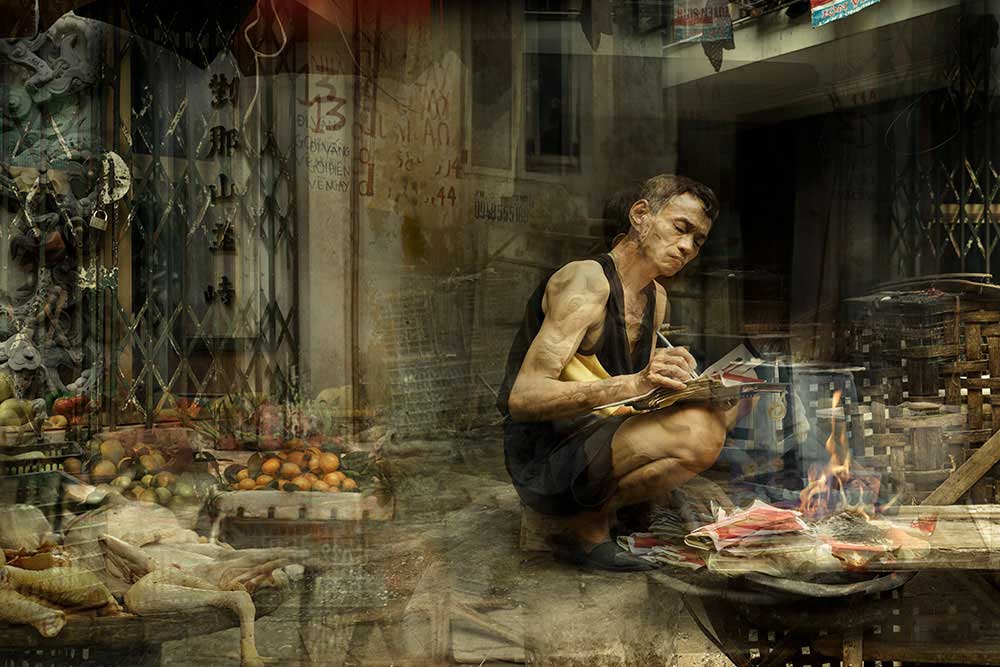 The colours and tones have also been very specifically curated. What I find most
 

interesting about this is how you have approached colour grading differently. This

 

cinematographic feel allows the viewer to dive deeper into these portraits. I was

 

curious to know if all the images you used for each piece were taken during the same day or around the same area?

   

Yes, mostly they had. It's right the exact way I like to 'paint' the story or the portrait I've seen in the street. The pictures taken all around the subject keep coherent the peculiar palette.

'Hanoi' series colour grading comes from the 'terre' palette, which is natural in Hanoi, and it's actually everywhere. It's a patina, in the pictorial meaning, that wraps everything, that lays over things and even thoughts, giving you that smooth gradient tone.This kind of immersion in tones and colours gives you the mood into which you dip the brushes, so to speak.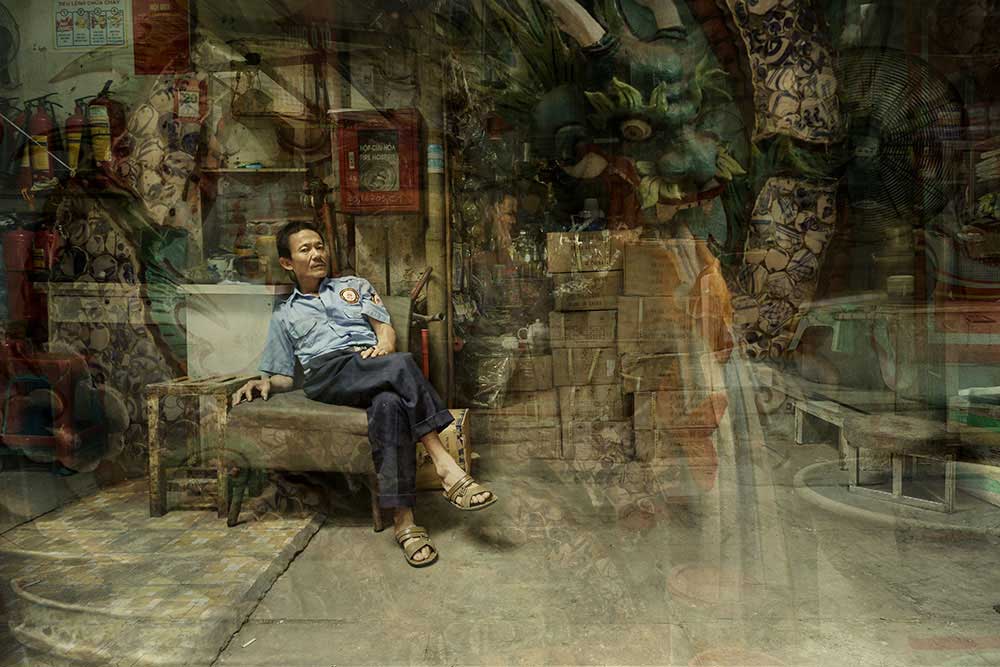 In my opinion one of the most interesting images in this collection has to be the photograph of the older gentleman with the green dragon in the background. I find this interesting because of two main reasons. The first is the composition, I feel that is photograph has been composed very well and gives me a painterly kind of feeling. The second reason is of course the man's expression. Could you describe this
 

images for us, how you came about shooting this portrait, who the gentleman might be or if you had any prior interactions with him?

 

That was a brief and intense encounter, I didn't know who he was and I still don't. It was a matter of a few moments, as for the whole portraits of the series.

I was outside a wet market with all the sorts of poultry and living fish, crabs, snakes and all the vegetables you can imagine (wet markets are the most incredible places).  He was there to keep an eye on the stocks. The location was incredible and he liked the idea to be portrayed, he wanted to.

The absence of communication ways, except the body language ones, forces you to interact with just looks and take permission to take a picture is all about little gestures. The dragon, a shrine porcelain decoration just on the other side of the alley, it's him. For me it's him. I mean, the defiant look, the posture, the rings and the nails. A dragon. Finding and then composing the connections between the things that surround a scene is magical and it's incredibly amazing. It gives you the freedom to tell the story of the character you've imagined laying beneath a look or a gesture.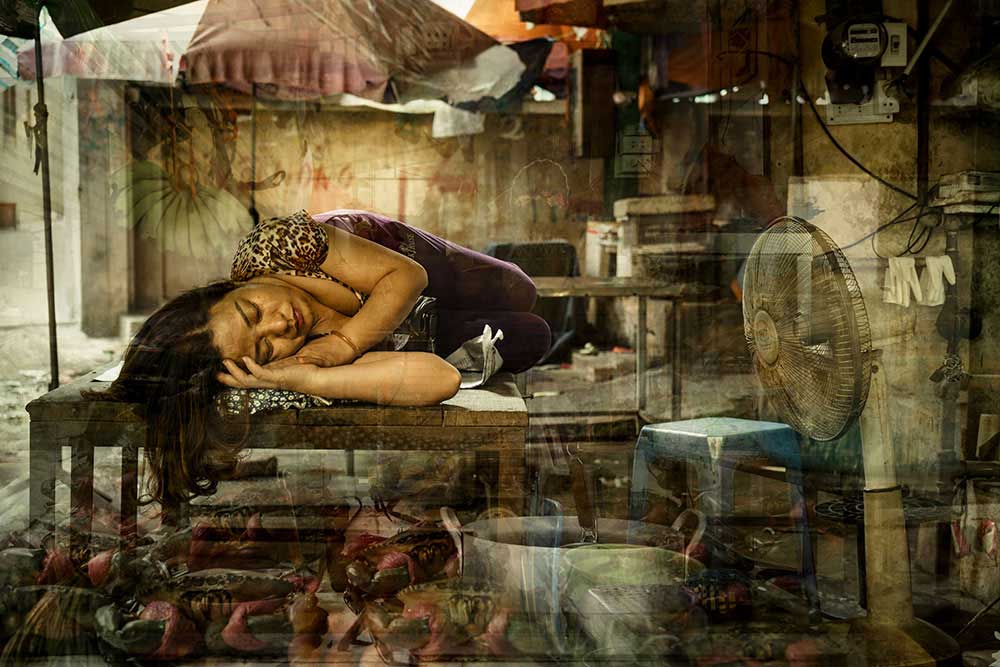 You mentioned when describing this collection of images, the intimacy, proudness and connection to nature the people of Hanoi expressed throughout their daily lives. I find this an interesting observation of the people within a city as is others such as New York and London, there might lack this need for nature and willingness to
 

appreciate the earth and land they live on. One big aspect of Vietnamese life is food, did you find that much of this connection and love of nature was due to the

 

respect that the Vietnamese people have for cooking. And were you also able to

 

converse with locals about your observations?

 

Vietnamese are connected with nature in all aspects of their life, even in the spiritual ones. Food and cooking are part of that connection and a strong popular tradition, deeply felt, but to find and appreciate those details as an outsider is a quite rare thing.  At first glance, some of them reserve to you the same diffuse standard they give to all strangers. You have to go deeper and have the luck to find someone that guides you.

During a stroll into a wet market, I met a young Vietnamese chef buying there the elements of his art. We talked about food and cooking throughout the morning, passing from one market to another, buying meat, fish, rice and coffee, teaching me how to choose and what to buy to make a 'pho bo' in the proper way. It was like a little culinary tour. That morning I learned that to cook Vietnamese you must be Vietnamese.

In certain parts of Hanoi, food comes every morning from the surrounding countryside carried by hundreds of women with their bicycles, wearing their typical hats.

They crowd the streets all around the markets carrying in large bamboo canisters vegetables, flowers, live chicken or raw food ready to be cooked on a little portable coal cooker there, on the street.

It's capillary, it's everywhere and it's local.

Maybe is the street that gives you this kind of vision. Life at the ground level could be strictly related to matter and nature. These aspects are even stronger in the villages surrounding Hanoi, where people live and work often in direct relation with the soil.
My final question is about a previous project of yours titled: 'Electric sheep'. I
 

absolutely love this project as it really showcases an underbelly and grittiness of a city. The photographs are presented in such a way that to my personally, they look dystopian in nature. Will you be focusing more on night photography in the future and what kind of projects are you currently working on as well?

 

Electric Sheep was strictly related to dystopian suggestions, so much to be dedicated to Philip K. Dick, even in titles. It was one of a kind experience but would be intriguing to find a night and dark situation to be explored. My fine art is strictly related to travel, so it had a stop in the past two years. When we will able to travel lightly again, China will be the next incredibly ambitious and wide artistic target.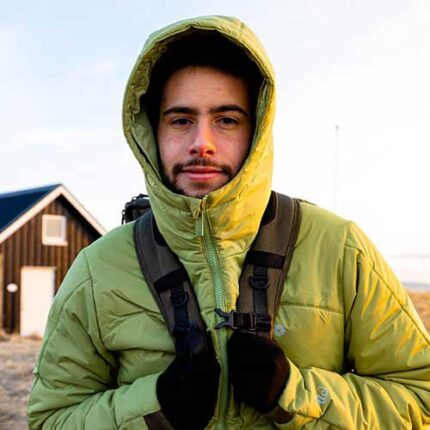 Francesco Scalici
A recent MA graduate from the University of Lincoln, Francesco has now focused on landscape photography as the basis of his photographic platform. An author for DODHO magazine, Francesco's interest in documentary photography has turned to writing and has had various articles, interviews and book reviews published on platforms such as: 'All About Photo.com', 'Float Magazine' and 'Life Framer Magazine'. Currently on a photographic internship, Francesco has most recently been involved in the making of a short film titled: 'No One Else', directed by Pedro Sanchez Román and produced my Martin Nuza.