In the intricate world of photography, few journeys are as unique and compelling as that of Liz Long.
From her background as an occupational therapist specializing in neurological rehabilitation to her evolution into an award-winning, self-taught photographer, Liz has seamlessly merged two contrasting worlds.
Her captivating works are not only celebrated on international platforms, but they also tell stories that juxtapose the complexities of the human experience with an unmistakably playful minimalism. As her masterpiece "Human Nature" graces the cover of our 25th magazine edition, we delve deeper into the mind of the artist. Join us as we uncover the inspirations, challenges, and passions that drive Liz Long in this exclusive interview. [Official Website][Issue #25]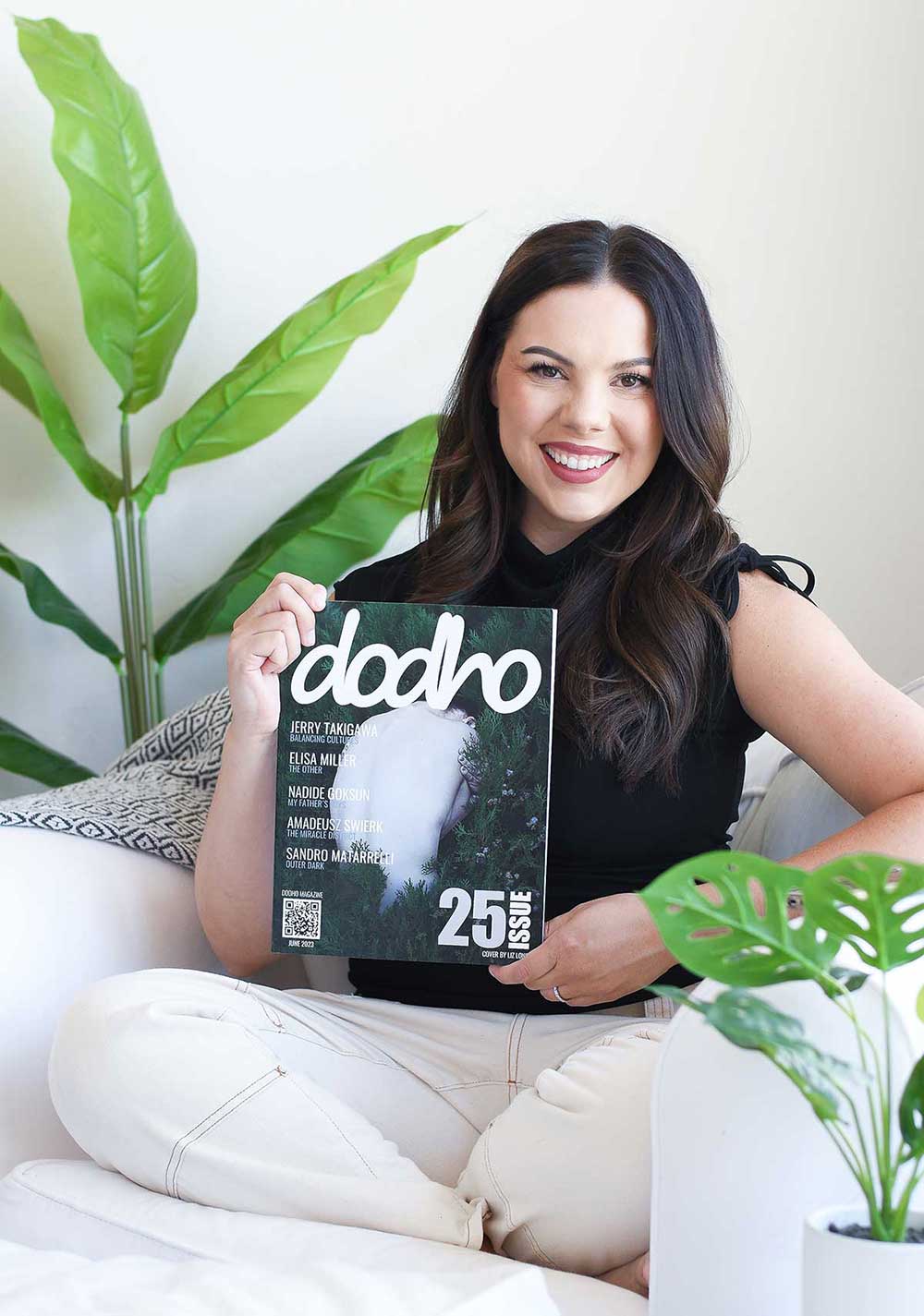 Hi Liz. First of all, we want to thank you for allowing us to use your photograph "Human Nature" for the cover of our magazine. Could you tell us what inspired you to create that particular image?
Thank you so much for the opportunity! I wanted to create a series blending 2-D photographs with the natural world to give an otherworldly feel to the pieces. I love when there's something "not quite right" with a photograph because it leaves me intrigued and with unanswered questions to ponder. "Human Nature" (taken in my hometown in Oklahoma) is a reflection on bonds I have with specific places and moments in time. Every time I visit my hometown, I have this overwhelming sense of nostalgia and emotions tied to specific places. I wanted to create a piece that was odd and dreamlike to represent that almost supernatural connection that occurs in our memories.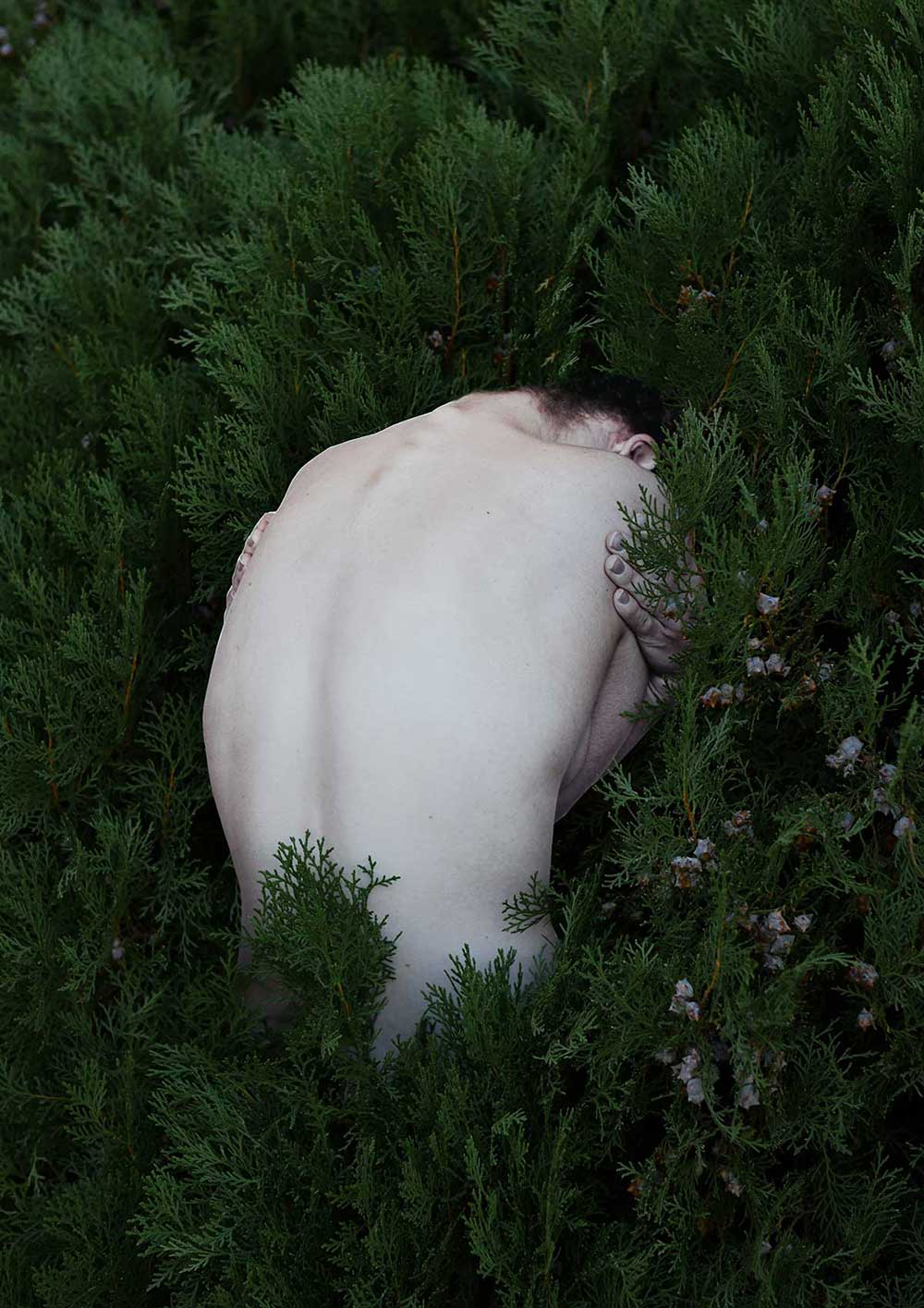 We understand you transitioned from being an occupational therapist specializing in neurological rehabilitation to photography. What drove you to make that shift, and how has your medical experience influenced your photographic perspective?
While I was pregnant with my son, I planned to transition from working to a stay-at-home mom temporarily and then to return to work as an occupational therapist. But the postpartum period is full of enormous changes: physical, mental, and emotional. While experiencing these changes, I began to embrace the artistic part of myself that had been lying dormant while working as an OT. I've always had a passion for photography and I finally allowed this desire to develop by learning new techniques and honing in on a particular style. In my work as an OT, I spent a lot of time learning distinct details of an individual and how they interact with their condition or disorder. I think this is a valuable skill in art photography because it has allowed me to really examine my subject with a fresh perspective and see how my vision and voice could potentially impact others.
Your work stands out for its minimalist and playful aesthetic while delving into profound themes. How did you come to this particular style, and why do you believe it's effective in conveying the subjects you aim to portray?
I came to this particular style by shooting a LOT. Any idea that would come to mind, I would embrace it, stage it, and shoot it. Many of the ideas did not come to fruition like I envisioned, but it was a valuable learning experience. This process pushed me towards developing and fine-tuning my unique style. I believe my style is impactful because the visuals feel familiar to the audience, but there is always an element that makes my pieces strange and eye-catching. Having a story that's relatable behind a photo is imperative to me and, I think, deepens the connection between my work and the viewer.
What sparked your initial interest in photography?
My mom gave me her film camera when I was about 10 years old and that sparked my desire to capture everyday moments with a fresh perspective. This passion truly bloomed in college when I would recruit my friends and roommates into various photo shoots. I would think of a concept, style their hair, do their make-up, and then take the photos. One of the first ones we did together was personifying different mental health disorders that I was, at the time, learning about in my Abnormal Psychology course.
Being self-taught, can you share with us your learning process and how you develop each of your pieces from the initial idea to the final photograph?
My process involves initially carving out some time to meditate on an inspiration. Often, I do this while out on a hike. My inspiration is usually something that I've personally experienced and an experience I feel is mostly universal to humans in one way or another. I'm often the subject of my photos (I'm a convenient subject) and so my shooting process is really focused on me nailing the expression I'm attempting to convey. As far as post processing, I'm fairly stubborn when it comes the manner of learning new editing techniques, so I typically forgo tutorials and I spend hours reverse engineering some techniques in Photoshop that I've seen and loved in others' works. It's very satisfying to have figured it out myself, but it's probably not the most efficient process.
Are there any photographers, artists, or personal experiences that have significantly influenced your work?
I've been inspired by so many established and emerging minimalist photographers. However, my original inspiration and deep love of conceptual portraiture initially came from America's Next Top Model, actually. I loved the creative concepts for photo shoots with the models. This inspired me to execute my own version of their "seven deadly sins" photos while in college and really ignited my passion for portraiture
You've mentioned integrating your medical experience with themes of grief, physiology, and the overall human experience. Can you provide an example of how this reflects in one of your photographs?
My appreciation for the human body, which began in my medical studies, is prevalent throughout my photographic work. I love the juxtaposition of the human form with the environment, as seen in my "Human Nature" cover photo. Many of my projects have focused on themes of human conditions. My project "Scratch the Surface" is a series of still life photos examining my personal and professional journey with chronic illness, for instance.
As a self-taught photographer, what has been the biggest challenge you've faced, and how did you overcome it?
The greatest challenge I've faced as a self-taught photographer has probably been accepting that sometimes, the specific vision I've had isn't meant to be. I will go into a project with an idea that I'm passionate about, but then that idea organically morphs into something completely different. Letting go of my expectations can be difficult, but I've found that holding too tightly to these ends up hindering my process.
Do you have any photographic projects in mind or in progress that you're eager to share with your audience?
I do have a new project I'm just getting into. It's a tongue-in-cheek exploration of things men say that make women feel uncomfortable, whether intentionally or unintentionally. You can follow me @lizlongphotos for updates if you're interested!
Lastly, for those starting in the world of photography or those looking to transition in their careers as you did, what advice or recommendations would you give?
The best advice I can give is to work diligently and daily at finding your unique voice in the world — no matter what that looks like.