Julie de Waroquier is a self-taught French photographer, also philosophy teacher, who started photography in 2008.
Since 2010, she has distinguished herself by winning several national and international awards, including the International Emerging Artist Award. Her photographs are regularly exhibited, and were notably showcased at the Rencontres d'Arles.
Julie de Waroquier is represented by several art galleries, and she participates in many French and international art fairs and events. Her work has been worldwide published, and in the end of 2012, she has published her first book "Dreamalities", which is edited by KnowWare editions. In 2014, this book is adapted as a short film, in collaboration with the film-maker and director Damien Steck. The film has been awarded in several international festivals. She also regularly works for famous brands or magazines (such as Universal Music, Nikon, Nokia,…) [Official Website] [Print Version] [Digital Version]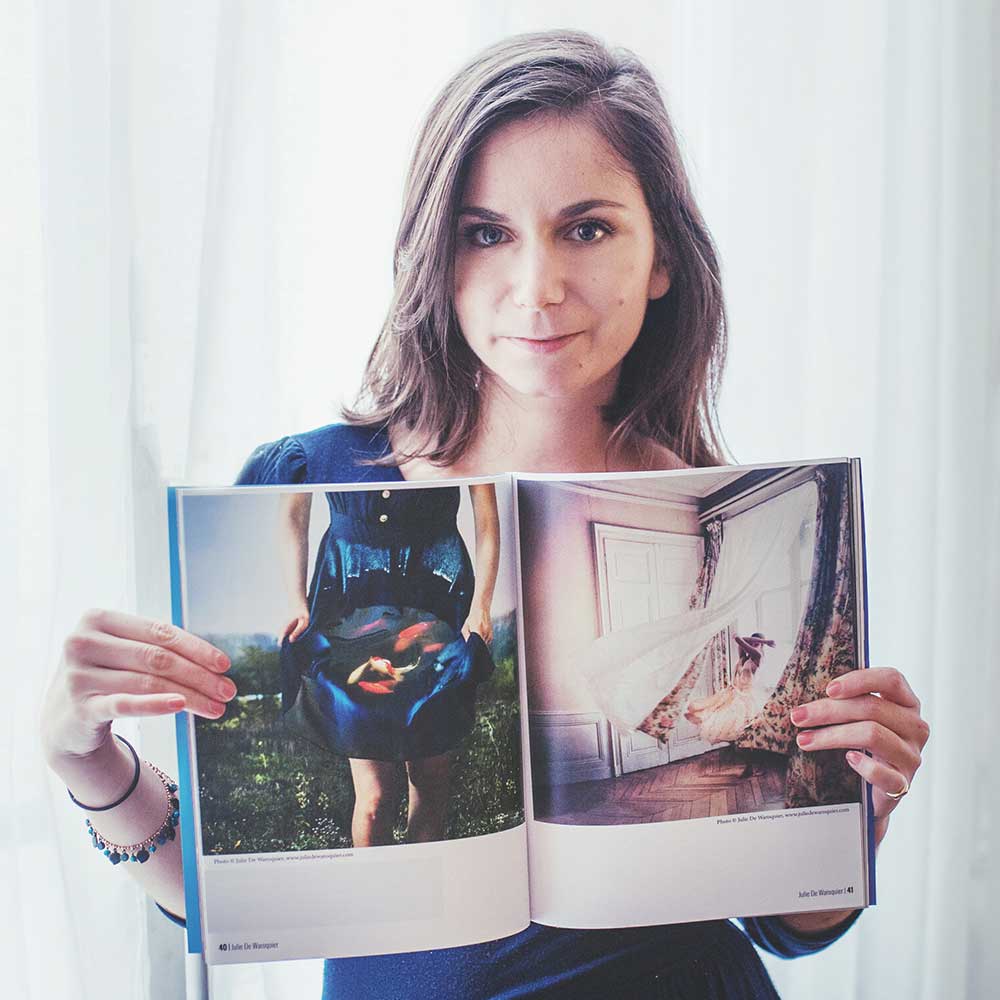 Can you tell a little about yourself?
I discovered photography in 2008, and I've never stopped creating since then. Now I'm a fine art photographer and a philosophy teacher; I'm also a journalist for French magazines about photography.
How did you get interested in photography?
It wasn't planned at all. I started to take random pictures with a small camera, but I soon realized that I truly enjoyed telling stories through my pictures. Little by little, it became necessary in my life and I couldn't stop taking pictures and trying new techniques.
What inspired you to take your Dreamalities Series?
I was inspired by all the books and stories I read, but also by emotions in general. I build my Dreamalities pictures like I would write poems: they carry feelings through symbols and characters. Each picture tells its own story, like a visual tale. Everything can inspire me, as lons as it moves me.
Three words that describe your works?
Emotional, conceptual and colorful.
How would you define your general style of photography?
I have worked on very different projects, with various aesthetics and approaches. They all make mind and reality intertwine; I like to work on how we perceive the world and how it affects us.
In your opinion, what makes a good fine art photograph?
I think a good conceptual photography relies on an aesthetic which strongly supports the concept. When the visual and the meaning are consistently combined, the picture can successfully deliver its signification.
What do you think makes a memorable project or photograph?
I think that the projects that are the most memorable are those who have a universal meaning. A memorable photography work has to be understood by anyone in the world and in the future. This is what makes photography a true form of art, in my opinion.
How do you know you got the shot you wanted?
It's almost instinctive. I always have the picture in my mind before I take it; I try to get as close as I can to this mental picture. I always know when my goal is reached, it's like an obvious feeling. When it happens, I usually take a few more shots just in case, but I already know that they won't be used in the final picture.
Your idea of the perfect composition?
I don't think that here is a perfect composition per se, a composition only makes sense if it supports an approach. It can be complex or minimalist, figurative or abstract, as long as it makes sense.
What would I find in your camera bag?
I don't own a lot camera gear. I have a Nikon d700, a 35 mm and 50 mm (both f.1.4), and that's it!
What future plans do you have?
I'm working on commercial projects with great bands, including Adobe. I'm also working on my next personal projects, I always want to try new things.
Finally, one last question. What opinion do you have of our print edition?
First of all I love the cover, it's very catchy and intriguing. The pictures have a great impact on the inside too, and I really enjoyed discovering the other photographers' works, all very creative.