Allahabad is one of the oldest cities in India. It is delineated in old sacred texts as 'Prayag', 'Teertharaj' or 'Prayagraj' and is considered to be the holiest of pilgrimage centres of India.
The city is located at the confluence of three rivers- Ganga, Yamuna and the imperceptible Saraswati. The meeting point is known as Triveni and is very sacred to The Hindus. The Mahakumbh held in every 12 years and Kumbh in every six years at Allahabad (Sangam) are the largest gatherings of pilgrims on this planet Earth. For generations, the Mohammed supporter families of the two villages, some 40 km from Allahabad, have been making 'kalawa' or 'kalava' or 'mauli' that means "the holy thread".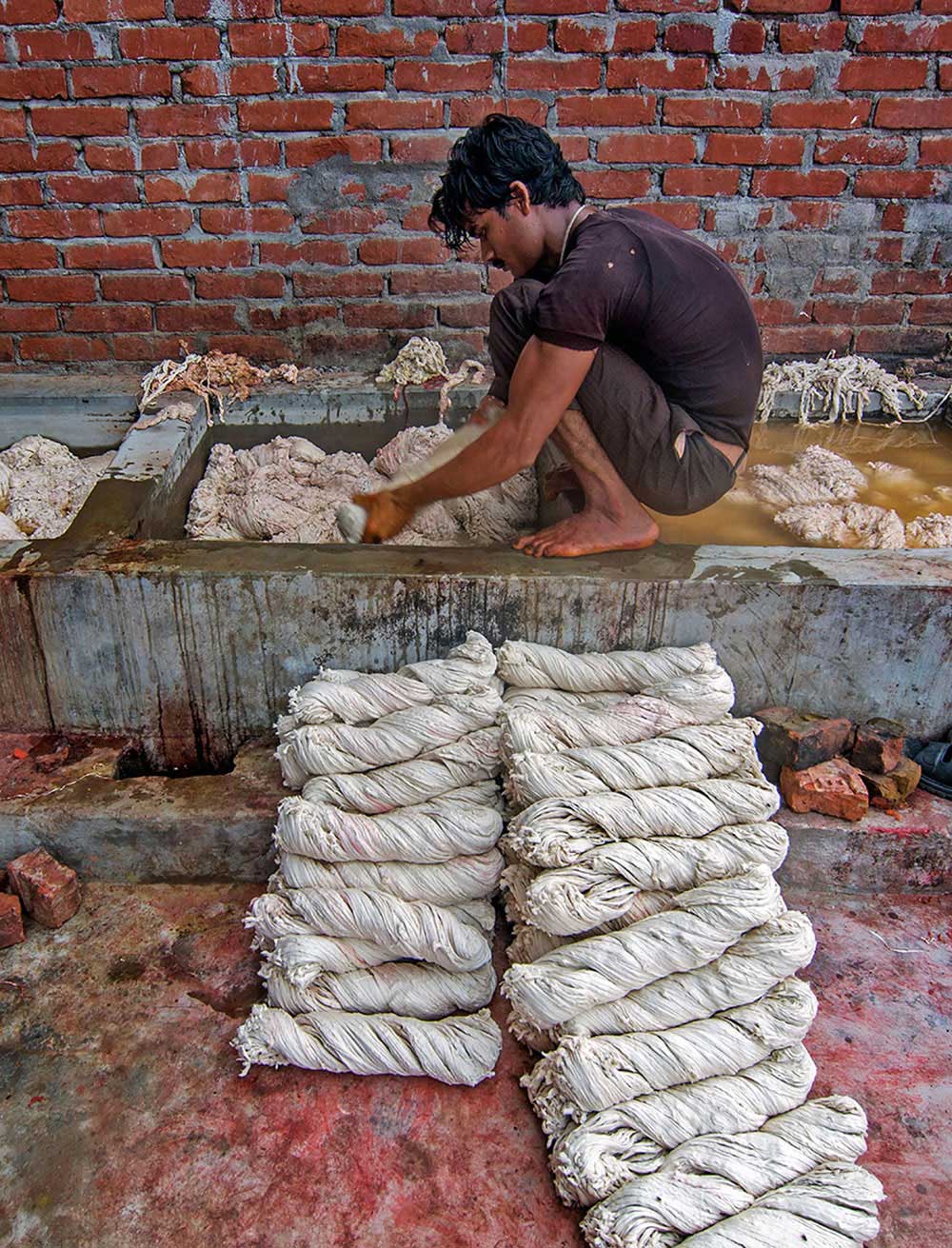 Every member of the family works together to make this thread, and for them, this is the only source of income for their livelihood. When I was talking with the artisans, I came to know that they make the thread round the year and the whole preparation process takes about four to six days. Although during the nine-day, auspicious period of Navratri, kalava is in great demand by the devotees. The sacred thread 'kalava' is actually much more than just a religious symbol. It is a true representation of the communal harmony spreading across the other states and even beyond the geographical boundaries of mother India. To name a few of them, the `kalava' prepared by this community are offered in the temples located as far as Kedarnath, Badrinath, Guwahati, etc. and even in the neighbouring countries like Nepal.
The Hindus usually tie this thread on the wrist at the beginning of a religious ceremony. The kalava is a sign of long living and protection against enemies. For this reason, it is also named Raksha thread. It is believed that tying this thread will keep Gods happy with you.
A visit to this village captivates one's eyes with the red and yellow colours of these threads left for drying on clothes lines, along the roadside. One will find the Muslim artisans busy with their work while verses from the Quran are played on tape recorders. This series of images reflects not only the process of making kalava but also the blend of cultures.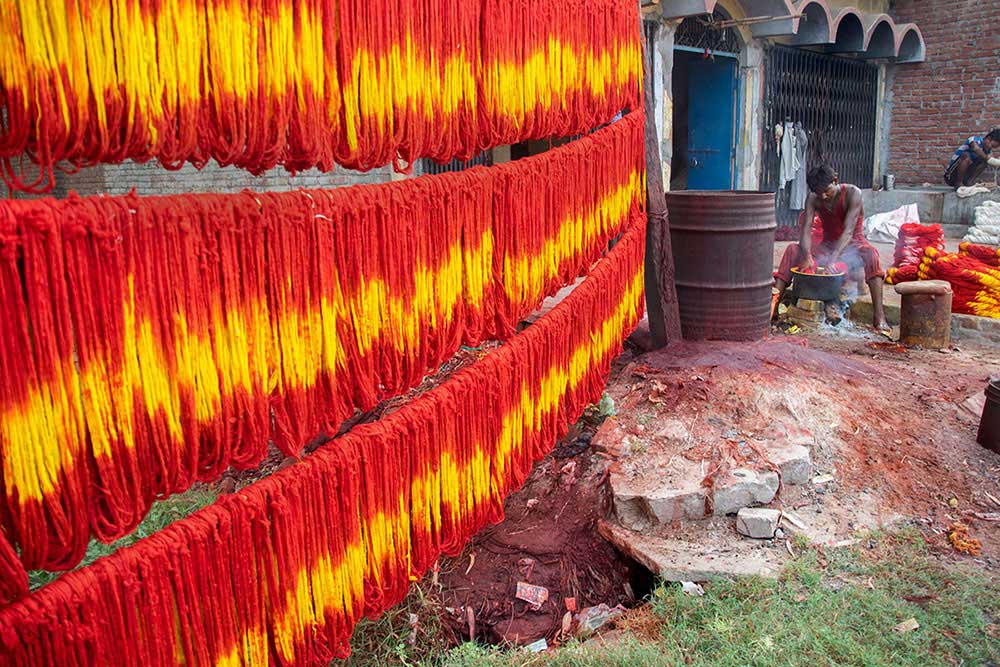 About Sirsendu Gayen
Sirsendu Gayen, an Assistant Professor in Chemistry at Vivekananda College Kolkata, is a passionate amateur photographer since 2006. Photography is his way of feeling, touching and sharing the freedom that he sees through the lens. He enjoys shooting different subjects with specific interest in travel, architecture, Nature, fine art and people to capture the spirit of Mother Earth.
 He started photography seriously in 2009 when he got a DSLR (Nikon D80) from his elder brother. After three years extensively using the camera, he shifted to a Nikon D610. This is a very precious   one for him as it was gifted by his mother. He used both these cameras very comprehensively until the end of January 2019. After that, He became a proud owner of a Nikon D750 – which was also a gift; this time from his wife. He is currently using the Nikon D750 and Nikon D7200.
He always rely on the philosophy that practice makes one perfect. Not all of us are born with perfection but we try our best to be perfect. He always remember the quote by Colin Powell: A dream doesn't become a reality through magic; it takes sweat, determination, and hard work.
This passion led him to achieve many national and international awards and more than 400 of his photographs have been exhibited in various national and international exhibitions. His work has also appeared in Asian Geographic Magazine (Singapore), Amateur Photographer Magazine UK, National Geographic USA(Online), National Geographic Traveller Magazine India, Lonely Planet Traveller UK, Lonely Planet Asia, Lonely Planet India, Outlook Traveller, Photo life Magazine Canada, Digital Camera World UK, N- Photo Magazine UK, , Smart Photography Magazine (India), Better Photography (India), Edge of Humanity Magazine ( Online), Dodho Magazine (Online), Life Force Magazine (Online),121Clicks.com,Times of India ( Kolkata Edition ) and numerous other publications.