His other major project 'Horse' takes form as a situational experiment which brings together a foreign figure and a familiar landscape.
This displacement has the further advantage of evoking an imaginative fantasy or narrative which expands well beyond the image. Jean-Bastien's early life and travels to the Indian sub-continent probably has a lot to do with his skill and sensitivity in this regard. In the process ,the horse mask is worn by an incidental individual while the bystanders become part of the scene even though unperturbed by the presence.
Despite the connection to tolerance and equality, these works also point to the counterpoint of a state of personal indifference towards others.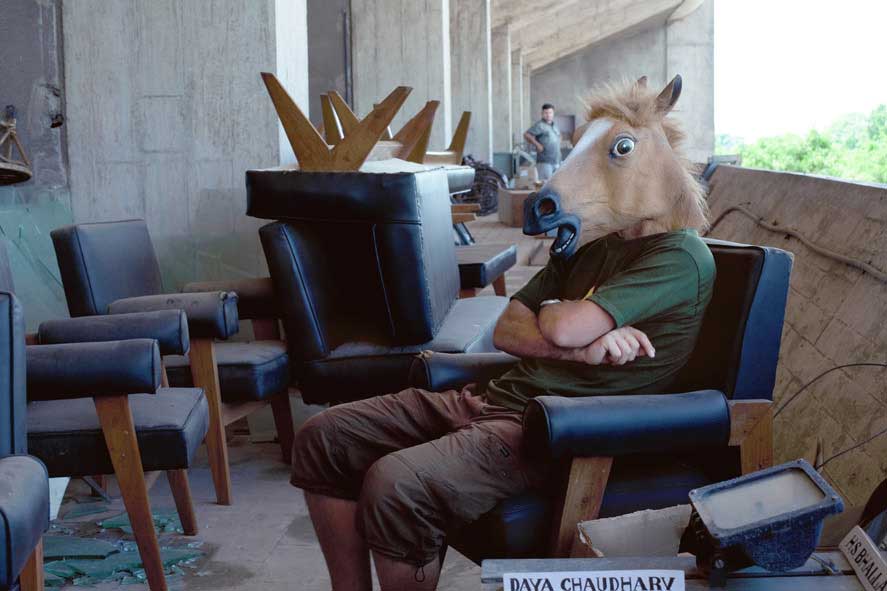 Part of this series is a form of obscured self portraiture in which the photographer transforms himself into a horse headed hybrid and experiences his environment in an isolated fashion. It references dreamscapes of seclusion while providing a tension between the familiar every-day and it's alternatives. By diffusing the human form , the work becomes more engaging and the image acquires a surreal transportive quality.
Part of this series was exhibited at Galerie du Passage Saint-Michel in Paris during 2010. The project are ongoing and feature in an impromptu fashion through the photographer's daily life.
The consequence of these seemingly conflicting points of departure is what constitutes an important part of the photographer's philosophy; the evaluation of visual input and the expansion of it into both story and situation. [Official Website ]