Workshops set to be hosted through the months of October and November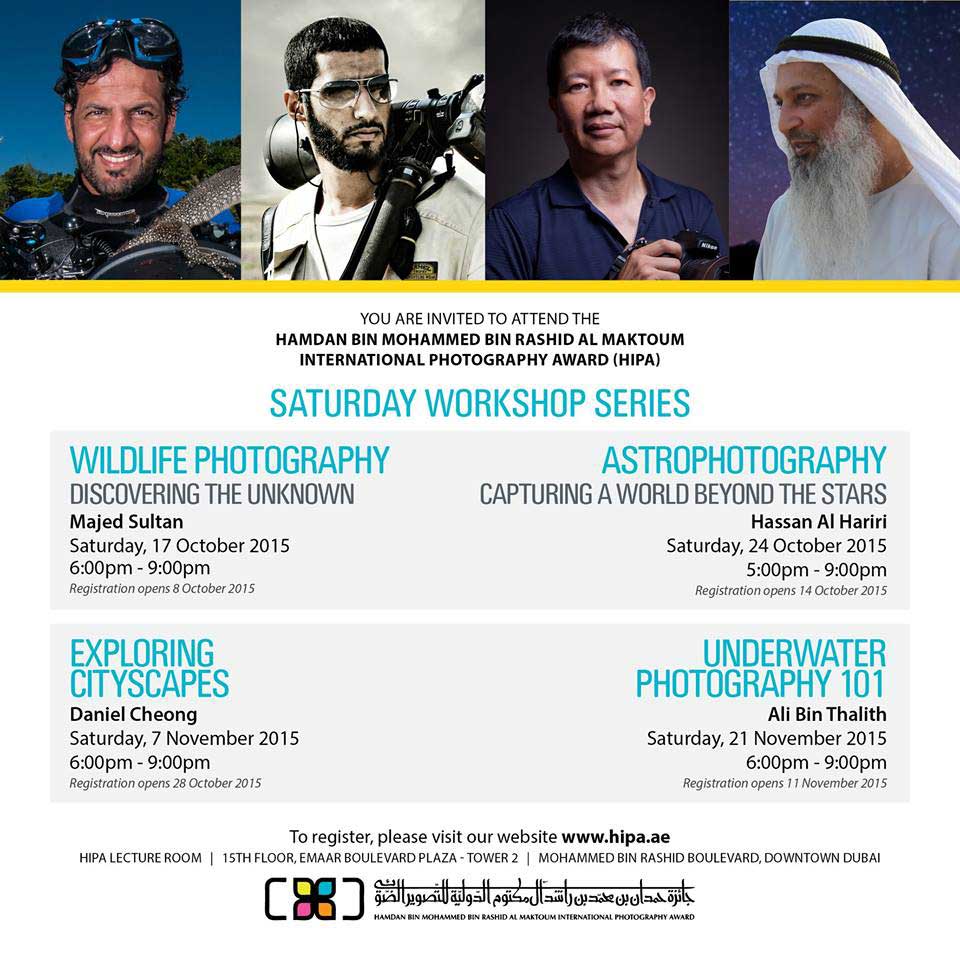 Official Website : www.hipa.ae
The Hamdan bin Mohammed bin Rashid Al Maktoum International Photography Award (HIPA)  will present a series of four workshops throughout the months of October and November covering various photography topics. Themed as the 'HIPA Saturday Workshop Series' the workshops will be held in HIPA's new state of the art lecture theatre at the HIPA HQ in Downtown Dubai on the 17th and 24th of October, while the November workshops will be held on the 7th and the 21st respectively.
The beginning of the series will involve Kuwaiti photographer Majed Sultan Al Zaabi presenting a workshop titled Wildlife Photography –'Discovering the Unknown',  on Saturday the 17th of October. This is to be followed a week later on Saturday the 24th of October by the CEO of the Dubai Astronomy Group, Hasan Ahmad Al Hariri and his workshop titled 'Astrophotography – Capturing a World Beyond the Stars'. The third workshop of the series will be titled 'Exploring Cityscapes ', and it will be presented by former HIPA winner and professional photographer Daniel Cheong on Saturday the 7th of November. The final workshop of the series will be hosted by our very own Secretary General of HIPA , His Excellency Ali bin Thalith, and it will be titled 'Underwater Photography 101' on Saturday the 21st of November.
Commenting on the launch of the Workshop Series, the Secretary General of HIPA , His Excellency Ali bin Thalith said "We are very excited to be able to launch such a ground-breaking series of photography workshops covering various photography topics which we are sure will positively impact the local photographic community."
"We have recruited some of the most talented photographers in their respective fields to give these workshops including the CEO of the Dubai Astronomy Group, Mr Hassan Al Hariri, who will no doubt teach photographers about a very fascinating and often under-reported genre which is 'Astrophotography'".
Bin Thalith continued, "Likewise, we are looking forward to hosting all local photographers at our new lecture theatre at our Headquarters. We hope that in the coming years this will become a regular place of photography  and education for photographers in the UAE and the region as a whole."