The exhibition GENESIS. Photographs by Sebastião Salgado will be open from 18h of February to 17th of March, 2016
Genesis is a photographic journey into the planet — an expedition to rediscover the mountains, deserts and oceans, the animals and peoples that have so far escaped the imprint of modern society. The land and life of a still pristine planet. Yet Genesis is also a project that speaks urgently to our own age. By portraying the breathtaking beauty of a «lost» world that somehow survives, it proclaims: this is what is in peril, this is what we must save.
Genesis is Sebastião Salgado's third long-term exploration of global issues, following Workers and Migrations, his examinations of the human toll wrought by radical economic and social change. This time, he is addressing our natural environment in offering a love poem in images to the majesty and fragility of our planet.
Working as always in black-and-white, Salgado has built his dossier during more than 30 different trips to distant corners of the globe. Each sortie from his base in Paris took several weeks and involved light aircraft, helicopters, seagoing vessels and canoes as well as long hikes through very difficult terrain in extremes of heat and cold. Having begun these voyages in 2004, Salgado has completed Genesis at the end of 2011.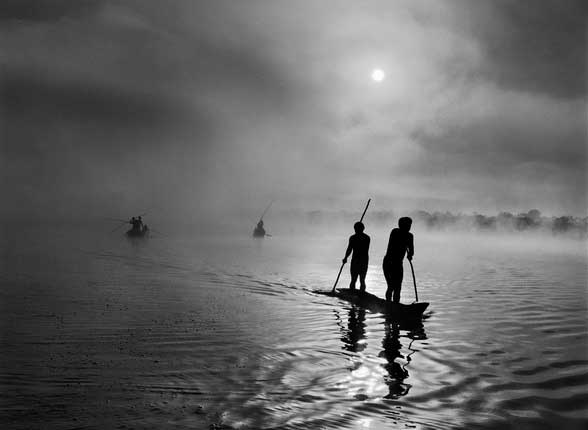 In considering how to present Genesis, we initially opted for a thematic approach highlighting the earth's geophysical origins, its animals, primitive peoples and early societies. But the very remoteness of regions visited by Salgado meant that they often contributed images to several themes. We have therefore decided to organize the photographs into broadly-defined eco-systems which, we believe, best mirror how nature works. Our aim is to open the eyes of the public to the marvels to be found on earth, not only those that we have had the privilege of finding and recording for Genesis, but also those in the lakes and hills and the parks and gardens that are within easy reach of our homes and represent our most frequent contact with Nature. After all, it is in our daily lives that the battle for conservation begins. For this very reason, our hope is that those who come to view and debate Genesis will do so, not simply as interested observers but as active stakeholders in a universal heritage that is crying out for our care and attention.
HOUSE & MUSEUM MOURAVIEFF-APOSTOL
18.02.2016 – 17.05.2016
Staraya Basmannaya ulitsa, 23/9 bld.1