Welcome in the geography of the variable-geometry exile. He will not tell you where from he goes, he will not tell you where he goes… Difficult in these cases there to present he.
To present him would give him an outline, a shape, a limit, a partition…collision! Release itself, here is the quest of this dreamer in the intuitions – unrealistic – infractions! His practice builds itself around mirages, around appearances, which get married label fusion. The idea: explore the potential of the dark camera. Of his trip in the heart of an illusion, a pilgrimage in his fiction, in the fatal breast, the penetration, he sees the beautiful of his passion… the fault to whom ? Fault in the written forms.
Author French photographer, feet on Earth and the head in stars, the three eyes are opened to seize the Beauty which surrounds us. His photography – tinged with ecstasy and with fury – of dreams, falls, the truth of a found essence…its truth aims to be to create a footbridge, a link in the Other one. Here is the approach : an invitation, to whom will linger in its world.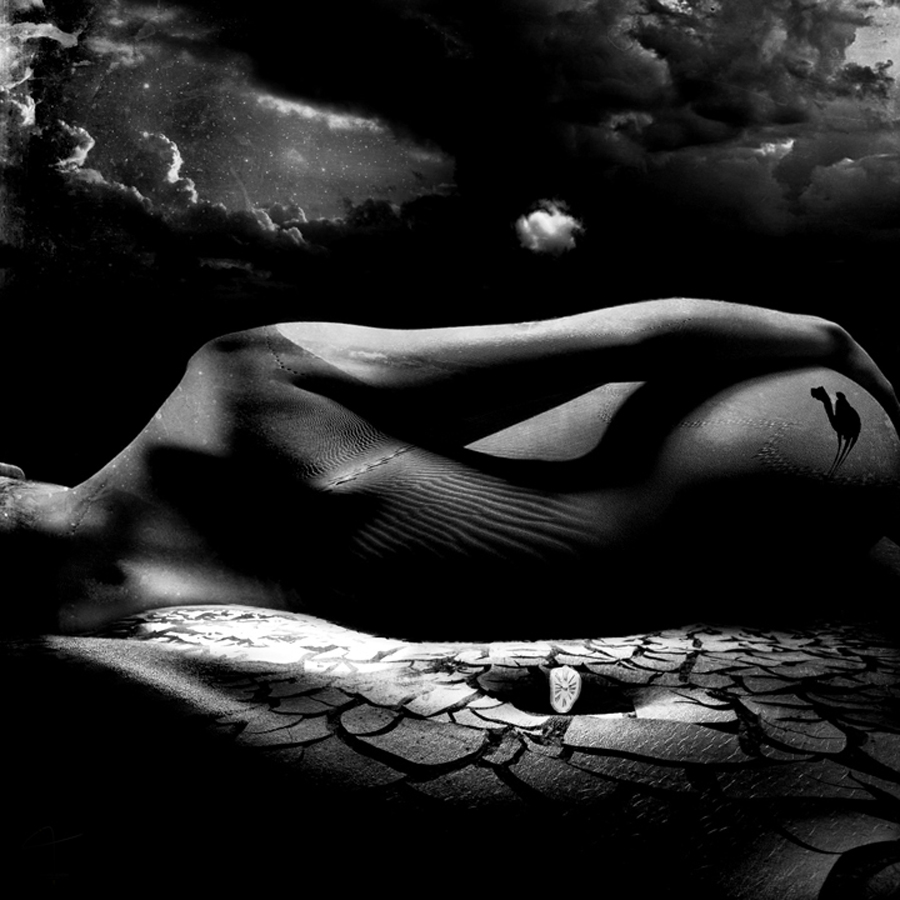 The camera began to accompany my journeys in 2001 but it is only in 2008 when I was interested in the power of the photo, what she can convey and allows to share. Anaïs Nin said " the internal rooms of the soul are as the darkroom of the photographer. We cannot stay there for a long time, otherwise it becomes the cell of the neurotic. " I enough agree with this quotation. The camera just like the human mind possesses secret one thousand which it is necessary to learn to tame.
What I appreciate in this way of expression, it is the possibility that allows the photography to take the imagination and the spirit "somewhere else" beyond some centimeters of the support of exit. The alchemy which allows this one to be born. Once again several quotations express better my relationship in the photo than me could not make him :
– " A photography, it is a cardiac arrest of a fraction of a second. " Of Pierre Movila
– " A photography, it is the fragment of time that will not return. " Of Martine Franck
– " Any photo is an intelligence which exhausts a light. " Of Denis Roche
And finally because a frame is certainly necessary for all this and because i needs to honor masters : " To photograph it is to put on the same line of sight the head, the eye and the heart. " Of Henri Cartier-Bresson.
Magazines and various platforms of FINE ART (Adore Black Magazine / See in Mono Mono/Just B*W) who select my works today classify me gladly in the category Digital Art/Créatif. It is actually in this direction that I direct my works at present.
About Gaia Project
At present, I work on several projects of which an entitled series "GAIA".
Gaia is the personification of the Earth in the cosmogony of Hésiode – She is the maternal ancestor of the divine races and the monsters. To Latin we find the equivalent Was in hiding there to Terra Mater or Tellus.
The only one is Gaia, the earth. According to the narrative of Hésiode, it seems good that Gaia, who is a goddess in the well defined lines, the principle where from any things went out, was the big divinity of the primitive Greeks. As the Aegean, as the peoples of Asia, the Greeks doubtless had to adore originally the Earth-mother, in whom they saw the goddess-mother. Gaia " goddess in the wide breast ", was a time the supreme goddess, of whom the majesty was not only imperative upon the men, but upon the gods.
As first divinity, Gaïa is, in a way, the guard of the divine power: it is her who causes the rebellion of Cronos against Ouranos and that of his grandson Zeus against Cronos, in a certain quest of the perfect sovereign; but she also raises her monstrous sons, the Giants and Typhoon, against Zeus, doomed to failure mutinies. In this way, the Greeks doubtless wanted to represent both aspects of the nature: capable of creating the harmonious beauty, but also capable of making reappear the original chaos.
You will find through this series an interpretation which is singular me and to return honor to Mother Nature – [Official Website]