India has never played in the Football World Cup and the sport struggles to attract anything even remotely similar to the enthusiasm which cricket, the national obsession is universally greeted with across the country.
Yet every four years Kolkata, a city of 5 million people, erupts in World Cup fever with a spontaneous flurry of excitement in the narrow lanes and public spaces of the city of joy.
Here, football matters and people inevitably support one of the two dominant city teams – Mohun Bagan or East Bengal football clubs. Yet above and beyond local rivalries, two giants among footballing nations – Brazil and Argentina – have become the most popular teams  to support in Kolkata in the absence of an Indian team in the international footballing  stage. Beside this two teams major supporters there are many people supporting European teams like Germany, Spain and Portugal.
Locals gather in public squares and clubs  to follow every move, every goal and every victory or defeat of their favourite  teams. Football is closely associated with a local sense of national pride ever since Mohun Bagan, made up of native players, famously beat the East Yorkshire Regiment football team in 1911 to take the Indian Football Association (IFA) cup. Since then Football have became passion for every Bengali .Greatest monk of India Swami Vivekanda quoated that  "You Will Be Nearer To Heaven Through Football Than Through The Study Of The Gita" .Though India have not achieved many in international stage though the passion for football  never decreased among the fans in Kolkata.
The Football World Cup 2018, played across Russia, has been no different. Crowds of people have decked their alleys and streets in the national colours of  their favourite team and have adorned the crumbling walls of local houses and shops with football themed murals. The whole month is like a carnival with fans watching and discussing matches, sporting jerseys to show their support, and getting into passionate arguments about which side is better – Brazil or Argentina or who is better among Ronaldo and Messi. During this month, the city of joy sleeps, breathes and eats football and arduously follows all the games, all other discussions will take a backseat as the football fever takes over!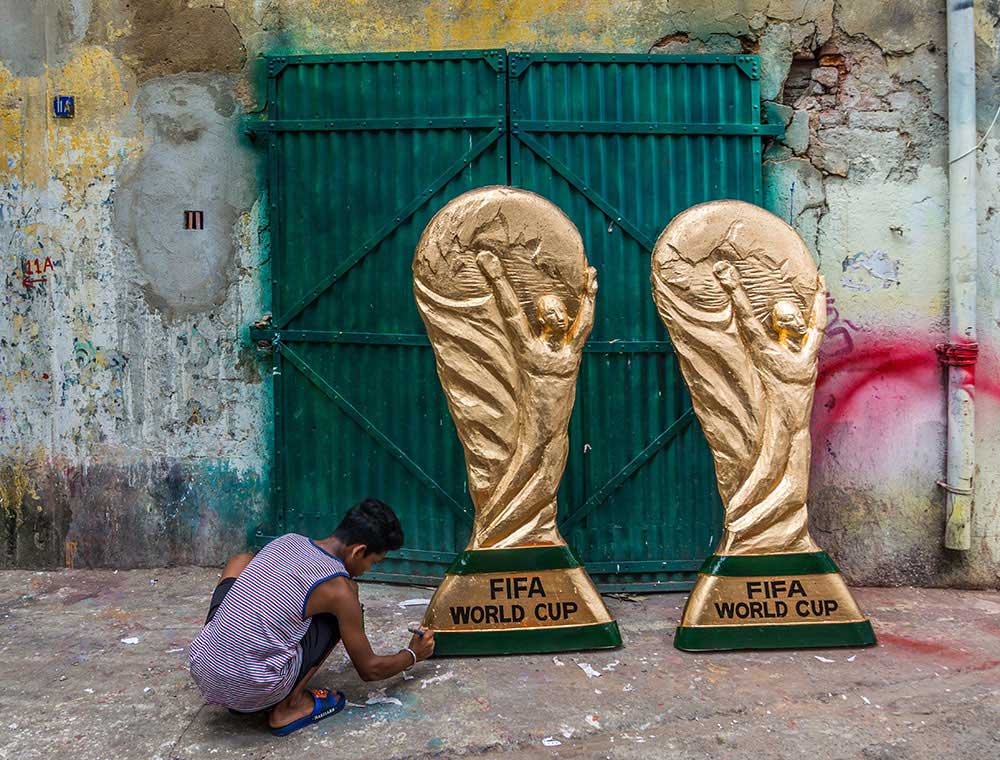 During recent under19 fifa worldcup india achieved the record of most crowd in the stadium. The average attendance at Yuba Bharati  Kriangan in Kolkata was about 55,000. This reflects the passion of people towards the game in city of joy. But India needs to use this passion towards game to make improvement in their performance so that they can come up with good performances in international stages in coming year. People of Kolkata is eagerly waiting for India to take part in Fifa  Worldcup in near future.
About Pritam Dutta
Pritam Dutta is an independent photographer who currently lives in Kolkata, India.  His early career was as software engineer, but in 2015 he decided to make a change to pursue his true passion for photography.   But the curiosity and hunger for learning that had motivated his engineering career did not vanish. Pritam now uses photography as vehicle to understand and help depict issues that puzzle him, and satisfy his passion for learning.  Among his most prominent themes are culture, religion and people.  His images have now been shown in curated exhibitions and have won numerous awards.[Official Website]